The 13 Most Popular Netflix TV Shows, According To Twitter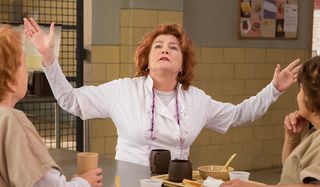 (Image credit: Photo courtesy of Netflix)
Everybody knows that Netflix shows are popular, although it's hard to lock down just how that "common" information can be gleaned, since the streaming giant famously keeps its viewing statistics outside of the public eye. Sure, there are millions upon millions of subscribers that constantly have Netflix up and running, but when you consider a half-billion hours of Adam Sandler movies have been streamed at this point, there are no guarantees that any TV shows are getting watched. But they are, of course.
Social research firm Fizziology has stepped in to offer a particularly telling look at the popularity of Netflix's series through the prism of Twitter, since hard numbers clearly aren't happening. The study looked at the first week of release for Netflix's original series and then counted up how many times each show was mentioned through tweets. As you can imagine, a ton of social media posts were tallied, and they led to some results that are as surprising as the shows themselves. (Full disclosure, it does seem like several popular series have been left out.) Let's kick things off with a star-studded comedy that has little time for age demographics.
13. Grace and Frankie
According to Fizziology (via Business Insider), Grace and Frankie landed at #13, which is generally an unlucky number, but not at all a bad position to be in on Netflix, considering the service has dozens of originals in play at this point. With Marta Kauffman, creator of Friends, guiding the creative decisions with a cast that's led by Lily Tomlin and Jane Fonda, Grace and Frankie won over audiences and critics with a comedic look at how age doesn't dictate behavior. Something that's sure to get some social media love is Friends vet Lisa Kudrow reuniting with Kauffman for a Season 4 appearance.
Tweets In First Week: 25,036
12. House of Cards
Netflix could be called "The House That Frank Underwood Built," since the success of the political drama House of Cards vaulted Netflix into critics' conversations and awards ceremonies back in 2013. The David Fincher-produced series might have gained equal acclaim had it been a more straight-laced take on Washington D.C., but by providing hyper-dramatic and soapy situations for customers to binge and howll at whenever they wanted, House of Cards instantly became a target for attention all across the Internet as Netflix's first Original. And while some of its fanfare has died down in the wake of newer series, Kevin Spacey and Robin Wright are still the King and Queen of Streaming.
Tweets In First Week: 70,514
11. Bloodline
It was impossible to know what to expect from Bloodline when it premiered, with Kyle Chandler leading a stellar ensemble up and around the dark and twisted branches of a fractured family tree. But audiences responded very kindly, and people couldn't stop talking about how amazing Ben Mendelsohn's performance was, as well as how stress-inducing the deadly central storyline remained. And, yeah, maybe some of it was people talking about the joy of getting Friday Night Lights' Coach Taylor back on the small screen. Bloodline is getting ready to put its third and final season out there, and we're betting social media is going to light up with the Rayburn family's destined implosion.
Tweets In First Week: 83,538
10. Master of None
Fresh off of Parks and Recreation, comedian Aziz Ansari took his talents to Netflix with a more personal approach for the stunningly crafted Master of None, which arguably stands tallest in TV's recent wave of indie-leaning romantic comedies. This show had a lot of buzz going prior to its release, and Season 1 did not disappoint, with either its food-and-sex-fueled storylines or its impact on Twitter. Ansari's presence on Twitter certainly didn't hurt, and neither did the all the attention given to his parents, who showed up for a memorable episode playing his character's folks. Season 2 will debut on May 12, so get ready for more laughs and bittersweet feelings.
Tweets In First Week: 106,893
9. The OA
While network TV shows lay so much importance on advertising and promotion, Netflix relies a lot on word of mouth and its own user menu to attract new viewers. That kind of discovery HAD to happen with The OA, the impeccably acted sci-fi-ish drama created mostly in secret by director Zal Batmanglij and star Brit Marling. Its release was first announced mere days before Season 1 became available, and though it's hard to gauge how much impact the secrecy had on the show's success, its success is undeniable. And since barely anyone knew about it beforehand, its rapid popularity growth likely depended a lot on social media discussions.
Tweets In First Week: 176,992
8. Orange Is the New Black
Widely known to be in Netflix's top-tier series when it comes to viewership, inasmuch as such things can be measured, Jenji Kohan's Orange Is the New Black is unsurprisingly in the Top 10 when it comes to its early Twitter presence. As Netflix's third big original to be unleashed upon the world, the prison drama offered a lot to talk about at the time, and it's delivered on that front in each of its successive seasons. (Particularly Season 4, with its heartbreaker of a death.) It might even be surprising that Orange Is the New Black is this low on the list, but maybe not. #LitchfieldDebate
Tweets In First Week: 177,374
7. Unbreakable Kimmy Schmidt
Comedies don't always get the same kind of Twitter love as twisty dramas, but then not all comedies are created by Tina Fey and Robert Carlock. In just its first season, Unbreakable Kimmy Schmidt offered up a cacophony of hilarious jokes, screengrab-worthy sight gags, surprise guest stars, and more. So much so, in fact, the impressive number below could feasibly be made up solely of non-repeating Jane Krakowski GIFs or Titus Burgess costume-change GIFs. Or Ellie Kemper's words of misguided wisdom. Fans are no doubt waiting for Season 3 to get here and give us a few hundred thousand more reasons to laugh. It's a miracle!
Tweets In First Week: 243,990
6. Black Mirror
Unlike a lot of Netflix's new additions, Black Mirror glitched onto the scene with a sizable fanbase already built in, thanks to its U.K. origins and its popularity here in the U.S., which came once those earlier episodes were added to the company's library. The wait for Season 3 was more than worth it, too, with a handful of the episodes from creator Charlie Brooker's team rivaling and even exceeding those in the first batch. Despite the limited amount of episodes, Black Mirror's conversation-starting narratives combined with its international appeal to win over Twitter users upon its release. Perhaps Season 4 will have an episode about people tweeting about Black Mirror.
Tweets In First Week: 452,516
5. Stranger Things
While the '80s-embracing Stranger Things had a bigger buzz before its premiere than fellow genre release The OA, the bulk of it revolved around Winona Ryder's presence. But when streaming audiences got a chance to take the full bike ride with the kids of Hawkins for this monstrous horror mystery, Stranger Things instantly became one of the most talked-about shows of the summer, as well as the entire year. The creep-tastic Upside Down, the crazy finale, and good ol' Barb's fate made for some of 2016's more interesting hashtags. Fun fact: Stephen King tweeting about your show will help your show's chances of scoring highly on a list of this kind.
Tweets In First Week: 507,192
4. Luke Cage
As we arrive at Luke Cage's entry, one can't help but feel a little skepticism over this being the first Marvel show on the list, as it seems pretty likely that Daredevil, Jessica Jones and even the panned but much-viewed Iron Fist would have all appeared by now. Still, accepting this info with a grain of salt takes nothing away from the brute force of Luke Cage and its Harlem-based tale of power struggles and a search for justice. Its massive Twitter push was no doubt sparked by excellent performances from all the leads, as well as a soundtrack that still deserves to be played on an endless loop.
Tweets In First Week: 1,016,152
3. Fuller House
Netflix got into the revival game early on with Arrested Deelopment and Trailer Park Boys, but the service went above and beyond by reaching back into TV history with Full House creator Jeff Franklin for Fuller House. This was a project that Netflix (opens in new tab) legitimately got into promoting, and all of the stars went heavy on social media all throughout the filming process, bringing outside attention to a fever pitch when it finally hit viewers with all of the cornball schmaltz and Tanner bliss that anyone could have hoped for. Sure, this isn't the the most dense storytelling to ever inspire a tweet, but you don't need that when Uncle Jesse is back, dammit.
Tweets In First Week: 1,324,534
2. Chasing Cameron
Even though Netflix was initially against getting into reality television of any kind, the company turned a new leaf in the past year, and the apex of its unscripted efforts has clearly been Chasing Cameron. It's no mystery why this project shows up so high on this list, surprising as it may be, since it's centered on Cameron Dallas, who rose to mega-fame through various forms of social media, particularly Vine. (As well, fellow Magcon members Taylor Caniff and Aaron Carpenter are part of the fun.) On the opposite end of the key demo spectrum from Grace and Frankie, Chasing Cameron's core audience is likely among Twitter's most active age groups.
Tweets In First Week: 1,326,010
1. 13 Reasons Why
The bizarrely wide gap between the #2 entry and our winner, the emotional teen drama 13 Reasons Why, also casts some doubt on measurements used in this study; but again, there's no real doubt this show took over social media when it was released at the end of March. Based on the acclaimed novel from Jay Asher, 13 Reasons Why was geared to engage with an age demo that spends an ample amount of time on Twitter. It seemed everyone had words to say (both good, bad and otherwise) about the many complex subjects tackled across the show's episodes, particularly the arguable semi-glamorization of suicide. In any case, there were far more than just 13 reasons why this new drama struck a chord with audiences.
Tweets In First Week: 3,585,110
What do you guys think about Fizziology's numbers? Let us know in the comments and head to our midseason premiere schedule and our summer TV guide to see what's coming to the small screen in the near future.