Five Arrow Questions That Need To Be Answered In The Finale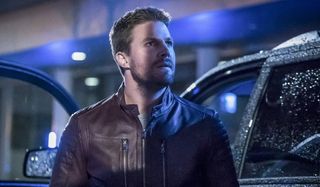 Warning: spoilers ahead for the penultimate episode of Arrow Season 5, "Missing."
Season 5 of Arrow is coming to an end, and only one episode is now left before we see the results of the showdown between Oliver and Prometheus. The penultimate episode saw Prometheus and his crew kidnap all of Team Arrow except for Oliver and take them all to Lian Yu. Oliver managed to resist Prometheus' attempts to blackmail him for almost the entire episode... until he discovered that Prometheus had managed to snatch William. Luckily for Oliver, Malcolm Merlyn showed up to help him spring Prometheus and spare William. The pieces are all in place for a grand Lian Yu finale of Oliver's five-year journey as a superhero. So, in honor of the upcoming finale, here are five questions that absolutely need to be answered by the end of the episode.
How Is This A Fair Fight?
Prometheus had the advantage for almost the entire episode, as his minions did the dirty work to capture the members of Team Arrow and use them to lure Oliver to Lian Yu. Now that everybody is on Lian Yu, however, it's hard to imagine a scenario in which Team Prometheus stands a chance. Sure, Prometheus has Talia, Evelyn, Black Siren, and a small army of disposable thugs, but Oliver's crew consists of himself, Deathstroke, Malcolm Merlyn, Nyssa al Ghul, the members of Team Arrow who simply need to be sprung from their restraints, and even Captain Boomerang. Even though the bad guys do have some muscle to them, there's going to need to be some kind of crazy plot twist if Team Arrow doesn't destroy them within the first half hour.
Will Deathstroke Try To Keep His Promise?
Slade Wilson is probably the closest thing that Oliver has to an archnemesis. Even after he was cured of the mind-warping Mirakuru, he was fixated on fulfilling his promise of revenge on Oliver for Shado's death. When they crossed paths again in Season 3, Slade was still set on completely ruining Oliver's life and everybody in it. Now, it's possible that Slade just needed another year and a half in ARGUS prison to get over his grudge, but it's also pretty likely that Slade will simply side with Oliver long enough to defeat Prometheus, then turn on Oliver again. After all, when last they met, Slade dropped a thinly veiled threat about "the girl with the glasses," and Felicity just so happens to be on Lian Yu. Will he try to keep that promise of his?
How Will Black Siren Stick Around?
Team Arrow lost their version of Laurel Lance back in Season 4 when Damien Darhk murdered her, but that hasn't meant a complete lack of Laurel and Katie Cassidy. The Earth-2 version of Laurel has popped over to Earth-1 a few times as the villainess Black Siren, and she's been a particularly screechy thorn in Oliver's side. We learned earlier this year that Katie Cassidy had been bumped back up to regular status for Season 6, meaning that Black Siren won't be dying in the Season 5 finale. What we haven't learned is just how she'll be back or why she'll stick around. I don't see Arrow trying to sell Black Siren as next season's supervillain, and the show will have to find a way for her to stick around somehow.
How Was Oliver Rescued In The Pilot?
We already know bits and pieces about what happened right before Oliver was "discovered" on Lian Yu way back in the pilot. Anatoly recently dropped him off on Lian Yu after his time with the Bratva, leaving him with the means to give himself the look of a man who has been living alone on an island for five years. We know that he'll use a flaming arrow to attract the attention of fisherman and get himself rescued. We just haven't seen exactly how everything will come together, and the flashbacks of "Missing" still had Oliver messing around with angry Russians. Executive producer Wendy Mericle has revealed that the finale will fill in some of the blanks from Oliver's rescue in the very first episode, so this at least is one question that will almost certainly be answered.
Will Oliver's Story Get A Happy Ending?
Arrow has already gotten the order for Season 6, so the Season 5 finale won't be the actual end of Oliver's story, but it will bring the show full circle on Oliver's five years of flashbacks to his years of hell. An era will be ending with the Season 5 finale, and a very long and very dark chapter of Oliver's life will be ending. We just don't know at this point if the chapter will end on as dark a note as possible or if Oliver will get a happy ending before chaos inevitably descends on Star City again in Season 6. The people closest to Oliver in the world are all with him on Lian Yu; if they defeat Prometheus' forces and if they manage to lock Deathstroke away without him murdering anybody, Oliver could get a happy ending.
Of course, those are a couple of big _if_s, so we'll have to wait and see. The Season 5 finale of Arrow airs on Wednesday, May 24 at 8 p.m. ET on The CW. Don't forget to check out our summer TV premiere schedule to discover all your viewing options now and in the coming weeks. Be sure to drop by our rundowns for cable/streaming and broadcast TV renewals and cancellations as well. Our TV season finale schedule can give you all you need to know about your shows ending. For a peek at what's to come this fall for Oliver and Co., take a look at our breakdown of what we know so far about Arrow Season 6.
Resident of One Chicago, Bachelor Nation, and Cleveland. Has opinions about crossovers, Star Wars, and superheroes. Will not time travel.
Your Daily Blend of Entertainment News
Thank you for signing up to CinemaBlend. You will receive a verification email shortly.
There was a problem. Please refresh the page and try again.