The Internet's Best Reactions To ABC's Dirty Dancing Remake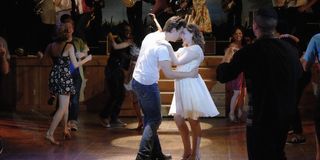 Musicals have experienced a resurgence on network TV in the past few years, and it didn't come as a huge surprise when ABC announced that it would be tackling a remake of Dirty Dancing with a musical twist. Of course, the remake was to be of a 1987 classic movie that is beloved by many, so the odds were pretty good that there would be serious detractors to anything that happened in the remake that departed from the original. The remake has officially aired, and the consensus on social media seems to be that it falls well short of the original. So, we've scoured Twitter for the very best reactions to ABC's attempt at a musical Dirty Dancing. Check them out!
Some folks seem to just regret the decision to tune in to the remake. It was a three-hour TV event, so it was a big waste of time for any who simply wish that they'd watched something else. Unfortunately, the Men in Black technology does not yet seem to exist to flashy-thing the memory away. Maybe we just need a new musical to help us forget.
Other viewers were simply offended on behalf of original Dirty Dancing leading man Patrick Swayze, who passed away back in 2009. As somebody who did watch the entire ABC special, I have to say that it might have been saved if somebody in a mullet had come out of nowhere to kick some of the characters. If it stopped Bruce Greenwood from singing, I know I would have been happy.
Oh, if only the Dirty Dancing remake had been as deliberately funny as Chris Hemsworth and Kate McKinnon faking their way through one of the iconic dances for Saturday Night Live! There were a few reasons to laugh throughout the remake, but I'm afraid they might not have been in scenes that were supposed to be funny. At least nobody ended up in a headlock.
It seems that the flopped Dirty Dancing special could have lasting consequences for ABC. Apparently, some viewers have totally lost faith in the network's ability to remake classic movies. I don't want to say that the musical Dirty Dancing was as silly as the gif of the person in the T-rex costume chasing a Jurassic Park Jeep... but somebody certainly did.
The original Dirty Dancing ended on a pretty celebratory note, as Baby and Johnny led an entire room in a brand new kind of dance. The "I've Had The Time Of My Life" scene has to be one of the most iconic in film history, and it ends on such a high note that we really don't have to think about the fact that the Baby/Johnny love story probably wasn't going to last. The remake pretty much forced us to think about it thanks to a bonus scene at the end that showed a Baby who had a family of her own and hadn't seen Johnny in many years. Fun?
At the end of the day, there really seems to be one prevailing opinion about ABC's musical remake of Dirty Dancing, and it can be summed up with one gif:
Well, at least it's over. Luckily, there will be plenty of TV options in the coming weeks that could help us to move past this version of Dirty Dancing. Check out our summer TV premiere schedule to discover all your viewing options, and be sure to drop by our rundowns for cable/streaming and broadcast TV renewals and cancellations as well.
Resident of One Chicago, Bachelor Nation, and Cleveland. Has opinions about crossovers, Star Wars, and superheroes. Will not time travel.