Did ESPN's SportsCenter Photoshop Tiger Woods' Mugshot?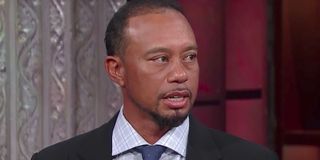 It's never pretty when a celebrity of any sort gets in trouble with the law. Golf legend Tiger Woods has been making headlines over the past couple of days due to his reported arrest for a DUI. While we haven't heard much about a court case that could cause trouble for Woods and his attorneys, we did get a look at his mug shot. Apparently, the mug shot was a bit too unkempt for somebody behind the scenes at SportsCenter on ESPN, because it certainly looks like the mug shot was Photoshopped to make Tiger Woods a little more presentable. Check it out!
In the mugshot following Tiger Woods' arrest for allegedly driving under the influence, his hair is mussed up as he stands against a pale green background. In the photo used by SportsCenter, Woods' hair isn't messy at all and he stands against a lighter background. Going by visuals alone, it definitely looks like somebody at SportsCenter decided to clean up the photo a little bit before broadcasting. Whether this was because a cleaner photo is more aesthetically appealing or because SportsCenter wanted to give the professional athlete a bit of a break, it's pretty clear thanks to the side-by-side pics in the tweet that something changed in the photo.
To give the folks at SportsCenter the benefit of the doubt, it's possible that Photoshop wasn't used to deliberately tidy Tiger Woods' hair and make him look better. If somebody simply cropped Woods out of the mugshot with the green background for the sake of moving him onto the lighter background, perhaps some of his hair was cropped off. We can't say for sure why the backgrounds had to be changed, although the alteration could have merely happened because the green clashed with something else on the SportsCenter screen. Who knows? Maybe a graphic design intern got a little overexcited and decided to get a little bit creative in preparing the picture for air.
That said, it's much funnier to imagine that somebody just decided that they couldn't let Tiger Woods' mugshot make it to air without fixing his hair to look more presentable. We may never know for sure. All we can say at this point is that the mugshot was taken early in the morning on Monday, May 29 when Woods was arrested on suspicion of DUI. He was released on his own recognizance after a few hours in jail. If we hear much more about the case, I hope SportsCenter really embraces all that Photoshop has to offer. Just think of all the other backgrounds they could go for!
Stay tuned to CinemaBlend for the latest in TV news, and don't forget to check out our summer TV premiere schedule to discover all your viewing options now and in the coming weeks. Be sure to drop by our rundowns for cable/streaming and broadcast TV renewals and cancellations as well. If streaming is more your style, our Netflix premiere schedule will help you out.
Resident of One Chicago, Bachelor Nation, and Cleveland. Has opinions about crossovers, Star Wars, and superheroes. Will not time travel.
Your Daily Blend of Entertainment News
Thank you for signing up to CinemaBlend. You will receive a verification email shortly.
There was a problem. Please refresh the page and try again.