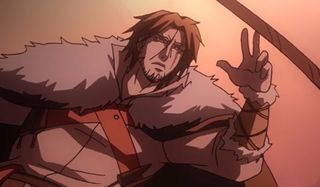 In a short time, Netflix's original series have become pretty well known for holding secrets tight ahead of their premiere dates, and it's almost impossible to tell if anything will change on that front. For example, the streaming giant's upcoming series based on the influential Castlevania was announced earlier this year, but other than some news about the creative team (including Warren Ellis) and a too-short trailer, basically nothing had been revealed about the animated adaptation...before today. Producer Adi Shankar took to YouTube to reveal the leads in the all-star voice cast, which features Battlestar Galactica and Preacher stars, among others.
Graham McTavish
Currently wreaking some mighty freaky vengeance on AMC's recently premiered Season 2 of Preacher, actor Graham McTavish joined Adi Shankar in making the big announcement on YouTube. It looks like the intimidating actor won't be easing up on Castlevania fans, as he'll be the voice of Dracula himself. He already has a commanding voice and tone, and while he might not necessarily look like the Prince of Darkness in live-action, he should have no problem freaking people out as the animated monster.
Richard Armitage
While it would obviously be cool to just watch a Castlevania show where Dracula wrecks shop the entire time, the Netflix series will definitely feature the video game protagonist Travis Belmont, and he'll be voiced by Hobbit franchise vet Richard Armitage. The Belmont bloodline has been disparaged, and it's up to Simon to bring everything back up to snuff, and one assumes that this character will be slightly more comfortable for viewers to root for than his Hannibal role of Francis Dolarhyde.
Matt Frewer
Former Max Headroom star Matt Frewer, who has had memorable (and more recent) roles in shows such as Timeless and Orphan Black, will play a character known as The Bishop. It appears to be a new character, but of course, it's entirely possible that someone from the game has been reworked for TV. And a name like The Bishop is ominous enough to count as either a protagonist or a villain in this universe.
James Callis
Having starred as Dr. Gaius Baltar for the Battlestar Galactica reboot, actor James Callis is used to being known for fandom-fueled projects, and he's definitely adding a checkmark to his resume as Dracula's son Alucard. Though familiar with the Dark Arts that his father is accustomed to, Alucard has other ideas about how humanity should be affected by his heritage, and in the main canon, he fights against Dracula's army. Hopefully that angle is retained for the Netflix series.
Emily Swallow
Emily Swallow, who's definitely recognizable to fans of Supernatural and The Mentalist, will be voicing the character Lisa Tepes, a former wife of Dracula. In the game canon, she's the mother of Alucard, and someone who never actually makes an appearance in the games, used mostly as unseen motivation for Dracula's dark descent. It should be interesting to see how her story is expanded for Netflix.
Tony Amendola
Stargate SG-1 and Once Upon a Time vet Tony Amendola serves as the voice of The Elder within Castlevania. This is another character who isn't named as such in the video game series, but logic seems to point to him possibly taking on the role of the villainous pre-vamp Brauner. If that's not the case, though, don't blame us.
The final cast member announced was Alejandra Reynoso, a voice actress for the animated series Winx Club, and she'll be playing the witchy Sypha Beinades. Produced by Adventure Time's home of Frederator Studios, Castlevania is set to be an extremely adult take on the material. Check out the trailer below.
Castlevania thankfully isn't far in the future, as it's set to debut on Netflix on Friday, July 7. To see what you'll be able to sink your teeth into before and after that, head to our summer TV premiere schedule.
Your Daily Blend of Entertainment News