Hawaii Five-0 Just Lost Two Major Stars Ahead Of Season 8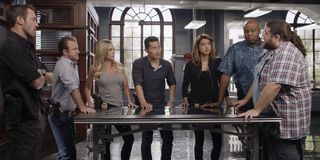 CBS has a good thing going with Hawaii Five-0 on Friday nights, with audiences responding so well to the core group of cops that the show is one of only two that experienced ratings growth in the 2016-2017 TV season. Big changes are in store for Season 8, however, as two longtime members of the cast will be leaving. Daniel Dae Kim and Grace Park have departed Hawaii Five-0 ahead of Season 8.
Both Daniel Dae Kim and Grace Park have been on board Hawaii Five-0 from the very beginning, so it's almost difficult to imagine the show without them. Still, CBS has confirmed to CinemaBlend that they will indeed be absent from the series moving forward. For any fans who were hoping for more of Chin Ho Kelly and Kono Kalakaua next season, the news of Kim and Park's departures will undoubtedly be a bummer.
No official reason has been given for why Daniel Dae Kim and Grace Park will be leaving, but Variety reports that the two actors had been seeking pay parity with leads Alex O'Loughlin and Scott Caan. CBS did not comment on whether failed salary negotiations are what resulted in Hawaii Five-0 moving forward into Season 8 without them.
Chin and Kono will reportedly not appear at all in the eighth season, with their absences addressed in the season premiere this fall. The lack of a grand sendoff can be considered both bad news and good news. The bad news is that we won't get to see them again after the events of the Season 7 finale. The good news is that the characters probably won't have been killed off. Surely Hawaii Five-0 wouldn't kill off two major characters off-screen and just update fans in the fall, right?
That does raise the question of what will send them off. Both Chin and Kono were Hawaii natives, so something big must happen to send them away from home. If it's something awful, at least they'll probably have each other for company. The cousins departing at the same time for unrelated reasons might be a stretch for viewers to believe. Hopefully however they're written off will leave a window for the characters to return at some point, even if only as guest stars rather than regulars.
If Daniel Dae Kim and Grace Park did indeed leave due to failed negotiations, it's a shame that a deal could not be struck. The show simply won't be the same without them, and they'll certainly missed both within the Five-0 universe and by fans. Hawaii Five-0 will return to CBS in the fall. Check out our Netflix premiere guide and our summer TV premiere schedule to discover everything you can watch and when you can watch it while you wait for Five-0 to come back.
Resident of One Chicago, Bachelor Nation, and Cleveland. Has opinions about crossovers, Star Wars, and superheroes. Will not time travel.
Your Daily Blend of Entertainment News
Thank you for signing up to CinemaBlend. You will receive a verification email shortly.
There was a problem. Please refresh the page and try again.