5 Big Questions Rick And Morty Season 3 Needs To Answer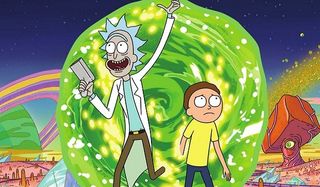 After a grueling wait and tons of kind-hearted trolling from co-creators Dan Harmon and Justin Roiland, the official premiere date for Rick and Morty Season 3 has finally been locked down. Now that it's 100% confirmed that Season 3 is mere weeks away from reaching our eyeballs, we have questions, Morty. Questions that need to be answered or our brains will never return to their daily routines, Morty! Here are some lingering issues that not even the Rick and Morty trailer, while awesome, managed to address.
Is Mr. Poopybutthole Doing Alright?
The last time we officially saw Mr. Poopybutthole, he was apparently addicted to opiates and ranting about Rick and Morty Season 2 ending. He also meta-prophetically told the audience it could be a year and a half or longer before they see Season 3! A fan favorite since his debut in "Total Rickall," Mr. Poopybutthole's health inspired worry and wonder among fans wanting him to come back. And if Mr. Poopybutthole does return, will he have an ax to grind with Beth for shooting him? He seemed fine while in rehab, perhaps, but addiction can change a man (or even a man-esque being), so who knows? Ultimately, the fans deserve to know that the top hat-wearing little yellow dude is okay, right? Right.
Will McDonald's Ever Bring Back Szechuan Sauce?
The surprising season premiere for Rick and Morty Season 3 unleashed a fervor amongst fans who took to the Internet to make a pretty specific demand: the resurrection of a plum-based Szechuan Sauce that McDonald's sold in the '90s during its promotion of Mulan. Fans have successfully pestered both the corporate Twitter for McDonald's, and its manager of culinary innovation, enough for some proper responses, so while nothing is confirmed, perhaps progress is being made to allow the world's enjoyment of this sauce yet again. With Disney developing a live-action version of Mulan, the timing would be perfect for the sauce revival to take place sometime in 2018. And if it happens, let's just hope it's as good as Justin Roiland remembers it to be!
Is Krombopulos Michael Still Alive?
Rick and Morty fans get easily attached to the goofy tangential characters of this universe, and Krombopulos Michael is a great example of that. The assassin, who will kill anyone or anything (including children), seemingly met his end when Morty accidentally crushed him with Rick's spaceship. The scene appeared to show Krombopulos Michael dead, but fans haven't given up hope, and a lot of that hope is rooted in Rick and Morty's "infinite dimensions, infinite characters" concept that would allow Dan Harmon and Justin Roiland to bring back a different Krombopulos Michael from an alternate dimension. (Better more of him than more Jerrys, right?) There's also a theory that it was a different Krombopulos Michael that may have been killed, which plays into a Jerry-related theory we'll discuss in a bit.
What's On Intergalactic Television These Days?
For two seasons in a row, Rick and Morty has produced episodes in which the characters watch otherworldly TV shows on interdimensional television, thanks to Rick's nifty gadget, and it's been absolutely genius both times. The sketch-esque gags have given us classic characters like Ants In My Eyes Johnson, as well as hilarious movie trailers involving a post-apocalyptic Jan-Michael Vincent. Intergalactic TV also gave us the Plumbus, which has become one of Rick and Morty's most iconic elements. Hopefully, Season 3 continues the tradition and fans get way more goofy faux-gramming, with animations presumably based on the first thing that comes into the minds of Justin Roiland and Dan Harmon. If not, at least fans have this bizarre live-action sketch from the live stream to work with.
Are Jerry And Beth Done For Good?
Justin Roiland revealed during the recent Rick and Morty live stream that Beth and Jerry are divorced...but are they really done? Theories have been tossed around that the current Jerry on the show is not actually the Jerry we knew from Season 1. Supposedly, Rick and Morty picked up the wrong Jerry from the Jerryboree in "Mortynight Run" -- which also featured Morty killing Krombopulous Michael -- and that the episode inevitably followed a different dimension's Rick and Morty. Ultimately, this theory surmises that Jerry became emboldened and left Beth at the end of Season 3's premiere because he was with the wrong Beth. Of course, this theory could be all wrong, with Jerry and Beth genuinely ending their awkward marriage, but that doesn't mean Jerry can't win her back!
Any questions we missed? Of course, since every moment on this show inspires a subset of conversations. But feel free to add on any unquenchable curiosities in the comments below. Rick and Morty returns to Adult Swim for Season 3 beginning Sunday, July 30, at 11:30 p.m. ET. For more great summer TV programming, head on over to Cinemablend's summer premiere guide.
Mick likes good television, but also reality television. He grew up on Star Wars, DC, Marvel, and pro wrestling and loves to discuss and dissect most of it. He's been writing online for over a decade and never dreamed he'd be in the position he is today.
Your Daily Blend of Entertainment News
Thank you for signing up to CinemaBlend. You will receive a verification email shortly.
There was a problem. Please refresh the page and try again.