Hooten And The Lady Review: The CW's New Adventure Series Is Fun But Needs Something Extra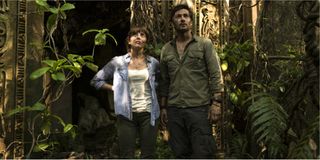 A lot of the television landscape these days is filled with police/detective procedurals and superhero shenanigans that can sometimes get kinda dark and brooding, especially when you consider the dog days of summer entertainment. The CW, home to many of those deep superhero shows, is trying to rectify that by lightening their programming load up a bit for the season. If you need a little weekly adventure in your summer, the network's new action comedy Hooten & The Lady might be right for you. But, know that while the show is fun, it does seem to be missing a certain indefinable something.
Hooten & The Lady focuses on Lady Alex Spencer-Parker (Ophelia Lovibond), a British aristocrat and historical expert who works for the British Museum, as she begins to venture out from the safe confines of the museum and starts to follow in the footsteps of famous archeologists and adventurers by traveling the world to bring important artifacts home. Her first mission takes her to the Amazon, where she stumbles into the path of (slightly) reckless treasure hunter Hooten (Michael Landes). The two need each other's help getting out of a super sticky situation, and end up joining forces to explore the jungle.
As could be expected, the action/adventure/comedy takes a fairly standard road by having Alex be relatively straight-laced (though quite plucky and willing to traipse through remote locations in the name of gaining historical artifacts), while Hooten is rakish and a bit morally suspect as he searches for treasure and deals with locals and other adventurers. The two snipe at each other in an approximation of snappy banter, just like you might expect. And if Alex and Hooten don't end up having lots of moments of sexual tension by the end of Season 1, it would be a huge surprise. While this aspect of Hooten & The Lady helps the show remind viewers of classics like Romancing the Stone or (to a lesser extent) Moonlighting, the similarity also makes it painfully obvious that there's a spark missing from the series that keeps it from fully living up to its spiritual ancestors.
It's hard to say exactly what Hooten & The Lady, which was created by Tony Jordan, James Payne, Sarah Phelps, Jeff Povey and Richard Zajdlic, is missing. All the pieces appear to be in place. Leads Lovibond and Landes are well cast and do a good job of making their characters believable and likable, and they also have the seeds of good chemistry which would make it understandable for Alex and Hooten to, eventually, become more than discordant partners in treasure hunting. Maybe switching the roles, with Hooten being a British Lord and Alex being the long-time adventurer who's willing to get her hands dirty, would have given the series a bit more life to fully lift it to a more memorable level.
Having said all that, though, Hooten & The Lady does give audiences a dose of feel-good action and adventure that's mostly missing from TV these days. The leads aren't trying to live down tortured pasts or make up for major mistakes. In the episode I was able to preview, there was no moping or self-sabotage or pangs of guilt that caused Hooten or Alex to act unreasonably. There was just a lot of good, old-fashioned running, gunning, falling, escaping, quipping and discovering cool shit in the jungle with two good looking people. And, that's really pretty refreshing at this point.
If you need your lead characters to have deep, dark emotions and big secrets, Hooten & The Lady might not be for you. But, if you just need a fun show, that keeps it simple while offering up a decent dose of action, adventure and comedy, you've probably hit on a show that will carry you through the end of summer. If nothing else, the show does serve as a pleasant distraction, and sometimes that's all we need when we slouch down on the couch and turn our TVs on. It should be noted, though, that while Alex and Hooten are pretty much what-you-see-is-what-you-get kind of characters, the end of the first episode does imply that Hooten might be holding on to a secret that leads to him doing the wrong thing for a good reason occasionally. So, it is good to know that the people behind Hooten & The Lady have already thought of ways to deepen his character in case we get more than one summer of this show.
Hooten & The Lady premieres on The CW July 13 at 8 p.m. CST.
Bachelor Nation, Gilmore Girl; will Vulcan nerve pinch pretty much anyone if prompted with cheese...Yes, even Jamie Fraser.