Legends Of Tomorrow Season 3: What We Know So Far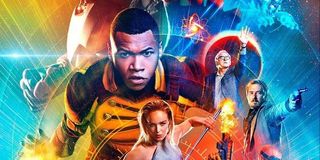 If you have followed the Arrow-verse since the earliest days of its existence, then you already know that it has undergone a massive evolution over the course of the last five years. From Oliver Queen's street-level adventures in Star(ling) City, we have seen the creation of speedsters, the introduction of aliens, and even time travel. The CW's small screen DC universe has become one of the weirdest and most outlandish interconnected worlds in all of pop culture, and seemingly no show epitomizes that idea more than Legends of Tomorrow. An intersection of every single Arrow-verse series, the time travel-based, sci-fi adventure show is an exercise in pure campiness, and it has carved out a great niche for itself over the last two years on the air.
As many of you already know, Legends of Tomorrow got exponentially better between its first and second season. It became much more focused and much more confident in the type of show that it wanted to be. Now that Season 2 has ended and a third season has officially received an announcement, we have a distinct feeling that the series will only continue that upward trajectory. In order to make sense of the future of this beloved DC show, we have taken it upon ourselves to compile a handy guide consisting of everything that we already know about Legends of Tomorrow's third season -- and we will continue to keep it updated as more information becomes available to us. Feel free to go through everything we know and let us know how excited you are for the third season of Legends in the comments section below. Now, let's get started with the most important thing of all: the renewal of Legends of Tomorrow.
Is Legends Of Tomorrow Renewed?
It's an absolutely fantastic time for fans of the Arrow-verse series, as The CW recently renewed all of the network's small screen DC series. This development means Arrow will receive a sixth season, The Flash will be given a fourth season, Supergirl will get a third season, and yes, Legends of Tomorrow will, similarly, receive a third season (not to mention the upcoming first season of Black Lightning). It would certainly be an overstatement to call Legends of Tomorrow the highest rated of the Arrow-verse shows, but there's a certain synergy that has developed between these series, and Legends plays a vital role in that process. Bring on Season 3!
When Will Legends Of Tomorrow Premiere?
Although Season 1 of Legends of Tomorrow was an abridged run of episodes in Spring 2016, Season 2 of the sci-fi series premiered last October and ran for a full 17-episode arc. Season 3 is going to follow that model and use a similar release window. In fact, it was recently announced that Legends of Tomorrow Season 3 would premiere on Tuesday, October 10 at 9 p.m. EST -- right after the Season 4 premiere of The Flash at 8 p.m. EST.
What Will Be The Story Of Legends Of Tomorrow Season 3?
The end of Legends of Tomorrow's second season created an entirely new set of problems once the team defeated the Legion of Doom and ended the Spear of Destiny arc. When the credits rolled on the Season 2 finale, Sara Lance and her team of heroes had quite literally broken time itself. Picking up some time after the defeat of the Legion, Season 3 will follow The Legends as they face off against their former mentor Rip Hunter -- who has formed a new version of the Time Masters known as the Time Bureau. The result of this showdown will be a battle of ideology, as the Legends and the Time Bureau will fight over which organization's methods of safeguarding the timeline yield better results in the long run.
Of course, knowing that Legends of Tomorrow will move in this direction raises a number of questions about how Season 3 will differ from Season 2. Legends benefited quite a bit from the overwhelming charm of the Legion of Doom, so it remains to be seen how the show will operate without such a fresh assortment of bad guys around to constantly play off of our heroes. We have already seen Rip Hunter as a "bad guy" in this series, so Legends of Tomorrow will need to do something to set this new arc apart from what we have seen before. Then again, as long as Vandal Savage never comes back we will probably be just fine.
Who Is Involved In Legends Of Tomorrow Season 3?
Towards the end of Legends of Tomorrow's second season, most fans generally assumed that the series would shuffle the board in a major way to set up a new roster of heroes for Season 3. That's what happened after the events of Season 1, and the formula worked fairly well. However, Legends of Tomorrow's second season ultimately came and went with no significant, permanent deaths on the Legends lineup. Even Vixen (who died at the hands of Captain Cold) actually managed to come back. With such an intact roster, it looks like everyone is coming back for even more zany time travel action for Season 2.
Having said all that, it's also very clear that Legends of Tomorrow Season 3 isn't going to rely solely on the talents of the established cast. New heroes are definitely going to enter the fray this year, and while we don't know too many details associated with the incoming cast, we do know that American Odyssey's Tala Ashe was recently cast as DC heroine Zari Adrianna Tomaz. DC knows that we love deep cuts from its comic book lore, so she almost certainly won't be the last addition to the Season 3 ensemble.
Sara Lance
Caity Lotz's Sara Lance has been a fan-favorite Arrow-verse character since her proper introduction during Arrow's second season, but Season 2 of Legends of Tomorrow is where she really began to shine. Specifically, the season ended with her finally embracing her status as the captain of The Waverider -- effectively making her the main character of the Legends of Tomorrow cast. This is a significant shift for a show that was initially a true ensemble series, and it seems likely that most of the dramatic moments in Season 3 will fall squarely on Sara's shoulders when Rip goes off to form the Time Bureau.
Ray Palmer
Like Sara Lance, Ray Palmer has become another fan-favorite Arrow-verse character for his enthusiastic approach to heroism, and his optimism in the face of overwhelming odds. However, unlike Sara, Legends has struggled to figure out how to properly use the character over the last two years. Season 2 moved Ray to more of a supporting role on the team, and the shift has generally allowed Brandon Routh to play to his comedic strengths. We're excited to see Ray continue providing tech and moral support as the series moves forward, but he will definitely need to a more comic book-faithful A.T.O.M. suit at some point.
Mick Rory
If Legends of Tomorrow figured out how to properly use Ray Palmer by shifting him to a supporting role on the team, then it has done the exact opposite with Dominic Purcell's Mick Rory. Heatwave initially joined the Legends roster reluctantly alongside Captain Cold, but he has since grown from hired muscle into one of the show's most compelling characters. He has experienced one of the most compelling arcs on the entire series, and his actions during the events of the Season 2 finale definitively confirmed that he has finally embraced his status as one of the Arrow-verse's most critical and complex heroes.
Firestorm
Although Legends of Tomorrow likes to pair off its heroes in different permutations episode after episode, no duo on the series feels more intricately connected than Dr. Martin Stein and Jax. The Firestorm team has established an incredibly strong bond over the course of the show's two seasons on the air (particularly during the events of Season 2), and their psychic link has served the team well to help provide a warning system for imminent danger. Between Stein's seemingly endless knowledge of physics, and Jax's new status as The Waverider's engineer, we expect both of them to play vital roles in Season 3 -- even when they're not merged into the body of one hero.
Nate Heywood
When you're traveling through time to tamper with legendary historical events, it pays to bring someone who knows history along for the ride. That's where Nate Heywood comes into the equation. Nate has easily become one of the best additions to the Legends of Tomorrow roster with his enthusiastic love for history, his bromance with Ray Palmer over all things nerdy and geeky, and his booming romance with Vixen (but more on that later). We're just hoping that Legends of Tomorrow gets an increased budget this year so we can see him properly suit up as Steel more often.
Vixen
Following the departure of Hawkgirl at the end of Season 1, Legends of Tomorrow needed to bring in another heavy-hitting female character who could dole out some serious damage in the show's bigger action sequences. The show found that in Amaya "Vixen" Jiwe -- a member of the original Justice Society from the 1940s. Despite almost dying at the end of Season 2, Vixen ultimately decided to stick with the team for a little while longer to try her hand at a romance with Nate Heywood. However, she WILL eventually need to leave the team in order to keep the timeline intact, so we expect this to be one of this seasons' biggest overarching plot threads.
Rip Hunter
Season 3 of Legends of Tomorrow will take former Time Master Rip Hunter in a relatively odd direction. Despite ending Season 2 on a high note with the rest of his team (even conceding control of The Waverider to Sara Lance), it seems that Season 3 will see Rip keep himself busy by forming a brand new organization known as the Time Bureau. This group will come into direct conflict with The Legends, which seemingly indicates that Rip may actually become the central antagonist of the show's upcoming season. That has to be a bitter pill for the team to swallow, as they fought tooth and nail to get Rip back from the Legion of Doom during Season 2.
Zari Adrianna Tomaz
As we previously indicated, Legends of Tomorrow Season 3 will bring a brand new DC hero into the equation in the form of Zari Adrianna Tomaz. Described as a "gray hat activist" from the year 2030, Tomaz is a technologically advanced Muslim-American hero who excels as a computer expert but is also harboring hidden abilities that she doesn't yet comprehend. In the comics, the character has ties to Black Adam, although it hasn't been revealed whether or not that will remain consistent on Legends. The character will be portrayed by American Odyssey actress Tala Ashe, and she's expected to join Legends of Tomorrow as a series regular when the show returns this fall.
Other Newcomers
By now it is no secret that Legends of Tomorrow loves to toy with different guest stars from different eras within the DC timeline. The episodes focusing on these newcomers have consistently been the most entertaining entries in the Legends of Tomorrow canon, so it would make perfect sense for the series to double down on that idea and continue to bring us new heroes. After all, the series has teased Booster Gold for so long that it would be a shame for us not to see him.
That said, Legends of Tomorrow has already established a number of heroes and villains who could easily make the jump to The Waverider on a full-time basis. From Jonah Hex to Connor Hawke and even Black Siren, there's no shortage of colorful DC personalities who could show up on the time travel series. Legends of Tomorrow Season 3 has yet to confirm or deny whether or not these characters will appear again, but it seems like a smart bet to guess that they will.
Your Daily Blend of Entertainment News
Originally from Connecticut, Conner grew up in San Diego and graduated from Chapman University in 2014. He now lives in Los Angeles working in and around the entertainment industry and can mostly be found binging horror movies and chugging coffee.