Black Lightning: What We Know So Far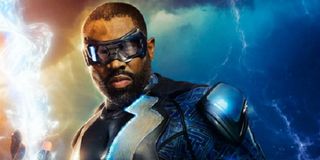 You have to hand it to DC, Warner Bros., and The CW. Year after year, and with seemingly increased audacity, they have managed to pump out hit after hit. From Arrow to The Flash and Supergirl, the genuine limitations of DC's small screen potential have been difficult to find. With that in mind, and on the heels of DC's recent successes in the realm of television, it is now officially time for us to level our sights on the next DC TV project on the horizon: Black Lightning. It is a series that has managed to fly relatively under the radar over the course of the last few months, but with its premiere now officially on the horizon for early 2018, it is time to really dive in and talk about this exciting addition to the small screen DC lore.
With such an intriguing show coming down the pipe for The CW, we have taken it upon ourselves to compile a handy guide to everything that we currently know about Black Lightning. We will keep this guide as up to date as possible as new information about the upcoming series becomes available to us, so make sure to keep it handy as the series' premiere date draws near. There are a number of important points for us to get to, so let's kick this guide off with one of the most important aspects of Black Lightning: its release date.
When Does Black Lightning Premiere?
The CW's DC shows have yet to actually land on a system for debuting its series. The small screen universe tailors its release schedules to the needs of each series. Shows like Arrow and The Flash have opened with full season orders in the official fall lineup, while Legends of Tomorrow began with an abridged spring season. With that in mind, it appears that Black Lightning will skew more towards the somewhat less traditional Legends of Tomorrow method and debut its first set of episodes halfway through the 2017-2018 season. That's admittedly not much to go by yet, but it at least allows us to confirm that Black Lightning will debut after the Arrow-verse series have already returned.
While this may seem problematic at first, it actually could go a long way towards helping Black Lightning get off of the ground in a proper way. Shows like Arrow and The Flash have arguably shown signs of fatigue in their recent 23-episode full season arcs, so a shorter Season 1 for Black Lightning could actually allow the folks at DC, Warner Bros., and The CW to craft a much leaner arc of episodes that will prove more satisfying for audiences. Only time will tell at this point, but expect to see Black Lightning shock audiences when 2018 rolls around.
How Many Episodes Of Black Lightning Can We Expect?
As of right now, Black Lightning has a Season 1 order, and, since it's debuting at mid-season, that probably means a short season of around 13 episodes, though that hasn't been confirmed yet. Having said that, DC has experienced hit after hit on the small screen in recent years (aside from a recent, ill-fated misfire with NBC's Powerless) so it's hard not to assume that Black Lightning will go on to achieve a similar level of critical and commercial success. If all goes well, we should expect to see Black Lightning eventually get ordered to a full series in Season 2, alongside all of DC's other hit shows.
What Is The Story Of Black Lightning?
Black Lightning will utilize a narrative structure that will definitely feel familiar to anyone who has spent even a small amount of time delving into superhero fiction over the years, but that doesn't make it any less valid. Centering on returning superhero Jefferson Pierce (Cress Williams), the series will pick up with him over a decade after hanging up his "Black Lightning" costume and devoting himself to the life of an educator, and his return to the world of super heroics when the crime in his community once again reaches a boiling point that he can no longer stand by and tolerate. As I said, it is nothing new, but if it is not broken, then there's no reason to try and fix it.
However, aside from the personal vendetta element of Black Lightning's core story, there also seems to be a major theme of community pride that doesn't appear to be accidental. Early glimpses at the show have exhibited a strong sense of emphasis on civic duty and the concept of fighting for "the little guy," so comparisons with shows like Arrow and Marvel's Luke Cage will definitely be hard to ignore. Race also seems to be a major component in the series, as the cast is predominately black, and the show appears to focus heavily on the plight of minority communities in America.
Is Black Lightning A New Show In The Arrow-verse?
Considering how popular interconnected superhero TV shows have become in recent years, it would make plenty of sense for the powers that be to bring Black Lightning into the Arrow-verse fold and have him stand alongside the likes of Stephen Amell's Oliver Queen and Grant Gustin's Barry Allen. However, that appears not to be the case this time around. Rather than place Black Lightning in an existing world, The CW has apparently opted to run in the opposite direction of its usual creative decisions and make the upcoming superhero series a legitimate standalone project. Black Lightning was originally going to find a home on FOX before it ended up at The CW, so the decision to remain isolated makes sense from a business perspective.
Whether or not this is a good thing remains to be seen, and there are obvious pros and cons to both sides of this concept. By keeping Black Lightning insulated from other properties, audiences now have an "anything goes" landscape not really seen since the first season of Arrow. However, it also limits the amount of DC goodies that we can see on this series at any given time. Both arguments have plenty of merit, but (like Supergirl before it) we will have to wait and see if Black Lightning will remain insulated forever. Remember, the multiverse can make anything happen at any time.
What Is The Tone Of Black Lightning?
Despite the generally outlandish abilities of the titular superhero, Black Lightning appears to be gunning for a tone that harkens back to the earliest days of the Arrow-verse. Specifically, there's a seriously dark and emotional core to this series that reminds us of Oliver Queen's first war on crime back in 2012. Sure, there are more super-heroics in play here than in Season 1 of Arrow, but the overall aesthetic of Black Lightning really seems to conjure imagery of street level crime and urban decay (it's even arguably close to Season1 of the Marvel Cinematic Universe's Daredevil on Netflix). In a small screen superhero landscape that has become defined by time travel and multiverse escapades, that is actually a somewhat pleasant change of pace for the live-action comic book genre.
Having said that, the darker tone does not necessarily mean that Black Lightning is aiming for an entirely grounded sensibility. The Arrow-verse has already stretched the limits of what audiences will accept as part of their superhero worlds, which means the outlandish electrical abilities of the titular hero do not need to be watered down in any way, shape, or form.
Who Is Involved In Black Lightning?
While creatives like Greg Berlanti and Andrew Kreisberg have done much of the heavy lifting when it comes to the process of getting the Arrow-verse off of the ground, Black Lightning will see a new creative team to step in to do much of the major work. Specifically, the series has tapped the talents of Salim Akil and Mara Brock Akil to create the show from the ground up. Neither of them has much experience delving into the world of superheroes or superhero fiction, but that also creates a new opportunity for them to innovate and try new things in The CW's DC superhero world. After all, with four successful shows under its belt, it's clearly time for The CW to start taking more chances with its DC properties. Make no mistake, Berlanti is definitely still involved in Black Lightning, but fresh blood is also entering the arena as well.
Jefferson Pierce
Although he may not be the most well-known DC superhero, Jefferson Pierce a.k.a Black Lightning is definitely one of the most interesting of the bunch. Referred to by many as a "true hero," Pierce is a tech genius and high school principal who gave up his life as a vigilante over a decade ago to care for his family. However, when crime takes a personal toll on his family, Pierce dusts off his gear and returns to the streets as Black Lightning -- using a custom-made harness that allows him to project protective forcefields and offensive electric bolts.
Despite the relatively obscure nature of the character (at least to mainstream fans), Black Lightning has actually appeared in a number of fan-favorite storylines and DC properties over the years. Specifically, eagle-eyed fans will spot him in Justice League Unlimited, Infinite Crisis, Final Crisis, and Batman: The Brave and the Bold -- among others. With such a wealth of awesome material propping this character up, we will have to wait and see whether or not his introduction will pave the way for even bigger DC heavy hitters like Batman or even Green Lantern -- who has long been teased for the small screen.
Tobias Whale
As of right now, all of the evidence seems to points towards Tobias Whale as the central antagonist of Black Lightning's first season. This makes plenty of sense, as he is a longtime foe of Jefferson Pierce in DC Comics, and his appearance in the series could help escalate the conflict with the 100 Gang to a more heightened reality. Whale (true to his name) is an enormous, heavy-set, albino black man with a penchant for fancy suits and harpoons. To put it bluntly: he is endlessly weird and endlessly cool. Even for the most seasoned type of superhero, he's not someone that you want to trifle with lightly.
One of the most interesting aspects of the revelation of Tobias Whale as the central villain for Black Lightning's first season is the fact that insiders associated with the development of the series have made sure to establish the fact that he is the central antagonist from the very beginning of the show. Black Lightning isn't going to abide the "freak of the week" formula that shows like Arrow, and The Flash leaned on in their first years on the air, and that could potentially signify a much stronger emphasis on story and an overarching conflict to drive the abridged season. As long as we get to see some badass fight sequences, I have a feeling that we will get to walk away from this show's premiere pretty satisfied.
Will Other DC Heroes Appear In Black Lightning?
Although we have already established that Black Lightning will stand on its own and not become part of the proper Arrow-verse (at least for the foreseeable future), that does not mean that the show will not potentially draw in some other well-worn and established DC superheroes. There are plenty of options (given Black Lightning's numerous team affiliations) but one name that has been consistently thrown around in recent weeks is Static. This cameo has not been confirmed yet, but series creator Salim Akil has explicitly stated that he likes the idea of this appearance happening, so it makes sense in the long run.
Beyond that, Static makes sense simply because his powers are so obviously complementary to Jefferson's. Both of these DC heroes have the ability to manipulate electricity to their respective wills, and both of them are primarily known for fighting street-level crime. Static has never really had an opportunity to shine in live-action before, so getting the spotlight alongside Black Lightning could prove beneficial to both properties. If nothing else; it is just cool to know that the folks behind Black Lightning are already thinking of ways to expand this universe once Jefferson Pierce has received a proper introduction.
Originally from Connecticut, Conner grew up in San Diego and graduated from Chapman University in 2014. He now lives in Los Angeles working in and around the entertainment industry and can mostly be found binging horror movies and chugging coffee.
Your Daily Blend of Entertainment News
Thank you for signing up to CinemaBlend. You will receive a verification email shortly.
There was a problem. Please refresh the page and try again.