Why Supergirl Is Giving Up Her Kara Danvers Persona In Season 3, According To Melissa Benoist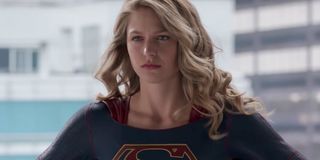 Warning: spoilers ahead for Season 2 of Supergirl! Read ahead at your own risk!
In the newly released trailer for the upcoming season of Supergirl, audiences can hear the titular heroine refer to her Kara Danvers persona as "a mistake." The implication of this bombshell confession is that she no longer believes that she can blend in with the humans, and she's no longer interested in trying to make it work. The revelation shocked audiences in attendance at San Diego Comic-Con, and Melissa Benoist subsequently took the stage to explain that her new attitude towards Kara primarily stems from the fallout of her decision to send Mon-El away from Earth at the end of Season 2, saying:
A mentality such as this isn't necessarily earth shattering within the grand scheme of superhero arcs. In fact, characters like Batman and Iron Man similarly (and famously) recommitted themselves and doubled down on their slightly obsessive endeavors in the wake of massive personal tragedies. Even Supergirl's sister series Arrow embraced this concept when Oliver Queen decided to focus solely on his life as The Arrow in Season 3. The difference here is that Kara is often regarded as one of the most incorruptible heroes in the entire Arrow-verse, and her willingness to dive into such a dark character arc should instantly tell us how Kara's decision to send Mon-El back into space has affected her.
This decision won't go over well with Supergirl's supporting players, and the rest of the show's cast chimed in at the San Diego Comic-Con panel to explain that Kara's choice to distance herself from humanity will instantly draw concern and suspicion among those she cares about. The core theme of Supergirl's third season is the question of what it means to be human and have humanity, and every single one of these characters (whether they hail from Earth or not) will be forced to answer that question through their approach to Kara's struggle.
With all of that said, do we think Supergirl is going to drop Kara Danvers permanently? Of course not; after all, her hijinks with James Olsen and Winn have always stood out as some of the most endearing moments of the series. That said, the fact that the show has charged headfirst into this direction gives us a solid understanding of what to expect. Supergirl will always be one of The CW"s lighter shows, but this season may take the overarching story into an area of unprecedented darkness. Even if Mon-El returns later this season (something that is generally expected to occur), it remains to be seen whether or not he will even recognize the Kara he left behind.
Supergirl will return to The CW this fall on October 9 at 8 p.m. EST. Before then, make sure to take a look at CinemaBlend's comprehensive summer TV premiere guide for more up to date information on the rest of the small screen projects slated to debut this season.
Originally from Connecticut, Conner grew up in San Diego and graduated from Chapman University in 2014. He now lives in Los Angeles working in and around the entertainment industry and can mostly be found binging horror movies and chugging coffee.
Your Daily Blend of Entertainment News
Thank you for signing up to CinemaBlend. You will receive a verification email shortly.
There was a problem. Please refresh the page and try again.