The Divergent TV Series Probably Just Found Its Network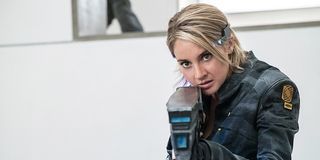 The Divergent film franchise had a lot of things going for it when it kicked off in 2014, but it never became a real smash hit at the box office. After a third installment failed to deliver what the franchise needed to continue, distributor Lionsgate officially cancelled the order for a fourth big screen installment, which would have been called Ascendant. Instead, the rest of the franchise would play out on television with a TV movie followed by an ongoing series. Now, a network is finally attached to possibly bring Ascendant to the small screen: Starz.
Starz is actually a new subsidiary of Lionsgate, so it would make sense if Starz is indeed going to be the new home for the Divergent universe. The project is still in the very early stages of development, but Deadline reports that it's being executive produced by Adam Cozad of Tarzan and Lee Toland Krieger of The Age Of Adaline. Cozad is also on board as writer, and Krieger is slated to direct. The duo had originally signed on to write and direct Ascendant when it was still intended for theatrical release. It seems that they'll still get to bring their vision to life, just on a different platform.
Of course, depending on the actors who decide to come to TV for the movie, Adam Cozad and Lee Toland Krieger may need to tweak their vision in some significant ways. Franchise star Shailene Woodley was reportedly shocked by the decision to cancel Ascendant as a feature film, and she has already said that she doesn't intend to appear in the TV show. It isn't entirely clear if she was ruling out the TV movie and the show or just the show, but we definitely shouldn't count on her reprising her role as Tris.
That said, Tris is the heroine of the story, and it's unlikely that Ascendant would make any sense without her. If Woodley is out, Tris will likely be recast. As for Woodley's co-stars like Theo James and Ansel Elgort... well, we can only wait and see. Given that the goal is to set up a new series with a new cast of characters, it's possible that a TV movie would be able to minimize the involvement of the original film characters and shift focus to newbies who would lead the action of a TV show.
Such a move would likely be bad news for Divergent fans who have become attached to the characters more than the universe. Whatever happens, we have to hope that Starz finds a way to bring closure to Tris, Four, and the rest, even if it means straying from what happened in the books that inspired the franchise. Only time will tell.
Stay tuned to CinemaBlend for the latest in TV and film news. Our handy summer TV guide can help you narrow down what to watch nowadays, and our fall TV premiere schedule can help you plan what to watch when the new television season kicks off in the not-too-distant future.
Resident of One Chicago, Bachelor Nation, and Cleveland. Has opinions about crossovers, Star Wars, and superheroes. Will not time travel.
Your Daily Blend of Entertainment News
Thank you for signing up to CinemaBlend. You will receive a verification email shortly.
There was a problem. Please refresh the page and try again.