Jessica Jones Season 2 Is Bringing Back The Character We All Hoped Would Return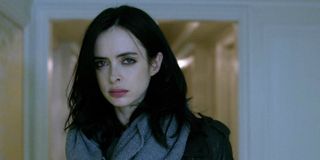 You can try to resist, but resistance is futile when a show is as good as Jessica Jones, which has captured the imaginations of comic book newcomers and aficionados alike, handily becoming one of the best aspects of the entire MCU. The series' first season told an unflinchingly brutal story of abuse, survival, and post-traumatic stress, and we can attribute at least half of its success to David Tennant's pitch-perfect performance as the maniacal Kilgrave, who didn't survive the finale. Never fear, Kilgrave fans, because David Tennant has officially been confirmed for a Season 2 appearance in the hit Netflix series.
That's right, folks. Defying most expectations, David Tennant is officially set to return to the Marvel Cinematic Universe as Kilgrave, as proven by the actor making his way back to the Jessica Jones set as the show reenters production, as shared by EW. To call this development a pleasant surprise would be the understatement of the day, as the demented and mind-controlling Kilgrave has easily become one of the best villains to ever appear in any modern Marvel property. We can hear him now: "Come back here, Jessica!"
One aspect of Kilgrave's return not specifically elaborated on is the nature of his involvement in the plot of Season 2, or how it fits in the chronology. As most fans already know, Jessica gave Kilgrave's neck a very thorough snapping at the end of Jessica Jones Season 1. Killing him marked a very significant moment for the titular vigilante, so there's an argument to be made that a mere resurrection might not be the best course of action for the show. Beyond that, Jessica showed signs of immunity to his powers when she killed him, meaning that he may not have quite the same strength as a villain if he returns from beyond the grave.
With that in mind, it's entirely possible that Jessica Jones could use Kilgrave in a flashback sequence, or possibly even as a ghost-like hallucination -- a la Mark Hamill's Joker in Batman: Arkham Knight. And even if her Defenders adventures aren't tainted by his influence, perhaps she'll fall back into her formerly paranoid mental state, bringing him back to mind. Whatever happens, we're honestly just glad to know that one of our favorite TV villains will soon return to potentially wreak more havoc. We've seen what he can do when he gets his claws into Jessica or Luke Cage, but what we really want now is to see what would happen if he could control someone like Matt Murdock or Danny Rand.
In many ways, Kilgrave represents a perfect blend of faithful adaptation and creative license. Inspired by The Purple Man character from Marvel Comics, the character's basic mind-control abilities have remained relatively consistent in his transition into live-action. However, Tennant imbues the character with a very distinct sense of gleeful menace, and he has evolved in a way that makes him more of a sadistic (and hedonistic) madman, and less of a traditional criminal mastermind. By and large, the changes have worked for the needs of Jessica Jones, spinning a psychological thriller element missing from Marvel's other TV shows, and we cannot wait to see what happens when The Purple Man makes his next appearance.
Jessica Jones is currently aiming to return for its second season in early 2018, and the hard-drinking, super strong private eye will make her next appearance in the MCU when The Defenders premieres this weekend on Friday, August 18, at 12:01 a.m. PT on Netflix. Head to our summer premiere schedule and our fall TV schedule to see what else is on the way in the future.
Your Daily Blend of Entertainment News
Originally from Connecticut, Conner grew up in San Diego and graduated from Chapman University in 2014. He now lives in Los Angeles working in and around the entertainment industry and can mostly be found binging horror movies and chugging coffee.