Rick And Morty's Creator Prank Called Joel Osteen's Church In Character As Rick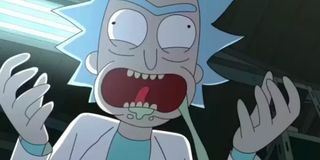 As of this writing, we have yet to find a single situation that is not made funnier and/or more outrageous by the inclusion of Rick and Morty's consummate alcoholic Rick Sanchez. From reenactments of real court cases to crossovers with other properties like Alien and The Simpsons, the mad scientist's off-the-wall lunacy goes great with pretty much anything, which definitely includes prank calls. Rick and Morty co-creator Justin Roiland put that on full display by delivering a hilarious Rick-fronted prank call to Joel Osteen's megachurch. Check out the video of the incident below, and prepare for ridiculousness on all sides.
Wubba lubba dub dub, am I right, ladies and gentlemen? We technically don't yet know if Justin Roiland was voicing standard Rick or Pickle Rick in that call, as recorded during an appearance on the H3 Podcast, but regardless of which Rick was on the line, that was just a pitch-perfect prank call situation. Roiland (and his Rick and Morty co-creator Dan Harmon) have never shied away from poking fun at religious ideologies in their sci-fi comedy, and that's taken to the next level by bringing the comedy right to the prayer hotline of Joel Osteen's church, which made headlines recently over Hurricane Harvey. Things eventually go way off of the rails, however, as a confused Roiland finds himself forced to keep up with a bizarre (and somewhat unintelligible) prayers being vocalized on the other end of the line. And then there's that laughter...
It should not come as a huge shock, Morty, to see that Justin Roiland can deliver rapid fire quips as Rick, showing little hesitation when coming up with jokes off of the top of his head, and all without cracking up. Rick and Morty's writing process is different from many other shows in the sense that it uses a process called "retroscripting," which basically gives the performers more room to maneuver and improvise on the fly. This technique was most notable in the "Interdimensional Cable" episodes of the first two seasons, in which most of the dialogue on display in the vignettes were performed off-the-cuff by Justin Roiland. It takes skill, but when it works, it's amazing.
While not inherently tied to the TV show, the video highlights Roiland's talents on the mic, and speaks to how well Rick and Morty has kept its reputation alive in Season 3, following its surprise premiere in April. The show continues to grow increasingly darker with each passing year --"Welcome to the darkest year of our adventures!" -- but that overwhelming sense of darkness and existential angst has not stopped the series from consistently delivering hilarious, Szechuan sauce-covered adventures. Now if we can just get that church employee to agree to join Season 4 as a tongue-speaking giggler from another dimension, we'd be set.
Rick and Morty airs on Adult Swim on Sunday nights at 11:30 p.m. ET. However, if you are looking for more TV to fill your time when Rick isn't putting Morty in danger, then make sure to take a look at our comprehensive fall TV premiere guide to keep yourself up to date on all of the major debuts slated for the next few months!
Your Daily Blend of Entertainment News
Originally from Connecticut, Conner grew up in San Diego and graduated from Chapman University in 2014. He now lives in Los Angeles working in and around the entertainment industry and can mostly be found binging horror movies and chugging coffee.