Wait, Is The Flash's Caitlin Not Part Of The S.T.A.R. Labs Team Anymore In Season 4?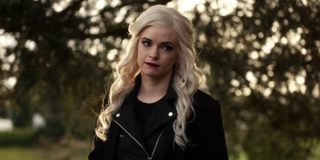 After a somewhat darker third season, things are about to get a bit brighter in the world of The Flash for Season 4. Barry Allen will let go of some of his baggage once he returns from the Speed Force, and his relationship with Iris will become a source of humor instead of constant drama. However, it's not going to be all sunshine and rainbows for everyone, as a set of newly released photos seem to indicate that Caitlin Snow may no longer be a member of the core S.T.A.R. Labs team, as she has taken up a new job. Check out one of the pictures below.
When we last saw Caitlin Snow, she opted to go full Killer Frost -- leaving Team Flash in a quest to find herself. Now, in Season 4, it looks like her "found" self involves serving drinks at a dive bar while trying to keep the redheaded and frosty side of her personality in control. Eventually, Cisco will come to have one of The Flash's trademark private talks with her, but the looks on both of their faces seem to suggest that things aren't what they used to be. She may still be a member of Team Flash, but it doesn't look like she's going to hang around the lab quite as much as she used to, at least in the early days of Season 4. Honestly, since we still don't quite know how S.T.A.R. Labs gets its unending funded, bartending might simply be a more lucrative profession.
The evolution of her character seems hammered home even further by the changes in her demeanor and the way Danielle Panabaker carries herself as the character. For a closer look, check out another newly released picture of Caitlin Snow below.
The changes are subtle, but this looks like a far cry from the Caitlin Snow we met in Season 1. She's quite a bit tougher than she used to be, and it appears that the adventures of the last year have had a notable impact on her personality. Could be that somebody just said "Give me a beer," without specifying it, something that happens all-too-often on TV.
Finally, we have one more picture of Danielle Panabaker's character facing off against Flash newcomer Norvock in the same dive bar as the other two photos. In the comics, Hunk Norvock is a mob boss who hires The Thinker (Season 4's big bad), which leads us to believe that this exchange will help tie the core conflict of Season 4 together. But there's another interesting point to make about it.
Among these newly released photos from The Flash Season 4, this particular picture is the only one in which Danielle Panabaker is credited as "Killer Frost" instead of "Caitlin Snow." Given the intensity with which she stares at Norvock, it suggests that her colder and more badass personality is waiting just beneath the surface. If that's the case, then Season 4 could continue to show Ms. Snow struggling with the duality that has come to define her since becoming a metahuman. But is she all about helping Norvock or hurting him?
The Flash will return for Season 4 on Tuesday, October 10 at 8:00 p.m. ET on The CW -- the night after Supergirl returns for its third season, and the timeslot directly before Legends of Tomorrow Season 3 premieres at 9:00 p.m. ET. And there are plenty of other great fall TV debuts right around the corner, so check out our fall TV premiere guide to get more up-to-date information on all of them.
Originally from Connecticut, Conner grew up in San Diego and graduated from Chapman University in 2014. He now lives in Los Angeles working in and around the entertainment industry and can mostly be found binging horror movies and chugging coffee.
Your Daily Blend of Entertainment News
Thank you for signing up to CinemaBlend. You will receive a verification email shortly.
There was a problem. Please refresh the page and try again.