The Crazy Number Of Times Flash Characters Needed to Talk To Each Other, Privately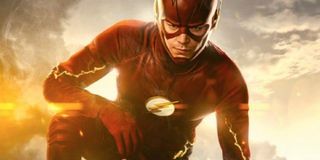 As much as we love superheroes, it cannot always be about their powers and wacky adventures. Real humans live under those masks, and the Arrow-verse often thrives when it embraces that drama in a relatable way. Arguably no series on The CW pulls that off better than The Flash, but a video has surfaced online that shows us what the opposite of that pulse-pounding drama looks like, with a supercut of all the times the S.T.A.R. Labs characters pull each other aside to talk privately. Check the ridiculousness out below.
You likely knew that the characters on The Flash liked to talk, but I bet you never quite realized how frequently they do that right after referring to it. As you can see, it is a pseudo-tradition that extends as far back as the pilot episode of The Flash, and it is obvious that this story-forwarding pattern has become as tried and true for the series as footraces. As The Flash deals out interpersonal drama as much as it does super heroics, the members of Team Flash are consistently pulling one another away from the main group to have heart-to-hearts and ominous discussions about inner anguish. Nobody ever talks about what they want for dinner.
The video highlights an arguably overused dialogue trick on The Flash, but I would contend that it is nice to see a superhero show that wears its conversational heart on its sleeve in such a way. When it comes to superhero fiction (particularly on shows like Daredevil or Arrow) much of the drama comes from characters' inability or unwillingness to open up to one another to share anything meaningful. The Flash (rapidly) sidesteps that idea by making emotional openness and honesty a fundamental aspect of its narrative approach. Sure, Barry Allen has been known to withdraw himself from those he loves now and then, but he is a real chatterbox when compared to someone like the perpetually grim Oliver Queen.
That idea has us wondering how The Flash will evolve moving into its fourth season. With Barry Allen now officially stuck in The Speed Force (with Wally possibly poised to take his place), Team Flash will find itself at one of its weakest points in the history of the series. With so much uncertainty on the horizon, and the leader of the team not around (at least initially) to help guide our heroes, it stands to reason that we will see the champions of Central City continue to cope by talking to each other about their various problems and issues. After all, who wouldn't want to sit down and have a deep discussion about life, the universe, and everything with Joe West, over a glass of whiskey?
CinemaBlend will bring you more information related to the upcoming season of The Flash (as well as the rest of the Arrow-verse series) as new details become available to us. The Scarlet Speedster's solo series returns to The CW on Tuesday, October 10 at 8 p.m. EST. For more information related to the small screen debuts slated for the rest of this season, check out our handy summer TV premiere schedule.
Originally from Connecticut, Conner grew up in San Diego and graduated from Chapman University in 2014. He now lives in Los Angeles working in and around the entertainment industry and can mostly be found binging horror movies and chugging coffee.
Your Daily Blend of Entertainment News
Thank you for signing up to CinemaBlend. You will receive a verification email shortly.
There was a problem. Please refresh the page and try again.