The Flash Season 4: What We Know So Far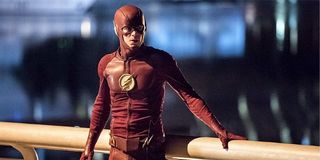 Spoilers below for The Flash episodes up to and including the Season 3 finale.
Some pretty cool stuff happened on Season 3 of The Flash. Barry realized on multiple occasions that no time is a good time to go back and change the past, two new speedsters have joined Team Flash, the gang has fought a super intelligent gorilla army, and they've gotten to know crusty CSI Julian enough to make him a part of their secret crime-fighting league. And now that Savitar has been put to rest and the season is finished, it's time to start thinking about what might be in store for our favorite characters in Season 4.
Is The Flash Renewed For Season 4?
Well, there is good news for all you fans of The Flash, since The CW renewed the DC comics show for Season 4 back at the beginning of January. The news was especially good for everyone who follows the other DC shows on The CW, because the network also signed up for more Arrow, Supergirl and Legends of Tomorrow, meaning that the network's entire slate of DC-based series will be on the air for at least another season. Not to mention the newest entry, Black Lightning, which actually won't be part of the Arrow-verse when it premieres.
When Will The Flash Season 4 Premiere?
Since we're still deep into Season 3, it's way too early to know for sure when The Flash Season 4 will premiere, but we can, at least, narrow down the possibilities for the debut of the next season. In its three seasons so far, The Flash has always hit the airwaves within the first seven days of October, so it's a pretty good bet that Season 4 will follow that trend. Unless The CW decides to do something radically different with its schedule in the upcoming season, thanks to some unforeseen speedster messing around with the timeline.
What Is The Story Of The Flash Season 4?
Now that Season 3 has come to it explosive, city-demolishing end, it's still as hard to tell what Season 4 will be about as it was when Season 3 began. We can, of course, make some educated guesses until more concrete proof comes out once the scripts are written and the cast is set. A large part of Season 3 has been the fight to stop Savitar/Future Barry Remnant from killing Iris, along with his other various misdeeds, and that story seemed to be definitively concluded in "Finish Line" when the majority of Team Flash played a part in taking the big bad down, with Iris seemingly erasing his existence. The Flash tends to deal in big, season defining supervillains who are basically dealt with by the end of each villain's particular season, and we'll probably have a new Big Bad for most of Season 4.
In fact, a couple of months ago, showrunner Andrew Kreisberg confirmed that the next season of The Flash will feature a non-speedster supervillain, to which many a fan said "Hallelujah!" So, who might be the main bad guy when Season 4 comes around? Well, when the villain Abra Kadabra met Barry, he revealed that not only was he from the 64th century, but that one of Barry's greatest foes was going to end up being someone named Devoe. That's led many to believe that Season 4 will see lawyer-turned-supervillain Clifford Devoe show up as The Thinker, a baddie who's capable of figuring out every possible detail of a situation in order to stay several steps ahead of his rivals, and who also developed tech to use telekinesis and mind control.
It's bizarrely unclear how the finale's cliffhanger is helping to set up the story of Season 4, as well as how any new villains will enter the story. I mean, we don't even have a central hero anymore, since Barry sacrificed himself by jumping into the Speed Force in order to stop it from completely destroying Central City. (And HR is dead now.) There's no telling how Barry will ever get released from that speedster version of Hell, nor how he'll be able to move on from that devastating choice.
Now, let's take a look at what could happen to each of the main players on The Flash in Season 4.
Barry
Barry Allen has lost a lot in his life, especially in his time as The Flash, but it seemed like all might be well when he and Iris finally got engaged to be married, officially. But then he went and lost everything, since Cisco's plan to take out Savitar meant completely unlocking the Speed Force, which freed Jay Garrick and then went haywire. Barry's biggest challenges this season were as emotional as they were physical, and however he returns to audiences in Season 4, there's no doubt he'll be a darker and more downtrodden version of himself. But hopefully not full-blown mopey like Savitar was.
Iris
Since the intrepid reporter was indeed still alive for the final moments of Season 3, we can probably all bet that one of her main storylines for next season will be the same for all significant others of superheroes: trying to stay out of the line of fire when bad guys come calling. We definitely hope for a change on that front, knowing Barry will probably be tempted to try to keep Iris on the sidelines, but at least there's no way Iris would give up her time on Team Flash for a little thing like safety. So, we can expect for her well being to be threatened several times in Season 4, all while she tries to get the perfect scoop for her newspaper gig.
Cisco
Cisco has finally gotten over his beef with Barry's Flashpoint meddling, which led to his brother's death in the current version of the timeline. But while part of that fog has lifted, Cisco is now without Barry AND Caitlin/Killer Frost/Whoever. A large part of that comes from Cisco's comfort in using his Vibe powers, but some of it is from his newfound flirtatious relationship with Earth-19 vibe master and bounty hunter extraordinaire, Gypsy. Cisco spared her life when he won their trial by combat for H.R.'s life, something which Gypsy clearly appreciated and made her soften toward everyone's favorite tech genius just a little. After she later helps the team beat Grodd, Gypsy kisses Cisco, which has me hoping that the two superpowered cuties can find a way to start a real inter-dimensional relationship as Season 4 gets under way. Aside from that bit of good news, he's lost one of his good friends lately, as Caitlin has gone all the way Killer Frost recently, and he's being forced to finally do battle with her like his vibe powers have suggested would happen for most of the season. Let's just hope that he doesn't end up losing his hands.
Caitlin
Season 3 has mostly seen Caitlin try to deal with her Killer Frost powers that were brought on by Barry's regrettable Flashpoint shenanigans. Thanks to some cool tech from Cisco, she had started to really get a handle on how to use her powers without going full Frost. But, a little thing called death led Julian to remove her power dampeners, which pushed poor Caitlin aside and brought Killer Frost out full time. I had been really looking forward to the unlucky in love lady finally getting a man who doesn't die horribly or turn out to be a supervillain, with Julian, who's become a full member of Team Flash since they cured him of the Savitar posession that turned him in Alchemy. Unfortunately, there doesn't seem to be much hope of that happening right now. Before, I was hoping that Julian survived the rest of the season so that he and Caitlin could make a go of things next year, but now it looks like she might be the one in the most jeopardy.
Joe
Now that he's got two speedster sons, and a daughter who's also always in the path of danger, Joe has spent much of this season trying to come to grips with constantly having his whole family be less than safe. Luckily for the ace CCPD detective, he's got Cecile, Central City's D.A., on his side to help him soothe his nerves after a tough day of dealing with superhero kids and the dangerous villains they fight. Joe will never stop worrying about Barry, Wally and Iris, so I'd like to think the show will keep Cecile around to help comfort the doting dad in Season 4.
Wally
After experiencing some jealousy over Jesse developing super speed, Wally is finally given the super power as well, and becomes Kid Flash. Since he's still very new to the superhero game, expect him to continue to learn the best way to use his powers in the fight against evil during Season 4, all while trying to complete his college courses. As with almost every other major character on The Flash, Wally was recently given a love interest in the form of Earth-2 speedster Jesse, who had decided to move to Earth-1 in the hopes of keeping the romance alive with him. But, Earth-1 already has two full-time speedster heroes, and Jesse did, indeed, need to head home later in the season, which might leave their young relationship up in the air for Season 4.
Your Daily Blend of Entertainment News
Yennefer's apprentice, Gilmore Girl; will Vulcan nerve pinch pretty much anyone if prompted with cheese...Yes, even Jamie Fraser.