Netflix's Oh Hello Is Exactly What The Streaming Giant Needs Right Now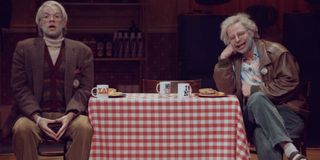 We have spoken at length about Netflix's need to change things up and try new things over the last few weeks. While the streaming giant indeed maintains a competitive vice grip on the original content market right now, its recent wave of cancellations arguably signifies impending stagnation. Netflix needs to explore new and innovative corners to keep its library of content fresh, and it may have found its next big thing in the form of Oh, Hello on Broadway. The hit stage production is hilarious, vulgar, and all sorts of weird, but it may also be exactly the type of content that Netflix should start investing in going forward.
For those of you who are unaware, Oh, Hello on Broadway is a stage production spinoff from one of the most popular recurring segments from Nick Kroll's ill-fated Kroll Show on Comedy Central. The show follows the exploits of geriatric New Yorkers George St. Geegland (John Mulaney) and Gil Faizon (Nick Kroll) as they dream of stardom and artistic fulfillment from their rent-controlled Upper Westside apartment. George, a failed novelist, is a deadpan, drug-addled psychopath deemed too violent to serve in Vietnam, and sometimes known to rifle through coats at parties. Gil, by contrast, is a "Tony Award viewing" actor and "unlicensed doula" with the emotional maturity of a toddler. Together, these two create a pairing that seems allergic to success (or sanity), and they spend much of their time pranking unsuspecting victims with absurdly large (and typically rotten) tuna fish sandwiches.
That's all you need to know going into Oh, Hello, and in all honesty, it probably wouldn't hurt to know even less. This production is alt comedy at its finest, as John Mulaney and Nick Kroll indulge in each other's improv, skewer every Broadway trope imaginable, and relish every opportunity to make the audience (or each other) uncomfortable. Netflix is no stranger to live comedy performances (if anything, the service is cornering the market on stand-up) but Oh, Hello stands on its own as a brilliant step forward for the wildly successful platform because of how utterly different it feels.
Oh, Hello ultimately represents the beginning of a golden opportunity because it plays to all of Netflix's inherent strengths. It defies the rules of traditional broadcast television, indulging in an unorthodox 102-minute runtime and a far less restrictive rating system. The marriage of a conventional stage production with a broadly accessible streaming platform works astonishingly well, and the success of Oh, Hello could (and should) open the door for Netflix to give its contracted artists and creators more room to experiment with the "television" format. It's similar to what Louis C.K. recently attempted with his independently funded web series Horace and Pete, except Netflix has the resources necessary to sustain these experiments.
Beyond all of that, Oh, Hello's particular brand of humor simply isn't for everyone, and that's arguably the biggest reason for why Netflix needs more content like it. In an era in which the streaming giant consistently churns out mainstream projects like the recently renewed Unbreakable Kimmy Schmidt, Stranger Things, or its many Defenders series, Oh, Hello appeals more to an audience who "gets it." In the same way that a network like Adult Swim has developed a rabid audience base by exploring niche markets of "alternative" content, Netflix should endeavor to find more projects similar to Oh, Hello on Broadway, and make comparatively smaller investments in these somewhat riskier avenues. Then, and only then, will it truly assert itself as the dominant streaming platform.
Oh, Hello is now available to stream on Netflix (opens in new tab), so do yourself a serious favor and check it out. For more information related to the rest of this summer's small screen debuts, make sure to take a look at our 2017 summer TV premiere schedule.
Your Daily Blend of Entertainment News
Originally from Connecticut, Conner grew up in San Diego and graduated from Chapman University in 2014. He now lives in Los Angeles working in and around the entertainment industry and can mostly be found binging horror movies and chugging coffee.
Your Daily Blend of Entertainment News
Thank you for signing up to CinemaBlend. You will receive a verification email shortly.
There was a problem. Please refresh the page and try again.