The Arrow-verse Crossover Just Delivered A Heartbreaking Death That Will Change Everything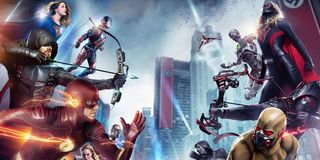 (Image credit: Image courtesy of The CW)
Warning: spoilers ahead for the "Crisis On Earth-X" superhero crossover on The CW. If you haven't watched yet, you may want to check out some of our non-spoilery articles until you get the chance to tune in.
The "Crisis On Earth-X" crossover event brought the heroes of Arrow, The Flash, Legends of Tomorrow, and Supergirl together to battle a Nazi threat along with some evil doppelgangers from the world known as Earth-X. The two-night event was a wild ride, but it came with a tragic twist when one major Arrow-verse character was killed in his efforts to save his friends from the Nazis. Yes, Martin Stein died in the final episode of "Crisis On Earth-X," and it was incredibly heartbreaking.
Martin was among the group of heroes transported to Earth-X at the end of the Arrow leg of the crossover last night, and he was almost killed early in the episode after he and the rest of the good guys were forced in front of a firing squad. The heroes got a reprieve when they encountered the Ray, who also happened to be a captive at the concentration camp, imprisoned because he's gay. Citizen Cold -- a.k.a.the Earth-X version of Leonard Snart -- showed up to rescue his beloved Ray, and the Arrow-verse heroes were rescued as well. Unfortunately, Martin would meet his fate in his next encounter with the Earth-X Nazis.
The Arrow-verse good guys stormed the facility that housed a portal that could transport people between Earth-X and Earth-1, and they had to battle a whole lot of Nazis in order to even get close. Firestorm was doing pretty well, but there came a moment when Jax and Martin had to separate to take care of different jobs. While Jax was able to do his part without injury, Martin wasn't so lucky, and he was shot in the back by a Nazi.
That wasn't yet the end for good old Martin, however. With everybody else pinned down by the Nazis and Red Tornado fast-approaching to blow up the whole facility with them still inside, Martin dragged himself up from the ground and finished the job, thus saving the lives of all of his friends on Earth-X and enabling them to return to Earth-1 to save everybody else, although he was shot again in the process. He was able to survive the journey back to Earth-1 once he joined with Jax to become Firestorm, but the rest of the heroes would soon discover that even Gideon on the Waverider and the brain trust of the various superhero series were not going to be able to save Martin.
As it turns out, Martin only survived being shot in the first place due to his connection with Jax as Firestorm. The connection was enough to keep him alive for a time, but it was also doomed to kill both him and Jax as soon as Jax's strength wore out. While everybody else was trying to avoid dropping the terrible news of their impending deaths to the two halves of Firestorm, Martin figured out what was happening, and he took a big step to save the life of the young man who had become like a son to him. He directed Gideon to reproduce the serum that was designed to separate the two halves of Firestorm safely, and he was able to convince Jax to help him drink so as to save Jax's life. Thus, Martin died.
The only real bright spot of the tragedy is the fact that Martin went out as a truly brave and selfless hero, and "Crisis On Earth-X" didn't move past his death in the span of a scene or two. All the other characters were seen reacting to and devastated by his death, and one of the final scenes of the crossover was his funeral. As tragic as it was that Martin Stein died just as he was preparing to retire from the superhero life and spend time with his family, he got one of the most heartfelt sendoffs of any character to die in the history of any of the Arrow-verse series.
The death of Martin Stein will change Legends of Tomorrow in a big way. For one thing, Martin will no long be able to lend his brilliance to the team, and he saved a lot of lives with his wits. His death also means that Firestorm can no longer be a Legend unless they somehow figure out how to give Jax back his powers, and Jax didn't even seem to be with the Legends at the end of the episode. Martin was also instrumental in helping Team Flash on more than one occasion. The life and death of Martin Stein will undoubtedly continue to impact Legends of Tomorrow and the Arrow-verse as a whole moving forward.
The presence of time travel in the Arrow-verse does mean that perhaps Martin will return at some point or other, but probably not for a while. Victor Garber landed a role on Broadway that will keep him very busy for quite a while. We'll have to wait and see if he ever finds his way back to the Arrow-verse.
The four shows of the Arrow-verse will return to business as usual next week, sadly without Martin Stein. To see how the Legends fare without him, tune in to The CW next Tuesday at 9 p.m. ET. Don't forget to swing by our midseason TV premiere guide and our rundown of 2017 TV cancellations.
Resident of One Chicago, Bachelor Nation, and Cleveland. Has opinions about crossovers, Star Wars, and superheroes. Will not time travel.
Your Daily Blend of Entertainment News
Thank you for signing up to CinemaBlend. You will receive a verification email shortly.
There was a problem. Please refresh the page and try again.