The Most Commonly Misspelled Porn Search Terms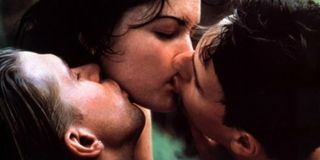 Well, folks, Pornhub is at it again. This time, they've given us some insights on what porn search terms are the most misspelled in each state, and you might be surprised at the results. It looks like just because a word is usually easy to spell, it doesn't mean that such ease translates when your typing has been, uh, handicapped in some way.
The most misspelled word in Pornhub's search terms is, well, porn. A whopping 16 states (including California, Oklahoma and New York) have trouble typing in what must be one of the easiest porn terms, but what's most interesting is that they all, apparently, misspell it the same way: porm. Obviously, the "n" and the "m" are right next to each other on the keyboard, meaning that this is just a silly typo from people who are likely typing one-handed because...well...the other hand is already busy you guys, OK?
As you can see in the above map, pretty much the same was true of ebony (which sees people in South Carolina and Florida type "wbony" instead), compilation (which confounds those in Maine and Montana into typing "compliation") and MILF (those in Ohio and Nevada only have time for "MIFL"). Folks are also leaving an "o" out of cartoon (Hello "carton" porn!), and trying to get an introduction to "thresome" porn instead of enjoying that old standby, the threesome. I am actually glad to see that these are just simple typos from people who are just, uh, in a hurry to get to what they need, and not serious misspelling that should make us fear for the porn education of our nation's youth. Unfortunately, though, some of these misspellings might fit into that category.
While folks can be forgiven for not getting the second most misspelled word, hentai, correct, since it is a Japanese term, some people are clearly just fuzzy on how to spell words like lesbian and amateur, which come in at number three and seven on the misspelled list. My favorite version of these words have to be "lebsiam" in Louisiana and Texas and "amaturr" in North Carolina. Thank you, Southerners, for being so entertaining.
Here's my big question, though. Why are people going to Pornhub and trying to type in the search bar at all? This makes no sense to me, especially when going to the site immediately exposes you to a wide variety of videos on the home page. Not to mention the fact that there's a category tab at the top which will let you easily click on the porn niche of your choosing. (I only checked, for, you know, work purposes.) When you're in a porn mood, wouldn't it seem that you'd want to make things as easy on yourself as possible? Unless, I guess, things being more difficult makes it more fun for you? You know what, I'm digging myself a hole here that I should probably step out of before it gets too deep. Just remember, porn lovers everywhere: point, click and use those hands wisely. You've got better things to do than type right now.
Your Daily Blend of Entertainment News
Yennefer's apprentice, Gilmore Girl; will Vulcan nerve pinch pretty much anyone if prompted with cheese...Yes, even Jamie Fraser.
Your Daily Blend of Entertainment News
Thank you for signing up to CinemaBlend. You will receive a verification email shortly.
There was a problem. Please refresh the page and try again.