Most Popular Sex Positions By State Study Reveals Two Extremely Popular Choices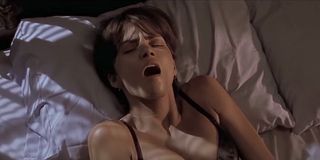 If it isn't already obvious, there are many differences in the people who occupy particular states in this great union of ours. A recent study just found that each state has certain preferences when it comes to sex positions, and the two most popular choices might make some of you feel right at home. Not too surprisingly, state by state, most of the country is fond of either the "woman on top" or "doggy style" positions when it comes time to get down with the getting down.
The study, which was done by Ask Men, used Google AdWords data from each state that was then broken down by the website's own predetermined list of sex positions to see just what people in each state were looking for when it came to sex position information. "Woman on top," well, came in on top in sex position searches with the good folks in 29 states seeking details on how to get that done right when they need their collective fancies tickled. "Doggy style" was second in searches with 18 states looking for pertinent info on the position.
If you ask me, and I know you didn't but here I go anyway, it makes perfect sense that these two sex positions wound up coming in as most people's first and second choices, even though it's also a bit surprising. Aside from the absolutely basic "missionary style," which one would think needs no explanation or Google searching anyway, these two positions might just be the best known in the world, with even a lot of people who don't pay attention to things like sex positions, or, maybe, sex at all, knowing what they are. Having said that, though, this is why it surprises me that these are so popular. Wouldn't it seem that, by now, most people would understand how these positions work and would not need to investigate them further? Who knows, maybe everyone is just interested to know if there have been any new developments in the "woman on top" and "doggy style" areas of sexual adventure.
Speaking of sexual adventure, the Ask Men study did find some intriguing searches, as should be expected whenever we deal with people looking for information on sex. Coming in third place in the study, the people of New Jersey and Massachusetts made sure that "facesitting" hit the top five sex position searches. What can I say? It's gets cold there and I'm sure that helps warm a body up real good. Meanwhile, the number five search in the study is courtesy of the solid, midwestern state of Missouri, where locals like to search for details on "criss cross." I've lived in Missouri all my life and I had no idea what that was, so, in the interest of writing a well-researched article, I added to my state's Google tally and looked it up. And, it seems like my fellow Missourians are enjoying themselves without going through too much trouble, and that is certainly something I can appreciate.
Bachelor Nation, Gilmore Girl; will Vulcan nerve pinch pretty much anyone if prompted with cheese...Yes, even Jamie Fraser.
Your Daily Blend of Entertainment News
Thank you for signing up to CinemaBlend. You will receive a verification email shortly.
There was a problem. Please refresh the page and try again.