Bull Is Losing A Major Star For Season 3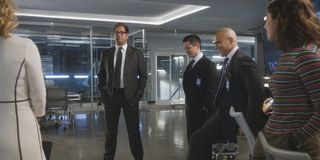 Bull was a big hit when it premiered its first season on CBS back in 2016, and Jason Bull and his team kept a solid audience tuning in throughout the second season. For Season 3, however, there will be at least one big change to that team, as an original member of the cast is departing. Annabelle Attanasio has left Bull. The team will be without Cable in the next batch of episodes.
Annabelle Attanasio made her Bull debut in the very first episode as the expert hacker Cable, and the Season 2 finale didn't end with any indication that Cable was going anywhere. The lack of a Cable cliffhanger may be due to Attanasio's departure not being settled until the finale had already been concluded. She made the decision to leave Bull herself, according to TVLine, as she finally got the chance to direct a feature film, which has been a goal she's been working towards for four years now. The downside of landing the directing gig is that the filming schedule for the feature conflicts with the filming schedule for Bull, but CBS and Bull producers agreed to let her move on from the series to pursue her dream.
While Annabelle Attanasio's departure is undoubtedly bad news for fans who love Cable, at least there's a positive reason for the decision for Cable to leave the series. Of course, it's not altogether shocking that Attanasio was given permission to step away from the show to work on a different project. Paul Attanasio, a.k.a. Bull co-creator and executive producer, is Annabelle Attanasio's father, so she must have had an ally in making her case to leave as Cable. All things considered, it sounds like the split between the actress and the show and network was amiable. Could this mean a return for Cable at some point?
CBS has not yet revealed how Cable will be written out of the series, so it's possible that her story will only come to a temporary halt than a permanent end on Bull. Annabelle Attanasio hasn't indicated that she's looking to return, but she also hasn't explicitly ruled it out. It should be interesting to see how her absence is addressed in the premiere this fall. A Bull arc back in February 2018 saw Cable temporarily fired from Bull's team, although she was back with the crew within a number of weeks. Her position as hacker has been quite valuable to Bull and Co.; the show may need to add another hacker to maintain the status quo once Cable is gone.
The Season 2 finale ended with two other characters' fates up in the air. Nevertheless, fans really didn't need to worry about the cliffhanger that saw Bull himself suffer a heart attack. The show called Bull starring CBS favorite Michael Weatherly wasn't exactly going to kill off its lead character after only two full seasons on the air. The other cliffhanger saw Marissa seriously considering leaving her position on the team, although since Bull wasn't aware of any final decision, we don't necessarily need to consider her a former member of the team yet. Perhaps Annabelle Attanasio's departure will mean changes to plans for the team in Season 3 if Bull doesn't want to cut two members -- even if only temporarily -- of the group out in the same episode.
Only time will tell. Bull will return for its third season on September 24. The show is switching time slots for the third season, with new episodes airing on Mondays at 10 p.m. ET on CBS. For more CBS information, take a look at the CBS 2018-2019 fall schedule. If you need some series to watch in the meantime, check out our summer TV premiere guide.
Resident of One Chicago, Bachelor Nation, and Cleveland. Has opinions about crossovers, Star Wars, and superheroes. Will not time travel.
Your Daily Blend of Entertainment News
Thank you for signing up to CinemaBlend. You will receive a verification email shortly.
There was a problem. Please refresh the page and try again.