How Teen Mom 2 Handled Jenelle Evans' Road Rage Incident With The Gun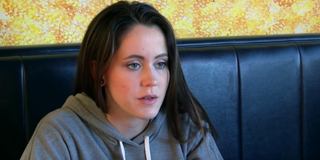 Jenelle Evans of MTV's Teen Mom 2 fame (and infamy) is making headlines again, and not for the best reason. Evans was involved in a road rage incident earlier this year that resulted in the drawing of a firearm, and footage of the incident finally hit the airwaves in the July 23 episode of Teen Mom 2. As this was bound to cause a stir with viewers everywhere, all eyes were on MTV to see how the network handled the situation, and some may be surprised how everything went down on the airwaves.
The incident started when Jenelle Evans was driving on the highway with son Jace in the passenger seat. Although the camera didn't show what was happening behind the car, Evans stated that the driver in her rear was tailgating her and she would drive as slow as she wanted. This backfired when the driver pulled around and in front of her, then slowed dramatically, forcing mother and son to jolt forward against their seatbelts when Evans had to hit the breaks. Evans was upset at what went down, and the tensions escalated to the point that she drew a handgun.
Nobody was injured, and MTV actually hyped a road rage situation involving Jenelle Evans on its Twitter page ahead of the episode, although footage of Evans pulling her gun was not posted on social media. Episode viewers watched as Evans followed the driver home and drew her weapon. Interestingly, while MTV aired a large chunk of the altercation, the network did not show the footage of Evans with her gun. That said, MTV didn't try to conceal what had happen. The episode briefly cut away from the road rage footage to show a black card reading "At this point, Jenelle pulled out her firearm."
MTV didn't show Jenelle Evans brandishing a weapon in her car while her son sat next to her, but it didn't conceal what had happened. Will Evans be as unhappy with this portrayal of her as she was previously? As it happens, People reports that Evans called 911 to state that she "almost veered off the road" due to the other driver's action, and she described him as "literally going crazy, swerving in and out of lanes," saying that Jace "almost got whiplash and almost hit the dash." The driver had a different story to tell in his own 911 call, stating that Evans hit his truck, ran over his mailbox, and drew a gun after following him to his home. He told authorities at the time that he "wants her stopped and charged."
It's somewhat surprising that the Teen Mom 2 episode showed as much of the altercation as it did given the potential repercussions against one of its stars. The incident as it aired could certainly attract the attention of the authorities, even if it took place back in May. Teen Mom has generated more than one headline about stars catching the attention of the cops recently, as Teen Mom alum Ryan Edwards wound up behind bars on July 23 due to "possession of a controlled substance," according to The Ashley. Only time will tell if the footage of Jenelle Evans' road rage will result in backlash and potentially harm her chances of gaining more time with her son.
Tune in to MTV on Mondays at 9 p.m. ET for new episodes of Teen Mom 2, which certainly delivers plenty of drama now that Jersey Shore: Family Vacation is off the air for the time being. For some other viewing fare, swing by our summer TV guide.
Resident of One Chicago, Bachelor Nation, and Cleveland. Has opinions about crossovers, Star Wars, and superheroes. Will not time travel.
Your Daily Blend of Entertainment News
Thank you for signing up to CinemaBlend. You will receive a verification email shortly.
There was a problem. Please refresh the page and try again.