Survivor: David Vs. Goliath's Shocking First Elimination Involved A Medical Emergency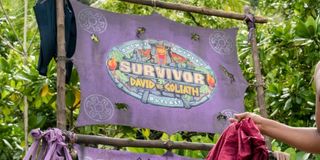 Spoilers ahead for the first episode of Survivor: David vs. Goliath on CBS.
Another season of Survivor is underway on CBS, and this round of competition will be known as Survivor: David vs. Goliath. The premise has the group of castaways divided into tribes based on their levels of success in life. Based on the Biblical story of a young man taking down a huge giant with only a stone, the season has the David tribe comprised of underdog competitors while the Goliath tribe is made up of competitors who are at the top of their fields. Only one episode has aired so far, but David vs. Goltiath has already delivered a shocking elimination due to a medical emergency that could have ended very, very badly if not for the quick actions of medical professionals.
The David tribe was traveling via boat from one Fiji island to another when the vessel hit a patch of rough waters due to the weather effects of Tropical Cyclone Josie. Having lost the first immunity challenge, the David competitors were having a tough enough day without the roughness. Well before the boat made it to its intended destination, an impact resulted in a back injury for property manager Pat Cusack. When his pain did not abate, the decision was made to turn the boat around and head back to the beach they'd left. The Survivor medical team checked him out and ruled that he needed to be examined at a proper hospital. Although Cusack wanted to stay in the game, he was evacuated and therefore removed from competition.
According to THR, here's how longtime Survivor host Jeff Probst described the situation after Pat Cusack was brought back to the original island:
Clearly, Pat Cusack was more than just a little bit banged up from the rough waters. Based on Jeff Probst's description of Cusack's state of mind after being injured, there was no way he could have safely stayed in competition. It does sound like he was getting the best possible care in his situation and the doctors didn't waste any time in evacuating him via helicopter. The injury was an awful turn of luck for a man who was already on the David team, but at least there was enough of a break in the weather for him to be taken for more medical care than the doctors on-location could give him.
Perhaps it will come as some relief to Pat Cusack that he's not the first Survivor competitor to be eliminated first in a season because of a medical issue. Back on Survivor: One World's season premiere in 2012, Kourtney Moon had to be evacuated due to a hand injury in the opening challenge. A number of other castaways were taken out of competition for medical reasons as well, if not in the very first episode of a given season. Besides, it's not like Cusack was injured because of any mistake or bad decision he made, unless you count agreeing to participate in Survivor as a bad decision.
Pat Cusack was ultimately hospitalized for three days, then returned home to learn that he had a mild spinal deterioration, which is evidently not uncommon to folks working in maintenance as he does, and the severity of the Survivor incident may have been due to the pre-existing condition.
To see which competitor is the next to go from Survivor: David vs. Goliath, tune in to CBS on Wednesdays at 8 p.m. ET for new episodes. Survivor is only one of several big shows hitting the airwaves this fall, so you have plenty of viewing options.
Resident of One Chicago, Bachelor Nation, and Cleveland. Has opinions about crossovers, Star Wars, and superheroes. Will not time travel.
Your Daily Blend of Entertainment News
Thank you for signing up to CinemaBlend. You will receive a verification email shortly.
There was a problem. Please refresh the page and try again.