Rent Live, An Updated Cast List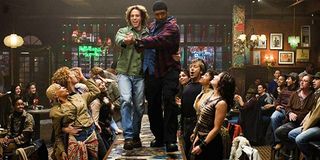 If you've been paying any attention to television in the past several years, you'll know that live TV musicals have now become an expected yearly event. NBC started the modern trend with The Sound of Music Live!, which aired in December 2013, and while that network has continued to lead the way, Fox got in on the act when it launched Grease Live! in January of 2016. Now, the network is at it again. Fox announced it's live version of the iconic, hit musical Rent over a year ago, but now the main cast has finally been set.
And, the actors who will be taking on these roles have a lot to live up to. The Tony Award and Pulitzer Prize winning rock musical, which was written and composed by the late Jonathan Larson, is a modern re-imagining of the classic Puccini opera, La Bohème. Rent's story follows "seven artists struggling to follow their dreams during a time of great social and political turmoil" while living in New York City's East Village under the shadow of the HIV/AIDS epidemic, while offering "an inspiring message of hope and friendship."
The musical, which has had many productions around the world since it first debuted Off Broadway in 1996, had many members of its first Broadway cast go on to become well-known for other Broadway performances, and their work in TV and movies. That cast included Taye Diggs, Jesse L. Martin, Idina Menzel and Anthony Rapp. A film version was also done in 2005, with many of the original Broadway cast reprising their roles. So, without further ado, let's see who'll be filling these memorable roles for Rent Live when it airs on January 27, 2019!
Kiersey Clemons - Joanne Jefferson
In the role of the Ivy League-educated public interest lawyer with a set of very politically powerful parents, Joanne Jefferson, we get to see Kiersey Clemons flex her musical muscles on the live stage. The actress might not be a household name just yet, but she's already made waves in a series of high-profile independent films. Clemons got her start on the TV show Shake It Up in 2010, and went on to critically acclaimed performances in films like Dope (2015) and this year's musically inclined dramedy Hearts Beat Loud with Nick Offerman. Clemons is on board to play Iris West in the upcoming Flash movie for the DCEU, and has four other projects in various stages of production right now.
Brandon Victor Dixon - Tom Collins
Rent Live has found its anarchist professor inflicted with AIDS. Brandon Victor Dixon will take on the part of Tom Collins, the the computer scientist who returns to New York after being expelled from MIT. If Dixon looks familiar to you, that might be because he was recently seen as Judas in NBC's Jesus Christ Superstar Live earlier in 2018, a role that won him an Emmy nomination. While he can also be seen right now on the Starz drama, Power, Dixon is best known for his work in many Broadway productions. He's starred in Hamilton, Shuffle Along, Motown the Musical and The Color Purple, leading him to two Tony nominations and a Grammy nomination. And, Dixon has also starred Off Broadway in Rent before, so there's no doubt that he knows his stuff.
Jordan Fisher - Mark Cohen
For two of the main roles in Rent Live, Fox has pulled from the cast their first live musical hit, Grease Live! The first of those actors is Jordan Fisher, who will take on the role of Mark Cohen. Mark is a struggling documentary filmmaker who serves as the narrator of the show, as he films the lives of his friends and neighbors. Fisher got his TV start on The Hustler in 2009, but he's also appeared in The Secret Life of the American Teenager, Teen Beach Movie and its sequel, Teen Wolf and Liv and Maddie. Fisher won Season 25 of Dancing with the Stars and can currently be seen hosting Dancing with the Stars: Juniors with Frankie Muniz.
Vanessa Hudgens - Maureen Johnson
For the other Grease Live! player lending their talents to Rent Live, we have Vanessa Hudgens as Maureen Johnson. Maureen is an outgoing and flirtatious performance artist who is Mark's ex-girlfriend and Joanne's current girlfriend, and she also has no qualms about taking on anything or anyone she sees as the establishment. Hudgens, of course, gained fame for her work in the High School Musical movies, but has also appeared in Beastly, Sucker Punch, Machete Kills, Journey 2: The Mysterious Island, Spring Breakers and last year's DC superhero adjacent sitcom, Powerless. Hudgens made her Broadway debut in 2015, when she starred in the title role of the musical Gigi.
Brennin Hunt - Roger Davis
Newcomer Brennin Hunt has landed the role of Roger Davis. Roger is a once successful (but now struggling) musician, ex-lead singer and rock guitarist who is also HIV-positive, an ex-junkie and Mark's roommate and best friend. Brennin, who competed on the American version of The X Factor in 2011, had a small role on Nashville in 2015 and is currently filming his first leading movie role in the film Walking with Herb, which will feature one of his original songs.
Mario - Benjamin "Benny" Coffin III
R&B singer Mario will be taking on the part of Benjamin Coffin III for the live musical. Benny is the current landlord of Mark, Roger and Mimi, while also being an ex-roommate of Mark, Roger and Maureen. He is now married into a very wealthy real estate family, and is seen as a yuppie sell-out by his former friends, from whom he needs to collect rent. The Grammy Award-nominated, multi-Platinum-selling singer, songwriter and producer was discovered at the age of 11 and has had several Billboard hits since his musical debut in 2002. Mario made his TV debut in 2003 on One on One, and went on to have roles in Sabrina, the Teenage Witch, the films Step Up and Freedom Writers, and was most recently seen on Fox's Empire.
Tinashe - Mimi Márquez
R&B songstress Tinashe will star in Rent Live as Mimi Márquez. Mimi is an S&M club dancer and drug addict who also lives downstairs from Mark and Roger, is Roger's love interest, and is HIV-positive just as he is. Tinashe broke into music with her double Platinum hit "2 On" in 2014, and has toured with Katy Perry, Maroon 5 and Nicki Minaj. She has also worked in television before, with her first role coming on the TV show Franklin in 1997, and other parts including work in Cora Unashamed, Call Me Claus, Out of Jimmy's Head, Two and a Half Men and, most recently, Empire.
Valentina - Angel Dumott Schunard
In the role of the young drag queen and street percussionist who embraces life with a generous disposition, drag queen Valentina has been cast in the live production. Angel also has AIDS and is Tom's love interest in the story. Valentina (also known as James Leyva) competed on RuPaul's Drag Race (where he won the fan-voted Miss Congeniality award) and RuPaul's Drag Race: Untucked, both in 2017, and will head back to strut his stuff on RuPaul's Drag Race All Stars.
Bachelor Nation, Gilmore Girl; will Vulcan nerve pinch pretty much anyone if prompted with cheese...Yes, even Jamie Fraser.
Your Daily Blend of Entertainment News
Thank you for signing up to CinemaBlend. You will receive a verification email shortly.
There was a problem. Please refresh the page and try again.