How Vikings' Epic Season 5 Finale Decided The King Of Kattegat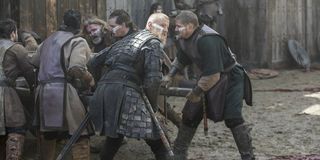 Warning: This story contains spoilers for the finale of Vikings Season 5B entitled "Ragnarok."
What a battle! After a considerable amount of leadup Vikings finally decided who would be King of Kattegat. And the winner is…Bjorn! Ivar and Bjorn's battle for the throne got off to an especially rocky start for Bjorn. Ivar was able to stave off his invasion, using clever maneuvering.
It seemed that all would be lost for Ragnar's eldest son. As he accepted retreat, Bjorn turned around, addressing those on the fortified walls. His voice teemed with emotion as he appealed to his people. (Side Note: Alexander Ludwig's performance was incredible in this scene.)
Ivar, infuriated by his brother making so much sense and correctly calling him out for the evil person that he is, shot an arrow at Bjorn. Bjorn managed to block it and threw the arrow-penetrated shield to the ground, walking away. Giving his back to Ivar was risky, but Bjorn did not meet any harm because of it.
What Bjorn did not realize is that he had a secret ally. Ivar's wife, shattered over Ivar murdering their son, secretly went to Bjorn. Freydis revealed a secret escape route Ivar had made for himself. Revealing that it could serve as an entryway for Bjorn and his army to come into Kattegat, Freydis assured she would open it for them.
Freydis kept her word and lost her life for it. With Bjorn and his forces already inside of Kattegat, it was game over for Ivar. He went to confront Freydis for her actions, ultimately murdering her by strangling her to death.
By the time Bjorn got through what was left of Ivar's security, he only found Freydis' body inside. She was laid in a bed with the remains of her son in a box next to her.
In an extraordinarily moving scene, Lagertha arrived back in Kattegat, holding the sword of kings. She handed it to her son, declaring him King Bjorn and the King of Kattegat. It was a declaration years in the making.
In true Vikings fashion, an uplifting moment such as Bjorn's reunion with his mother could not end in a feel-good place. His ascension to King Bjorn and his defeat of Ivar had to be dealt a disturbing blow.
After raising the sword Lagertha handed to him, he had a vision of many lying dead around him, his father's words echoing as a flashback played. The Seer eventually appeared to Bjorn too. The hint? Bad things may be on their way. Not much more could be made of it than that.
For his part, Ivar has escaped. He is likely plotting his revenge elsewhere. For now, those who had grown more than tired of Ivar's winning streak can rest easy. His cruel reign is over.
Vikings could have ended on this note. Ivar gone, Bjorn king, and all of Ragnar's other living sons residing in Kattegat together. Not to mention, Lagertha's newfound sense of seeming peace. Or at least, resignation with where her life is now.
Had it not been for that last bit of foreboding, Vikings would have come close to what accounts for a happy ending for the show. Having Ivar in charge made for an especially rough back half of Season 5. His defeat will not be mourned by this viewer in the least.
Plus, it was nice to hear the characters openly express what Vikings has has seemed to fight admitting as a show for so long: that Ivar is beyond saving. For the first time in a long time, Vikings did end with a slight ray of hope. How long will it last? Probably not for an extended period.
A premiere date for Vikings' Season 6 has not been released it, so stay tuned. When it does bow, it will do so on History. Having said goodbye to Vikings for now, there are lots of other new series to keep you busy, while awaiting the final season.
Like a contented Hallmark movie character, Britt happily lives in the same city she grew up in. Along with movies and television, she is passionate about competitive figure skating. She has been writing about entertainment for 5 years, and as you may suspect, still finds it as entertaining to do as when she began.
Your Daily Blend of Entertainment News
Thank you for signing up to CinemaBlend. You will receive a verification email shortly.
There was a problem. Please refresh the page and try again.