6 Former Vikings Characters Who Need To Return For The Final Season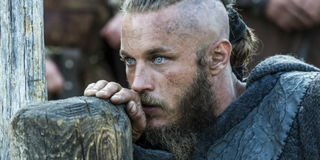 Spoiler warning: This story contains spoilers for the latest episode of Vikings Season 5B entitled "What Happens in the Cave."
Vikings has seen many fascinating characters come and go during its five-season run. Unfortunately, many of them are no longer on the show. Some have died, and others are still alive and living it up off-screen. Given that Vikings' sixth and final season is on the horizon, it is time to examine who needs to come back before the end. Here are six picks for characters who should definitely return:
Aslaug (Alyssa Sutherland)
How Aslaug Exited the Show: Aslaug's story came to an end in surprising and somewhat abrupt fashion in Season 4. After taking Kattegat, Lagertha seemed to accept the terms of Aslaug's surrender. Then, as Aslaugh walked away, Lagertha shot her in the back with an arrow, killing her.
How Aslaug Could Return: As the mother of Ubbe, Hvitserk, and Ivar, Aslaug could appear to any of them. Considering she always showed favoritism to Ivar, he would be the most likely to conjure a vision of her. Perhaps she is the last face Ivar sees.
Lagertha could also be one to envision Aslaug, as could be the case with Athelstan and Floki. Lagertha could be haunted by killing her former rival. After all, Lagertha did shoot Aslaug in the back.
Princess Gisla (Morgane Polanski)
How Gisla Exited the Show: Like her husband Rollo, Gisla was last seen alive. The current state of his and Gisla's marriage is lesser known. She, like Rollo, was woven out of the story as Vikings shifted its focus towards Ragnar's sons.
How Gisla Could Return: It would be worthwhile to have at least one poignant scene between Rollo and Gisla, in Vikings' final season. Given how far their relationship came since it began, there would be a full-circle nature to having one. All it would take is for Vikings to head back to Frankia.
Another possibility could be Gisla traveling with Rollo to Kattegat. She thinks she knows about his world; it would be another thing for her to see it up close and experience it for herself.
Rollo (Clive Standen)
How Rollo Exited the Show: Rollo was last seen on Vikings at the beginning of Season 5B dropping a paternity bombshell on Bjorn. He is one of the few characters on this list who is still alive, presumably living that life in his headquarters in Frankia.
How Rollo Could Return: Rollo could make another visit to Kattegat or wherever Bjorn ends up, perhaps in another attempt to re-connect with his nephew/maybe-son. It would be great if they could mend their relationship or find some closure in Season 6.
At his core, Rollo will always be a Viking, and all that it entails. So, it would make sense for him to want to go out in battle. If an event presents itself to make such a thing possible, that could be an opportunity to have Rollo return.
King Ecbert (Linus Roache)
How Ecbert Exited the Show: King Ecbert was left shattered by the death of Ragnar in Season 4. Following the victory of the Great Heathen Army in Wessex, he ended up making a deal with Bjorn.
Ecbert got to choose his manner of death, and in return, he granted land to the Vikings. A deal he knew ensured them nothing, since he was no longer king. Ecbert died by suicide in his bath in the Season 4 finale.
How Ecbert Could Return: Obviously since Ecbert is deceased he will not be riding in alive. That does not mean a vision or a flashback is out of the question though. Since Ragnar is dead, the most likely candidate to remember Ecbert is his beloved grandson, Alfred.
Ecbert spent a lot of time focused on training Alfred to become the Great. It makes sense Alfred would recall his mentor. Given his ill health, Ecbert could come to him in a vision of some sort.
Athelstan (George Blagden)
How Athelstan Exited the Show: Floki's increasing paranoia and extremism led to him becoming convinced he needed to kill Athelstan. This culminated in Floki murdering a defenseless Athelstan in Season 3.
How Athelstan Could Return: The sad truth is there are few characters left to recall Athelstan. Lagertha and Bjorn are two of the few who can. Athelstan is the biological father of Alfred. Should Alfred have questions concerning his biological father, they could offer Alfred insight into who he was, leading to a flashback of some sort.
Should Floki survive his close call in the cave and die in the final season, that opens the door to another option. In the very end, Athelstan could haunt Floki's last moments.
Ragnar Lothbrok (Travis Fimmel)
How Ragnar Exited the Show: Thanks to what is known historically, Ragnar had to be killed off of Vikings. His inevitable demise figured heavily into the back half of Season 4. After being beaten, Ragnar was dropped into a pit of poisonous snakes. He died looking up at the sky.
How Ragnar Could Return: As the original focus of the series, Ragnar cast a long shadow over Vikings. With Bjorn recently mentioning that his father came to him in a dream, that opens the possibility to the audience seeing him in one.
Ragnar could come to any of his sons. Hopefully, he would appear to them in a way that stays true to the character, as viewers knew him. Rollo and Lagertha are both advancing in years. It fits that one of them could perish and Ragnar could have one more moving scene with them in the afterlife.
Vikings getting all six of these returns in before the final season ends would be pretty doable. Ragnar returning in one form or another is an absolute must, though. He was the cornerstone of the show's success. Not having him in some way shown in the final season or the series finale would be surprising and disappointing.
The final episode is still quite a way into the future so it will be a while before Vikings fans learn if any of these characters come back. In the meantime, keep hope alive.
The first half of Vikings sixth and final season will premiere on History. Vikings is among many series that will continue airing new episodes during the early midseason.
Your Daily Blend of Entertainment News
Like a contented Hallmark movie character, Britt happily lives in the same city she grew up in. Along with movies and television, she is passionate about competitive figure skating. She has been writing about entertainment for 5 years, and as you may suspect, still finds it as entertaining to do as when she began.
Your Daily Blend of Entertainment News
Thank you for signing up to CinemaBlend. You will receive a verification email shortly.
There was a problem. Please refresh the page and try again.