Why Mayim Bialik Was Nervous When She Joined The Big Bang Theory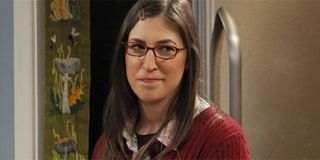 By the time The Big Bang Theory got through a rejected first pilot, the show had cast Kaley Cuoco, Simon Helberg and Kunal Nayyar. However, it would be some time before the series would add Mayim Bialik and Melissa Rauch to the cast. By then, The Big Bang Theory was already popular in its original iteration and Bialik recently admitted that she was nervous to join the show.
Her reasoning? She didn't have a ton to do early on and was trying to make an impression on a show that only runs for a little over twenty minutes every week, all while coming in to a new environment where everyone else was already palling around.
It's never easy being the new kid in a well-oiled machine, but The Big Bang Theory's Jim Parsons also reflected that the way the show finally brought in another female character was really clever, noting,
In the lengthy profile at TV Insider, other longtime cast members on The Big Bang Theory also shared their personal stories regarding how they got cast. Kaley Cuoco, in particular, revealed she was rejected from the CBS comedy the first time she tried out. She was later cast on the show, but only after the first pilot failed.
The Big Bang Theory could have looked very different if its first iteration had made it to the air. The original pilot starred two ladies named Gilda and Katie, played by Iris Bahr and Amanda Walsh, respectively. Ultimately, the show opted to go with only Kaley Cuoco early on, adding on Melissa Rauch and Mayim Bialik once the show had hit its stride.
As for the final version we got, Melissa Rauch – who interestingly was also signed on to The Big Bang Theory in Season 3 – also said she believes that ultimately giving three women regular roles on the show and allowing them to become friends with one another has really been "significant," saying,
At this point, Melissa Rauch and Mayim Bialik have been a part of the series for a longer period of time than the years prior to their addition. They'll also be two cast members who will be saying goodbye to fans when The Big Bang Theory airs its final episode this May.
All in all, Mayim Bialik put in good work back in Season 3 and the show eventually added Amy and Bernadette as main characters when Season 4 began. Ultimately, she had nothing to be nervous about joining The Big Bang Theory, but mentioning that in retrospect does not have anything to do with her feelings at the time.
Truly, the men on The Big Bang Theory had some growing up to do when the series started. They needed to be able to hold and maintain relationships and Mayim Bialik and Melissa Rauch were the catalysts to help Sheldon and Howard grow as people. At the same time, The Big Bang Theory has a lot of female fans, and bringing in ladies beyond Kaley Cuoco helped to add storylines the ladies watching the sitcom could identify with.
All's well that ends well, or in this case, all's well that ends with Season 12. Catch The Big Bang Theory on Thursday nights at 8 p.m. ET, until the curtain draws on the long-running series on May 16.
Reality TV fan with a pinch of Disney fairy dust thrown in. Theme park junkie. If you've created a rom-com I've probably watched it.
Your Daily Blend of Entertainment News
Thank you for signing up to CinemaBlend. You will receive a verification email shortly.
There was a problem. Please refresh the page and try again.