Why Netflix Should Alter Its Contracts To Let One Day At A Time Get Renewed Elsewhere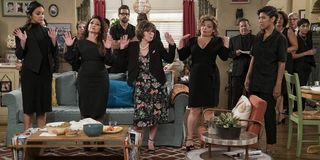 The fight to save Netflix's recently-cancelled One Day At A Time rages on. As the vocal fanbase and the strong-willed creative team supporting the show are looking for every option possible to continue the adventures of the Alvarez family, a key stumbling block has been the focus of recent discussions.
With a contract clause that allows Netflix to veto any sort of move to a rival streaming service for at least two years, a recent offer by CBS All Access to give One Day At A Time a second shot looks to have been met with rejection. It's this exact scenario that makes the best case for Netflix to alter its contract agreements going forward, starting with allowing the reboot of the Norman Lear sitcom classic to go somewhere it feels truly wanted.
With this, or any show that Netflix cancels, there's almost always a fanbase that makes a lot of noise on the internet in order to save it before it's been officially axed. It doesn't always work, and it's understandable, as the streamer is in a business that needs to bring in views and dollars that support the life of such a show. However, One Day At A Time, as well as shows like Daredevil, Jessica Jones, and Luke Cage, all have some pretty loud and loyal fans.
And those people are stunned by the fact that these in-demand shows can't just simply switch homes when there's a buyer interested. With a scenario like the one where CBS All Access is looking to take One Day At A Time into its streaming fold, it feels like a solution where everyone wins.
Removing this veto clause from the contracts of Netflix series would allow any show that has interest to keep going without a hitch. This would maintain Netflix's attitude as being creator friendly, allowing anyone who has the opportunity to keep going with their project to do so. So if showrunners Gloria Calderon Kellett and Mike Royce wanted to exercise the option to bring their show to another home, it would allow all parties to part as friends, and possibly work again together in the future.
Even better, not restricting any show passing through Netflix's grasp to find a new home for such a long time would allow the fans of that show to find some sort of peace that doesn't involve taking to Twitter to stoke the fires eternally. One Day At A Time has given the fanbase a lot of joy and representation on TV, and that's on top of the entertainment value the show has on the surface.
With Vulture reporting that the current home for the show is supposedly exercising their veto power to prevent any sort of move to a rival streamer, the cries of #SaveODAAT are only going to persist. No matter what news the provider will have to provide on any other project in the works, there will be at least a handful of people that will remind them of their supposedly painful decision to cancel One Day At A Time.
But perhaps the greatest reason to allow any show cancelled by Netflix to freely move to a competing party's platform is that, without such a mindset, they wouldn't have as many originals as they do now. Shows like Arrested Development, Lucifer, and Designated Survivor wouldn't be bringing in the viewers and making headlines like they have when announced as orphans given a fighting chance in the streaming arena. In turn, Netflix wouldn't have the opportunity to expand their subscriber base by adopting such shows into their home.
This entire situation is a double edged sword, as the company's reluctance to allow projects to shop around for new homes could not only hurt their relationship with subscribers, it could also cause other networks to firm up their contracts to a similar bargaining point. Meaning that if a show were to ever be cancelled by one of the major networks, Netflix might find itself unable to provide the magic touch that's made the company look like a hero in the past.
The choice to cancel a show, whether it be One Day At A Time or any other, is not a particularly easy one. It leaves a network open to criticism, and opens the door to revival campaigns that involve everything from mailing peanuts to the network's headquarters to increased Twitter traffic and petitioning. So while the decision to cancel a show is one that requires strong, prudent management skills, the option to allow such a show to continue outside of the network's auspice should be given as much, if not even more thought than that more traditional conflict.
For now, broadcast TV looks like it's the best hope for One Day At A Time to come back to the world of the living. Though the pressure is still on Netflix to make an ultimate decision on whether or CBS All Access can have a crack at the show, at this time the streaming provider hasn't made an official comment on the show's fate. So there's still hope, and if fans want to make their voices heard, maybe it's time to share something with the folks in charge.
Seeing as this is a show about unity, acceptance, and good humor, it seems only fitting that fans of the show should start to send parcels of Café Bustelo coffee to the offices of Netflix. Maybe with the right levels of caffeination, with the right kind of coffee, this is a decision that can be turned around just in time.
You can relive, or newly experience all three seasons of One Day At A Time, on Netflix. And if you're wondering whether or not you've missed the premiere of your favorite show still on the network's payroll, take a look at our 2019 premiere guide and make sure you're not missing any of the shows that you love. Now, more than ever, fans should be tuning into their favorites, in hopes that this very complicated fate doesn't fall upon any other series they love.
This poll is no longer available.
Senior Movies Contributor
CinemaBlend's James Bond (expert). Also versed in Large Scale Aggressors, time travel, and Guillermo del Toro. He fights for The User.
Your Daily Blend of Entertainment News
Thank you for signing up to CinemaBlend. You will receive a verification email shortly.
There was a problem. Please refresh the page and try again.