American Idol's Top 10 Season 17 Competitors, Ranked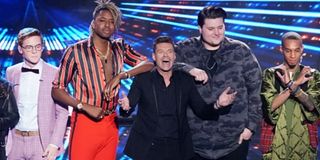 After a rough round of eliminations, American Idol has secured the Top 10 for one of its most talented seasons in the show's history. With Season 17's competitors whittled down, here's a ranked list of where they stand ahead of the Top 8, what's going well for them, and how they need to improve to keep from being eliminated.
10. Alyssa Raghu
Alyssa's time on American Idol was almost at an end, but Katy Perry swooped in and saved her eleventh hour of the Top 10 special. It secured Raghu a spot in the show's late game, although it may have gained her the ire of Idol fans who felt other competitors deserved the spot above her. Some felt Perry's save was based on favoritism, and the fact that Raghu performed one of the artist's songs earlier in the night.
That may be a big deal going forward, as Alyssa is going to need the fans that didn't vote for her in the Top 10 to turn up in the following weeks. Her performances have been solid, so maybe it's just that viewers don't like her more than some of the other competitors that are getting their votes. A knockout performance would surely get some votes her way, and will ensure her survival for at least another week.
9. Dimitrius Graham
Dimitrius Graham was Luke Bryan's save into the Top 10, as the country artist explained the sheer emotion he felt towards the singer led to his decision. Many in the crowd cheered on the decision, but as American Idol's poll results showed, if he had a ton of support he wouldn't have been one of the artists facing elimination.
Dimitrius may find himself in the same situation as American Idol heads into the Top 8 if he continues to give performances similar to what he's been doing. He's got a killer voice, but his performances have been inconsistent as of late. There's too much talent for him to skate on by another week with a sub-par performance, so Dimitrius will really need to bring it to show he's still the performer he's shown he can be.
8. Uché
Uché was American Idol's first "judges save" of the night, thanks to Lionel Richie jumping in before the show could head to commercial break. In his words, this competition is about singing, but it's also about showmanship and being a performer. While Uché may not be the strongest voice in Season 17, his performances have been second to none.
That's not to say performances should be his focus over singing, but by no means should Uché tone down that aspect. Really, I think he just needs to be smarter with his song choices, and try to stick to songs that emphasize the higher notes he can hit rather than the lower notes. As long as his performances are solid, he's going to get votes.
7. Walker Burroughs
It seems unfair to have Walker Burroughs at 6th on the list, especially so soon after he brought the house down with his version of "Climb Ev'ry Mountain" from The Sound of Music. That truly was a stellar performance, which he then followed with an okay performance the next night of "Love Bug" by the Jonas Brothers.
It wasn't a lesser performance, necessarily, but kind of a let down when Burroughs showcased the height of his range the night prior. That felt like a risk that paid off, whereas the next night was back to the safe and softer ballads he's performed since the audition rounds. He's likely in no danger of elimination given the squeals of the audience during his performances; he'll just need to use that big voice more if he wants to win.
6. Laine Hardy
Coming in just short of the middle of the power rankings is 2x American Idol contestant Laine Hardy, who surprisingly had to be convinced to return to the competition this year. Now he's in the Top 10 just one year removed from elimination in the Hollywood rounds in Season 16, and everything feels different. Part of it is the suits, but he's also improved his voice a good deal.
Which, while it isn't doing a ton for Alyssa Raghu, can go a long way with some competitors. Audiences like seeing improvement, and Laine Hardy's story this season has been the transformation everyone can clearly see and appreciate. His singing has been solid, but what really gives him the edge in this competition is his existing fanbase from Season 16. Believe it or not, Hardy has the most Twitter followers out of any other competitor in the competition.
5. Wade Kota
Wade Kota's in the five spot, and seemingly in a league of his own from this point on. With no competitor to match his vocal rasp or song choice, Kota doesn't have to worry about splitting votes to someone with a similar style. He's also one of the most wholesome competitors in the competition, and there's no shortage of people who would love to see this humble singer win it all.
With that said, he's an acquired taste, and while there's plenty who are on board with Wade, there's a vocal group of people who simply don't like his voice. That isn't anything he needs to worry about at the moment, or really at all because it doesn't seem like something he can help. Perhaps the best thing he can do in later rounds is continue to sell that personality, and hope more people than not continue to love his voice.
4. Madison VanDenburg
Madison VanDenburg was billed to be the "next Kelly Clarkson" at the time of her American Idol audition, but quietly faded into the background while bigger personalities took center stage. With these last two performances, VanDenburg has reminded fans and competitors alike she's still a force to be reckoned with, and that she's got a voice as big as Idol's Season 1 winner and current coach on The Voice.
Madison's not doing anything wrong at the moment, so really, the key for her is to keep hitting performing songs that viewers love so she they keep clicking her YouTube performances and speaking her name. It's all about name recognition at this stage, and provided she can keep people saying hers, she won't end up being one of those competitors that got eliminated because they got overlooked during voting.
3. Jeremiah Lloyd Harmon
Jeremiah Lloyd Harmon has stepped up his game in recent weeks, and has really taken some real steps to show he's legitimately capable of winning this competition. His performance of "We All Fall In Love Sometimes" floored Lionel Richie, who proclaimed Harmon elevated the song to vocal ranges Elton John couldn't have done. When a competitor is getting compliments from a Grammy award-winning artist that they're outsinging another Grammy award-winning artists, they're doing something right.
Just to pile on to that statement, Jeremiah Lloyd Harmon also got props from Elton John on his performance, who said it took his breath away. He's going places after this competition, and may even overcome the odds and be the one to win it all.
2. Laci Kaye Booth
Laci Kaye Booth has one of the most unique voices of the competition, and is right up there with Wade Kota. What elevates her above him, however, is the dynamic range of songs she's been able to perform thus far with her unique voice. Her cover of Blink-182's "I Miss You" shouldn't have worked with her vocal talent, but she killed it and made it her own.
Which is part of the x-factor that makes Laci Kaye Booth such a force to be reckoned with in Season 17. She's constantly taking risks and choosing songs that shouldn't match her vocal stylings, and she's knocking it out of the park almost every single time. Not everyone is going to like it every time she does that, but so far, she's gaining far more fans than not with this tactic.
1. Alejandro Aranda
Alejandro has been a favorite to win American Idol since his first audition, and he still has yet to show there's any chance Season 17 ends any other way than with him on top. He's a talented musician, is great at shaping songs to fit his style, and his original songs are good enough to be performed in the late stages of the competition. That last fact alone should speak to just how good this guy is.
He also has Fleetwood Mac's Stevie Nicks reaching out to him after watching the show, and guys like Ben Harper making time to appear on American Idol just to work with him. There's no question he'll have some sort of professional career once this competition is done, the question is whether any of the other 10 competitors can rise to his level and divide America. Can anyone do that, or is this one in the bag for Alejandro Aranda?
American Idol airs on ABC Sundays and Mondays at 8:00 p.m. ET. Stick with CinemaBlend for updates on the competition, and for the latest and greatest entertainment news in television, movies, and pop culture.
Mick likes good television, but also reality television. He grew up on Star Wars, DC, Marvel, and pro wrestling and loves to discuss and dissect most of it. He's been writing online for over a decade and never dreamed he'd be in the position he is today.
Your Daily Blend of Entertainment News
Thank you for signing up to CinemaBlend. You will receive a verification email shortly.
There was a problem. Please refresh the page and try again.