The Blacklist: Watch Red Seethe With Anger At Liz During Revealing Conversation In Exclusive Clip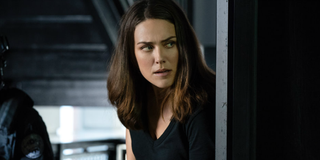 (Image credit: Virginia Sherwood / NBC)
Spoilers below for anyone who isn't caught up on all things Blacklist-related, so be warned!
Hold on to your fedoras, Blacklist fans! The NBC drama has shared an exclusive clip with CinemaBlend, and it is a doozy. Red is breathing fire, and it's towards someone who is both unexpected but still entirely deserving, in a way: Liz.
Red and Liz have obviously not been on the best terms lately. When Red learned recently that Liz was the one who turned him in, it caused seemingly irreparable damage to their relationship, and it might surprise long-time fans just how intense things have gotten between them. See for yourself in this clip from The Blacklist's next episode, titled "Guillermo Rizal."
I tried to warn you, didn't I? The most chilling part of this clip, though? When Red says that he is not conflicted over the concept of killing Liz, but rather that he is conflicted because he cannot bring himself to do it. That is not just menacingly heavy to hear, it is crushing. Viewers probably knew that things were terrible, but this scene goes to show that Red's forgiveness will not come easy for Liz, if it comes at all.
Red is going to let Liz live, which he points out is an unparalleled exception and not "the rule." Whether she will ever exist in his good graces again is a whole other matter for The Blacklist to resolve once some time has passed. Liz arguably made a terrible decision in turning Red in, in that it led to him getting arrested, put on trial, convicted, sentenced to death, and almost executed. His rage is justified.
Had anyone else done all of that to him; it would be over for them. Red cannot do that to Liz, however. If the previous episode's reveal is to be believed, Red's pseudo-sympathy may actually come from him being Ilya Koslov, a dear friend to Liz's mother Katarina. After coming up with the plan for him to assume Raymond Reddington's identity, Liz's mother agreed to it with one promise tacked on.
She made Ilya vow to take care of her Masha/Liz, which he agreed to, saying "like she was my own." Red has certainly done that, and all that affection and proection is apparently taking its toll. As Red recently pointed out, Liz has betrayed him numerous times, and while he had moved past each of those instances, this latest betrayal is going to be a tough one to get around.
I think this is an intense scene that gives the actors great material. James Spader makes Red incredibly intimidating in this clip, while Megan Boone does a fantastic job showing the disquieting impact that Red's words are having on Liz. On the flip side, it is sad to see what Red and Liz's relationship has become.
Can Liz ever climb her way out of the emotional grave she has dug for herself? Trying to find Red's true identity, and then confronting him about it, probably did nothing to help her get any footholds. In all likelihood, it had the exact opposite effect, sending her back down deeper.
It will be interesting to see this scene within the context of the episode, too. Will Liz have made some headway before the hour is over? Or will she be so chilled by their talk that she decides to make the distance between them even icier?
In NBC's synopsis for the episode, titled "Guillermo Rizal," it says that Liz will consider a "big change." Could such a change occur after her and Red's conversation, involving her coming around to his way of thinking? It would make sense. The Blacklister case that the Task Force will be working on will involve a kidnapper who is abducting only children that are twins, triplets, etc.
As for Red, he is said to be on the hunt for "a man who can find anything." Does Red need this man's help? If so, who, or what does he need the guy to locate? Is it a cure for what seems like it could be a mysterious illness?
Tune in and find out how the Liz and Red scene will play out in an all-new episode of The Blacklist, airing Friday, May 3 at 8 p.m. ET on NBC.
Your Daily Blend of Entertainment News
Like a contented Hallmark movie character, Britt happily lives in the same city she grew up in. Along with movies and television, she is passionate about competitive figure skating. She has been writing about entertainment for 5 years, and as you may suspect, still finds it as entertaining to do as when she began.