Me Before You Trailer Has Emilia Clarke And All The Feelings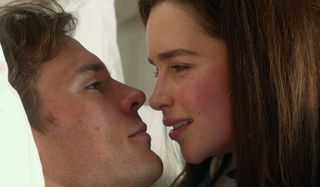 Those of you looking to have a good cry are in luck, because the first trailer for Me Before You has been released, and it aims with gusto for the emotional jugular. It lands perfectly too, and you'll have to be made of rather stern stuff not to get caught up in the gushing romance. You can watch the first trailer for Me Before You below. Prepare the tissues.
That video was rather beautiful, wasn't it? OK, sure it was also cheesy, overly sentimental, and pretty much gave away the entire plot of the film, but it delivered the romantic ticks that will almost certainly lead to Me Before You getting bums on seats when it's released later this year.
It's also great to see Emilia Clarke in a vehicle that seems perfectly suited to her talents. While we've all become accustomed to watching the Game Of Thrones actress chin-wagging with dragons and trying to build up a formidable army in her quest to rule Westeros, it's always been clear that there was much more emotional depth to her acting talents.
Emilia Clarke's previous cinematic exploits have either been too small (Dom Hemingway), too indie (Spike Island), or just too wrong (Termiantor Genisys). But Me Before You looks as though it gives her the platform to showcase a wider array of emotions, with a well-rounded character that has an arc that resonates with audiences. Plus, she also looks rather dashing in that red dress.
Based on Jojo Moyes' 2012 novel of the same name, Me Before You revolves around 26-year-old Lou Clark (Emilia Clarke). Desperate to find a job, Lou jumps at the opportunity to care for the quadriplegic Will Traynor (Sam Clafin), a formerly active, wealthy 35-year-old who was paralysed in a motorbike accident, and is, understandably, somewhat moody about his situation.
As the trailer makes perfectly obvious, the pair soon develops an emotional connection, and, from the looks of things, fall head over heels in love. But, while the sappiness of Me Before You is plainly apparent, the rapport between Clarke and Clafin looks genuine, while there were even some nice touches of humor and tragedy and oh God I'm welling up again.
Warner Bros. hopes the romantic drama will be the perfect antidote to the summer blockbuster fare, because Me Before You will be released on June 3, 2016. Its remarkably English cast is rounded off by Emilia Clarke's fellow Game Of Thrones alumni Charles Dance and Doctor Who's Jenna Coleman. Expect plenty of tea drinking and rain to be included.
Your Daily Blend of Entertainment News
Your Daily Blend of Entertainment News
Thank you for signing up to CinemaBlend. You will receive a verification email shortly.
There was a problem. Please refresh the page and try again.