The Conners Season 2: What We Know So Far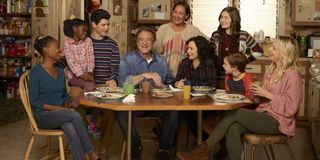 Man, did The Conners ever have a tricky start! After managing to bring back the sitcom hit Roseanne even though it had been off the air for a whopping 21 years, the chances of the revival continuing got real complicated once its 2018 comeback season was over. In late May of that year, after the revival had already been given another season, star Roseanne went a bit too far on Twitter for the likes of ABC, which then cancelled the series.
While Roseanne was hardly the first TV star to cause some controversy, generally actors just get fired or leave their show without the whole shebang getting the axe, but the eponymous nature of Roseanne meant that such a move wouldn't be so easy. As we know now, though, without this major misstep, The Conners wouldn't have been allowed to rise from the ashes like a Phoenix who decided not to take her Ambien and laid awake in bed all night instead of ranting inappropriately on Twitter. (I know that was a stretch, but I had to, OK? Just give me this!)
Well, a year without Roseanne proved successful enough and The Conners is coming back for another go-round. And, because we're awesome, we've got all the details you want about Season 2 right here!
When Will The Conners Season 2 Debut?
The Conners was renewed for Season 2 back in March, so we had to wait a while before finding out when the family comedy would finally debut. Luckily, early July brought the news that Season 2 would would hit the small screen on Tuesday, September 24 at 8 p.m. EST. This means that The Conners has managed to retain its timeslot for the second season, so you shouldn't have any trouble finding it when fall comes around.
How Many Episodes Will The Conners Season 2 Have?
So, what's even better than The Conners getting another season? If you were feeling like Season 1 ended too soon, you're in luck here, as well. At the same time that word came down about the renewal (and raises for the main cast), we also found out that the new season would feature an additional two episodes. This will take the episode count from 11 in Season 1 to 13 in Season 2. While this isn't a huge increase, it will no doubt give us more familial mockery, real-world struggles and plenty of additional laughs.
What Will The Conners Season 2 Be About?
If you watched Season 1 of The Conners (and I hope you did, because we're going to spoil it in a bit), you know exactly where the new season is going. Obviously, Season 2 will follow the family...as they confront real-life woes with biting humor, sass, anger and some tears!
Ok, fine. That answer was a very non-specific cheat, but there's a good reason for that. Right now, we don't have any concrete details on what will happen with The Conners Season 2. Considering where things were left at the end of the first season, though, we can certainly guess on some storylines that are incredibly likely to come around. So, let's break those possibilities down by character, shall we?
Where We Left Off: Dan
Most of what we saw from Dan last season involved him trying to pick up the pieces after Roseanne died suddenly. The very first episode actually revealed that the family thought, for three weeks after Roseanne's death, that she died of a heart attack, but an autopsy revealed that an opioid overdose is really what took her life. Unfortunately, this was no big surprise, as the revival season of Roseanne did show us that she was already in the throes of a big drug problem.
Well, while Dan was sleeping on the couch because he couldn't bear to get into the bed that he shared with Roseanne (which just also happens to be where she died), the older, eligible ladies of Lanford have been setting their sites on him. One of these women, Louise, tends bar at the Mexican restaurant where Becky works and also went to high school with Dan and Roseanne.
Louise tried to make a play for Dan by talking about old times with him and inviting him to a concert...and flirting heavily with him, but Dan didn't pick up on it until Jackie clues Becky and Darlene in on his high status as a widower and they talk to him about it. When he calls Louise out on it, she admits that she had a crush on him when she was 14, but he and Roseanne were already an item.
Dan let Louise down easily, saying that it was too soon after Roseanne's death for him to even think about another woman and they agreed to be friends. But, I'd be willing to put money on Dan and Louise growing closer, especially since he's bound to keep seeing her when he stops by Becky's job. Plus, I doubt The Conners would want to pass up a chance to have guest star Katey Sagal (Sons of Anarchy, Married With Children) reprise the role.
Where We Left Off: Becky
Man, poor Becky was on a roller coaster in Season 1. After having sex with two different men who work at Casa Bonita with her, she unexpectedly found herself pregnant after years of thinking she'd be unable to have children. Dan, as you might imagine, was none-too-pleased with this sudden addition to unmarried Becky's life, especially her decision to not tell the father about the baby, and even fired Becky from her job at the construction company because there are too many hazardous materials around.
Becky, for her part, was really happy about being pregnant, even though she knew the road ahead as a single parent was going to be hard. Wanting to do the best she can for her baby made her finally admit that she's a drunk, and after briefly considering giving her baby up for adoption, she and Darlene actually got closer when she revealed her parenting fears to her, and Darlene said she would always have her and the rest of the family to back her up if she needed help.
While Becky stopped boozing it up as soon as she found out about her baby, there's still the little matter of how much she's also relied on relationships with men to make her feel worthy (i.e., those two co-workers she had sex with). Luckily, Becky is ready to really try and get her life together, so, along with Darlene having her baby-raising back, she can also count on Jackie (who's now a fledgling life coach) to help her work through the other issues she's been dealing with since she lost her husband, Mark.
One of the eventual bright spots for Becky in Season 1 was realizing that Emilio was actually the father of her baby. Emilio was very excited when he found out about becoming a dad, and immediately became interested not only in helping Becky with the baby, but also Becky herself. By the finale, they'd started down the road to actually becoming a couple. Unfortunately, Emilio, who's undocumented, got caught up in an ICE raid and was deported.
Becky was heartbroken when she found out, but we'll have to wait until Season 2 to see if this turn of events will lead her to fall back into some of her worst habits, or if she can continue to find her way to a better life.
Where We Left Off: Darlene
The Conners was early into its inaugural season when we got some at least temporary answers about the couple that's had the most romantic trouble between Roseanne and the spinoff: Darlene and David. Episode 2 brought the estranged couple's decision to finalize their separation and officially divorce. David had already sorta moved on with Blue, even though he and Darlene did slide back into bed with each other on Roseanne's last season, but keeping the status of their marriage up in the air wasn't good for him or Darlene and the kids.
So, what did Darlene do after deciding to end things with David for good? That's right, she moved on by accepting a free drink (and the sex that came after) from Neil at a bar almost immediately after breaking up with David. While things didn't end up working out for those two, it didn't take Darlene long to find someone else to try to eliminate her marriage-ending woes with.
Darlene got a job at the local tabloid Lock 'Em Up this season, and she and her new boss Ben engaged in some pretty obvious flirting. And by "flirting" I mean they had sex twice in the office. Yay! This won't get complicated at all!
Darlene and Ben are dating by the end of the season, and when he gets an opportunity to run the tabloid in Chicago, he invites Darlene and her kids to come with him. Darlene, who's become pretty committed to helping Becky and Dan through their rough stages in life right now, goes about making sure it's OK with them for her to leave, so she was absolutely on her way to telling Ben yes.
So, what happened? Stupid David, that's what happened! After Darlene tells the kids they may be going back to Chicago, David shows up, revealing that he broke up with Blue because she's not Darlene and he wants to get back together. Dammit! She tells David that he's too late, because she's moving to Chicago with Ben, but David counters by saying that she might as well change her mind now, because it'll be easier than backing out when she's already living in the big city with Ben. Um, exactly where did David get all this confidence all of a sudden?!
Well, it turns out David's bold attitude wasn't unfounded. The next time Darlene sees Ben, she tells him she feels like she should stay in Lanford, you know, for her dad, because he's still reeling from Roseanne's death. Right now, there's no way to tell what's going to happen with Darlene, David and Ben, but you can bet it will probably end up being kinda messy.
Where We Left Off: Jackie
As much as Dan, Becky and Darlene had trouble on The Conners in Season 1, Jackie was right there with them trying to adjust to life without Roseanne and get her shit together in many other ways. When the season started, Jackie was tasked with telling the rest of the family, who had all thought that Roseanne died from a heart attack, that she actually overdosed on opioids. So, you know, not a great way to start things.
Jackie's main storyline this season was getting wrapped up in a relationship with new boyfriend Peter, who has a master's degree in medieval culture, but often hides some very unattractive behavior behind his education and spent most of the season using Jackie. While Dan tried to warn her that Peter was using her for her money (and apartment), Jackie stuck with him, even after he made her dress and act like an old-timey Viking lady to help with a study he was doing.
After that failed experiment, Jackie told Peter that he would have to start contributing money and real work to their shared living situation, and I can only assume that he did just enough to get back into her good graces, because by the finale they were still together. That is, until Jackie realized that he had been cheating on her, and she finally told him off, beat him with a bath towel and kicked him and his things out of her apartment.
Unfortunately, getting that no-good academic out of her life set off some other realizations for Jackie. After she drunkenly vandalizes the former Lunch Box, she tells Dan and Darlene that she time she owned that restaurant with Roseanne was actually the happiest of her life, and that she was hoping Peter would save her.
Jackie later tells Darlene that her life is a "toxic mess," it's all coming to the surface now that Roseanne is dead and that she needs to finally figure out why she's always looked outside of herself for happiness. So, Jackie's going to have some major work to do on herself in Season 2, and just might need to get her own life coach to work it all out.
What Other Characters Might We See In The Conners Season 2?
Well, it certainly looks like David is interested in getting back into Darlene's life and being a family with her and the kids again, plus actor Johnny Galecki has been released from The Big Bang Theory after 12 seasons, so he's probably more available for appearances than he was in Season 1. On top of that, Juliette Lewis' Blue and Jay R. Ferguson's Ben factor greatly into this plotline, so they could also pop back up when The Conners returns.
For that matter, while Dan let Louise down easy, she did seem willing to stay friends with him, so Katey Sagal might show up again, especially since Louise works with Becky. And, I can see Peter (Matthew Broderick) trying to worm his way back into Jackie's life, but hopefully, if he does come back around it'll be after she's strong enough to say no to him again.
Aside from those potential players, The Conners was a wealth of guest stars in its first season, so it makes sense that we could see more special additions to the cast in Season 2.
That's all we know so far about The Conners Season 2, so be sure to bookmark this guide as we'll add to it when more details on the new season become available!
Your Daily Blend of Entertainment News
Yennefer's apprentice, Gilmore Girl; will Vulcan nerve pinch pretty much anyone if prompted with cheese...Yes, even Jamie Fraser.