The Conners Spoilers: The Big Ways Some Major Relationships Just Changed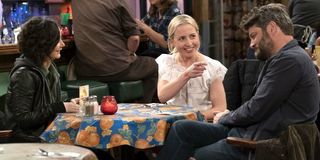 Warning: Spoilers ahead for the most recent episode of The Conners. Be sure to come back to this article once you've caught up!
Roseanne always specialized in complicated, and sometimes tense, interpersonal relationships between the members of the Conner / Harris clan and their many friends, lovers and acquaintances. Well, The Conners isn't any different in that respect, and the fall finale of the sitcom delivered some big changes to several of the major relationships, making the wait for the show to return seem that much longer. Here's what happened.
When we come in on the action, Ben and Darlene are at Casita Bonita, the restaurant where Becky waits tables. When she comes over to them, Darlene has no problem introducing her to Ben, making Becky the first person in her family to meet him. And, in true Conner fashion, Becky wastes no time giving the two of them grief. After she asks if he's really interested in Darlene or if it's "just about the disappointing sex," Ben notes that he's trying to get to know Darlene, but she won't open up because she's afraid to be vulnerable. This prompts Darlene to mention that she has trouble opening up to him because she thinks it's weird that he's never been married at this point in his life and it makes her think that there's something really wrong with him.
When Darlene realizes that Dan just arrived, she tells Ben they have to leave because he can only meet one Conner at a time, and he barely made it past Becky. After they flee out a different door, Dan comes in and heads to the bar, where Louise (guest star Katey Sagal) has been waiting to talk to him. It turns out that Louise went to high school with Dan and Roseanne, so they go way back, but she left town right after graduation to try her hand at being a rock star. Now, she's been back in town for a while and has been having fun thinking about old times with Dan.
After the two shoot the breeze about an old song they loved as kids, Louise asks Dan if he'd like to go to an oldies concert with her, since she already has two tickets. She's clearly flirting with him, but Dan doesn't pick up on any of the signals at all, and agrees to go to the show with her. Becky, however, is right there and sees Louise put both her hands adoringly on Dan's arm, and knows exactly what's up.
That night, Becky is at the Conner home when Harris gets brought home by a cop. He tells Becky that he caught her drinking with a group of kids in the woods, to which Harris explains that she wasn't able to run fast enough because she was wearing high heels to make sure her ass looked good for the boy she likes, who was also there. Becky tells the cop that she can take it from there, but as soon as she closes the door, instead of admonishing her for underage drinking, she begins to tell Harris the best ways to make sure she can get away in situations like that so she doesn't get hauled home by the police.
Harris tells her aunt that she's surprised she's helping her, because she figured Becky didn't even like her since she's been living there for a year and Becky hardly talks to her. Becky then tells Harris that she's been afraid to say or do much of anything with her, because she was worried about how Darlene would react. Apparently, when Harris was at the ripe old age of 8-years-old, Becky thought it was a good idea to show her Kill Bill to give her a role model of a strong women. As you might imagine, Darlene was none too pleased about that and read Becky the riot act, which led to her backing away from her young niece.
Becky then tells Harris that she doesn't like that she was drinking, but as long as she doesn't tell Darlene that she knows what happened and didn't say anything, she's OK with giving her a one-time pass, which (obviously) sounds good to Harris.
The next day, Jackie comes in dressed like an old-timey person, and reveals that she's been helping Peter with a study about how Vikings lived. It turns out that a major part of the study is her doing everything by hand or otherwise like a medieval person, while he sneaks off to the store to buy fish (instead of actually going fishing) and then trying to leave it for Jackie to clean and cook. After four days of this lopsided experiment, though, Jackie tells him it's not working for her and that he needs to start contributing money and real elbow grease where their relationship is involved, and walks out on him.
When Becky asks Jackie if she remembers Louise from school and notes that she was pretty clearly flirting with Dan, Jackie tells the girls that Dan is a catch as a widower of his age who can lay down and get back up again on his own, noting that they might want to warn him about Louise's intentions. When they do, though, Dan denies that anything could be going on other than two old friends enjoying talking about back in the day with each other.
So, if you figured that Darlene would still somehow find out about Harris' boozy exploits, you were right on the money. Darlene opens the door and it's the cop from the other night, who came back to return the scarf Harris left in his squad car. He tells Darlene what happened and ratted out Becky in the process by pointing out that her sister didn't tell her that he spoke with her.
Because life never really works out for a kid who's hiding that they've done something wrong, Harris manages to come downstairs right after the cop leaves and is set upon by an angry Darlene. Harris says that it was just a couple of beers and thinks that Darlene is overreacting because she gets good grades and got a good score on her SATs. Darlene isn't swayed, and says it doesn't matter how smart you are because one wrong move could ruin your life, a notion she punctuates with, "Do you want to end up like your Aunt Becky?!" Did Becky hear this? Of course she did, and when she slams the door on her way out of the kitchen, Darlene realizes her target overheard her.
Luckily, at least one relationship is going better. When Dan meets Louise to head to the concert, she turns the charm up to 100 in the hopes that he'll pick up what she's throwing down. Now that Jackie and Becky have talked to him, he gets it, and pulls Louise over to a table to talk to her. She freely admits that she's into him, and also tells him that she had a crush on him when she was 14, but Roseanne already had her "brand" on him. Louis figures that since they're both single and enjoy talking to each other, there shouldn't be a problem. But, Dan lets her down easy, by saying that it's too soon for him and he still loves Roseanne. So, the two agree to be friends.
Darlene is no idiot, and she knows she has to try to make things right with Becky, so she tracks her down at a pool hall to talk. Becky tells her that she thought things between them had changed when Darlene told her she would do whatever possible to help her raise her baby, and that having her support made her think that maybe she wasn't as messed up as she feels. Becky also told her that the drinking started when Mark died and that she realized then that she needed Darlene, and that's why she wrote to her asking her to come home. Darlene says that her life was falling apart at the time, too, since David had just left her with a 5-year-old and she was pregnant again. Becky counters by saying her husband had just died, and Darlene tells her she wins.
Becky also tells her that she hates being the needy one, especially since she was the one who had her life together when they were kids, and Darlene was the depressed little weirdo who needed her help all the time. But, Darlene says that things have actually evened out, since she's now a depressed adult with as many problems as Becky.
So, Jackie has finally told her free-loading boyfriend to step up, Ben has been introduced to a member of the Conner clan, Dan has realized that there might be a romantic life for him after Roseanne, Harris and Becky will probably get closer now, and Becky and Darlene may have finally (finally) realized that they actually have some things in common. Will everything be smooth sailing for the Conners from now on? I wouldn't bet on it.
You can see how all these newfound relationship revelations turn out when The Conners returns to ABC with new episodes on January 8, 2019.
Bachelor Nation, Gilmore Girl; will Vulcan nerve pinch pretty much anyone if prompted with cheese...Yes, even Jamie Fraser.
Your Daily Blend of Entertainment News
Thank you for signing up to CinemaBlend. You will receive a verification email shortly.
There was a problem. Please refresh the page and try again.