How Becky Might Finally Get Her Life Together On The Conners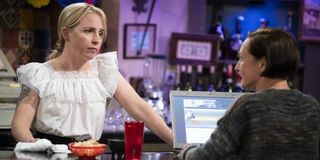 Warning: Spoilers ahead for the latest episode of The Conners. Be sure to come back once you've caught up!
Anyone who's been watching The Conners knows that, while pretty much everyone in the family is always having a rough time, Becky has been having some particular troubles lately. Now, though, it looks like she might be on the way to finally getting her life together. And, a lot of this Becky-lution seems to be because of her Aunt Jackie. Here's what happened.
When we first see Becky this week, Jackie is sitting at the bar talking to her niece while she's working on the website for her life coaching business. Becky pours her a drink and reveals that she's pissed because the owner has told her to stop flirting with other employees, especially since the restaurant is starting a no tolerance policy for fraternization between the restaurant's workers, and everyone is going to have to take a special class to get a "boundary awareness" certificate so that they understand the issues that can come up from dating or flirting with co-workers.
Becky tells Jackie that she thinks this is the stupidest thing ever, noting that it's easy to meet people at work and it also lets you know right up front that they actually have a job. Jackie, practicing her life coaching skills, reminds Becky that she has, in fact, recently had sex with two men she works with (which led to her briefly not knowing which man was the father of her newly growing baby), and also tells her that she might be flirting too much in general. Apparently, Becky flirts so hard with a guy who works at the Rite-Aid she frequents that he proposed to her...and, she's still so busy flirting with him that she hasn't turned him down yet. Yikes. In order to help out, Jackie offers to train Becky so she can get her certificate.
Later, Becky is pouring drinks for two guys at the bar and clearly flirting, when we realize that this bit of flirting isn't even helping her get tips, because she's chatting up guys who aren't even sitting in her section. Not to worry, though, because soon Jackie comes in and she's got a bone to pick with Becky. Even though she offered to help Becky get her certificate, Becky has singed up with Jackie's nemesis and competing Lanford life coach, Rita Silver, who's gone online to brag about getting Jackie's niece as a client.
Now Becky has to come clean and admit two things. First off, she couldn't tell whether or not Jackie was a real life coach, because she's never seen her with any clients. Jackie, as you might imagine, is very miffed at this and tells Becky that she never sees her with clients because she quickly fixes all their problems. Like, duh, Becky! Second, and on a more serious note, Becky just wanted to get the stupid certificate signed off on, and she felt like Jackie would actually challenge her and make her think about her life, drawing out the process.
The next time we see Becky, she's at work yet again (Just can't get out of that uniform for this episode, can she?) and this time a lady comes up to the bar, leaving her coat on, and asks for a margarita, but she actually calls Becky by name. Since she doesn't recognize the lady, Becky apologizes and asks if they've met before. Unfortunately, the answer is no, and she only knows who Becky is because she's found Becky's scantily clad texts to her boyfriend Gil. Oh. Shit.
Becky responds simply that she didn't know Gil had a girlfriend, and when the woman inquires as to whether or not Becky actually cares that he does, she replies that he's the one who shouldn't be texting ladies when he's in a relationship. While this is 100% true, Becky should have been more upset at being lied to, being made an accomplice in sorta cheating and a whole host of other things. And, if she had shown more emotion, maybe the woman wouldn't have dumped her drink all over the bar for Becky to clean up and then made a scene by telling everyone to watch their man because Becky is a slut. Oh, well. Lesson learned.
Becky is about to go after the woman and looks like she wants to fight her, but Jackie is there and stops her. When Becky asks why she didn't stop the woman from leaving, Jackie says that the woman wasn't totally wrong. Then Jackie tells Becky that she's going down the wrong path by trying to get all her validation from men, and notes that she used to do the same thing. Becky looks like she's about to protest when her phone dings, and she reveals that it was a dick pic from a guy. Jackie then asks her if she wants her life to keep going like that, and if not she needs to delete everything from her phone that involves flirting. When Becky starts the process, though, she notes that she might as well do a factory reset on the whole phone.
By the end of the episode, Becky seems to have realized that she needs to seriously slow her flirt roll, and has agreed to coaching from Jackie, even admitting that she had always wanted to work at Chicago's Field Museum. Jackie looks it up to see if they can get in contact with someone there to maybe get her an internship, but when Becky immediately notes how hot the volunteer coordinator is, Jackie shuts the screen off and tells her they will clearly need to work on several things.
So, what does this mean for Becky? She had always been the smart and social Conner who seemed like she could actually break out of the cycle of low-paying, shitty jobs that seemed standard for her family, but Mark's death (understandably) took a lot of the fight out of her. Now, she's quit drinking, made a lot of strides with Darlene and is committed to taking care of her baby. It sounds like Jackie is going to provide just the right amount of tough love to help Becky really look at the other parts of her life that need some tending so that she can finally move ahead, many years after the devastating loss of her husband's death.
Hopefully, this is a good sign, and Becky will continue to face her problems head on as The Conners continues Tuesdays on ABC at 8 p.m. EST.
Your Daily Blend of Entertainment News
Yennefer's apprentice, Gilmore Girl; will Vulcan nerve pinch pretty much anyone if prompted with cheese...Yes, even Jamie Fraser.