3%, Occupied, Harlots, and Other Streaming Recommendations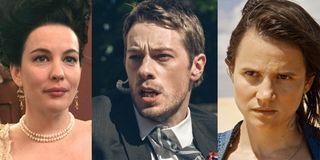 There's a wide, wonderful world of streaming out there and sometimes it helps to have a tour guide! I'm always looking for new titles to stream, and I hope you are too so we can recommend them to each other. Each week I plan to toss out some new TV series and movies (probably more TV than film) with an emphasis on lesser-known titles.
'Cause I don't know that you need anyone to recommend shows like Stranger Things or Black Mirror when Netflix is already doing a great job of getting them in front of your eyeballs.
Netflix seems to be the #1 streamer for viewers -- but you tell me if that's not your jam -- so I will probably have more Netflix recommendations than others. But I'll also regularly throw some other streamers into the mix, including titles I found on Hulu, Amazon, CBS All Access, Acorn, Shudder, and more. I may also not be the only one recommending things, which is good news if you think I have terrible taste. Other CinemaBlend editors may take a stab at suggesting things, and you should feel free to suggest back.
I'm starting my recommendations with five international shows. I hope you aren't afraid of subtitles (just say no to dubbing!) because three of the five are not in English. So come journey with me around the world and experience some of the best content our talented neighbors have to offer.
3%, Netflix
This Brazilian series set in a dystopian future is Netflix's first Portuguese-language original series. 3% Season 3 just dropped its eight episodes on June 7 and I have been scouring the internet for any news on Season 4 after the finale cliffhanger.
The first season of 3% came out in 2016 and I can't recall how Netflix got me hooked, but it was probably through the Hunger Games-like premise. In this future, people in the Inland live in poverty, with just a select few living in luxury in the Offshore. When each person in the Inland turns 20, he or she has a chance to make it to the Offshore by going through The Process, a series of challenges and tests that only 3% pass.
This intelligent, thought-provoking show is what The Hunger Games (and Divergent, and other dystopian stories) should have been. We follow the candidates through each difficult task, and can imagine what we'd do in each scenario. Ethics are tested, and deeper mysteries unfold about each contestant and the Offshore itself. The series is cleverly designed, with each episode centering around a particular theme. Season 1 has eight episodes and you could easily binge them over a weekend and keep going for more. Then you'll probably join me in asking Netflix for Season 4.
Accused, Acorn TV
You don't know Sean Bean as an actor until you've seen him in Accused Season 2's "Tracie's Story." He's magnificent. This British anthology series isn't new, but I just got a chance to watch it on TV through Acorn TV. I'm old school and still haven't cut the cord. (I can watch Netflix on my tablet but hate to watch any series on my phone.) I have a Comcast subscription, and can stream Netflix and Amazon through the apps on my TV. Through Amazon, I can watch Acorn titles and found Accused.
The BBC One series ran for two seasons from 2010-2012, with each episode following a different "accused" main character as he or she awaits judgment. The episodes show how the accused got into that situation, and episodes end by revealing the verdict.
Christopher Eccleston had the first episode in Accused Season 1 and won awards for his performance. That high bar was met later in Season 2 when Sean Bean played bored English teacher Simon, who comes alive at night as transvestite Tracie. Tracie's story is beautiful and tragic and I dare you not to fall madly in love with her -- and with Sean Bean's performance. He rightly won more awards for this work, and I've love to see him continue to stretch like this.
Occupied, Netflix
This political thriller might be the strongest series I've ever watched on Netflix. It's also apparently the most expensive Norwegian production to date. And it has such a kickass theme song, I tracked it down and bought it on iTunes -- which is not something I do frequently.
Occupied Season 1 premiered in 2015, set in a very near future where the world is facing an energy crisis. Norway's new prime minister, Green Party leader Jesper Berg, cuts off fossil fuel production in favor of plans for thorium-based nuclear power. The European Union panics in the face of that decision and agrees to a "velvet glove" invasion of Norway, led by Russia. So the series follows the quiet Russian takeover of Norway -- the people who collaborate, the people who fight back, and the escalating tensions.
It's a timely (prescient, really) series any fan of House of Cards would appreciate. We're reportedly getting an Occupied Season 3, so don't worry about being left on a cliffhanger if you get hooked.
Harlots, Hulu
I almost replaced this with Amazon's Fleabag, which just finished Season 2, but Phoebe Waller-Bridge's fourth-wall-breaking comedy seems to be getting enough attention on its own. Harlots never seems to get enough credit, in my opinion, and even though I already wrote about it as one of the best Hulu shows of 2018 I'm sliding in another plug.
The Handmaid's Tale tends to dominate Hulu talk, but after I streamed Handmaid's Tale Season 2, Hulu had an ad for Harlots and it caught my attention. Now I don't care much about Handmaid's Tale, but I've gotten addicted to the ballsy badass women of Harlots and I can't wait to see them again when Season 3 premieres July 10.
Harlots is set in 1760s London, following women whose best option for advancement is in prostitution. Samantha Morton and Lesley Manville play delightfully dueling brothel owners, with Downton Abbey's Jessica Brown Findlay straying very far from Lady Sybil as London's top prostitute. Liv Tyler joined the series in Season 2 and she'll be back for Season 3. Alfie Allen has also joined the show for Season 3 after ending his role as Theon on Game of Thrones. There's a lot of depth and serious drama to Harlots, but overall you can count on these ladies for a good time.
Call My Agent, Netflix
I considered putting in a recommendation for the German-language Netflix thriller Dark, which is streaming Season 2 on June 21, but first I have to watch that mind-bending series myself. (It's on my list!) Instead, I've happily binged the entertaining and addictive French dramedy Call My Agent, following the escapades of talent agents in Paris.
Call My Agent has been compared to Ricky Gervais' British sitcom Extras, and the comedy always features star-studded guest appearances from French actors -- including Juliette Binoche, Monica Bellucci, Isabelle Huppert, Jean Dujardin, and more. I haven't understood a word of French since high school, but following along with this show has been nothing but a joy. I just hope it continues into Season 4.
Watch Call My Agent on Netflix.
If you're open to more international programming on Netflix, in addition to Dark, you could try Japan's lovely and very binge-friendly time-travel series Erased, or India's popular thriller series Sacred Games. Keep up with Netflix's new releases with our 2019 premiere schedule, and bookmark all the TV and streaming dates for new and returning shows this summer.
I'm a big fan of U.K. shows, comedies in particular, so I'm hoping to recommend more of those in the future. What would you recommend streaming this week?
Your Daily Blend of Entertainment News
Gina grew up in Massachusetts and California in her own version of The Parent Trap. She went to three different middle schools, four high schools, and three universities -- including half a year in Perth, Western Australia. She currently lives in a small town in Maine, the kind Stephen King regularly sets terrible things in, so this may be the last you hear from her.