Bachelorette Spoilers: Did Peter Just Lose Any Shot At The Bachelor 2020?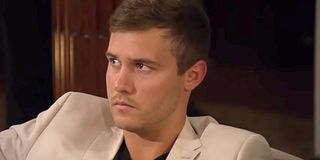 MAJOR SPOILERS ahead for Hannah Brown's The Bachelorette 2019 Season 15.
Eh tu, Peter Weber? I long for the days when we all assumed The Bachelorette contestants were single, and someone like Wes Hayden having a girlfriend back home was genuinely shocking. Bachelorette Hannah Brown had at least three guys with ladies back home, if you decide to count pilot Peter. Some fans are defending Peter, and he's certainly no Jed, but I think we can set the Bachelor bar higher than He's Better Than Jed Or Luke P.
As long as Mike and Tyler C. stay relatively un-awful, please just make one of them The Bachelor 2020 and we can forget the rest. Let Jed make his music for whoever wants it, Luke P. can find a woman who'll put up with him, and pilot Pete can go have a lot more windmill sex.
Bachelorette Hannah set a precedent for No Wrong Reasons Nonsense right on the 2019 premiere by kicking out Scott when it was revealed he had a girlfriend back home he was seeing right up until he left for the show. She even asked the other guys if they had someone too. Crickets.
Later in the season, reports came out from Haley Stevens, who said she was dating Jed Wyatt right up until he left for Bachelorette Hannah's season. In fact, he reportedly told her his time on The Bachelorette would make them stronger as a couple. She knew he was going on to promote his music career. Jed told Hannah the same, although he didn't tell Hannah he already had Haley waiting back home.
Now we have Calee Lutes speaking out to ET to say she was dating Bachelorette finalist Peter Weber from June 2018 until two days before Christmas in December 2018. Then, according to Calee, pilot Pete abruptly broke up with her -- despite their plans to spend New Year's together and head to Costa Rica in March. She said it had been a serious relationship; he first told her he loved her in October. They talked about moving in together. She was shocked. Her family was shocked. It ruined Christmas. This is her side of it, but she was clearly stunned.
After that, Calee said she noticed a Bachelorette producer following Peter on Instagram. He also deleted every trace of her on social media. She found out he went on The Bachelorette the day he began filming the show, when the list of contestants was released. She said she was shocked and then immediately knew The Bachelorette was why he broke up with her.
Sounds like maybe Peter left her for a chance to go on the show. Maybe he just wasn't feeling it with her, but it is strange to be planning a future with someone, dumping them two days before Christmas (according to her), and then immediately making yourself available for The Bachelorette. I'm sure Peter is far from the only one to do that, but let him be the poster child for why we should expect better from people instead of making excuses for them and then rewarding them with swoons and praise.
So, in this case, Peter wasn't still dating Calee when he went on the show. Unlike Jed. But it does suggest Peter was insensitive, at the very least, and also maybe exploitative since he seems to have been talking about Calee when describing his last relationship on the show. That's how she took it, anyway.
Calee said she felt betrayed that he interviewed for a reality dating show while simultaneously planning a future with her. She added that she had multiple people reach out to her to say Peter was also seeing other women while they were supposedly exclusive. (Classic #Bachelor move!) If the cheating accusation has merit, that would be the worst thing here. But, like with Jed, we need to hear Peter's side of it -- or whatever he is willing to tell. It's not like he's keeping his private life private since he signed up for The Bachelorette.
Pilot Pete had been seen as one of the frontrunners for The Bachelor 2020, since Bachelorette Hannah reportedly dumps Peter before making Jed and Tyler C. her final two. Sounds like we'll see Peter's exit in the first night of the finale, a week after the "Men Tell All" special. Reality Steve said Peter was not there for the "Men Tell All" taping on Friday, which is usually what happens when you haven't officially been eliminated from the show yet.
The 2019 Bachelor Colton Underwood picked Peter for the 2020 rosegiver job (although mostly to get him off the market cause Cassie thinks he's cute.) But Calee doesn't think Pete is right for The Bachelor gig:
Why did Calee come forward now? Let her answer for herself, via ET:
So there we have it. Luke P. is being bashed for his actions on the show -- with more bashing ahead in the "Men Tell All" special, per those dramatic spoilers -- and Jed and Peter are being bashed for their actions off the show. Tyler C. remains the new Peter Kraus, at least for now. And Mike Johnson? Apparently he has a great showing at the "Men Tell All," so it seems to be The Bachelor 2020 gig is Mike's, unless 1) he doesn't want it or 2) Fans push harder for Tyler C. and Tyler C. actually wants the gig. We'll see.
The Bachelorette Season 15 continues Mondays at 8 p.m. on ABC. Overnight dates are tonight (July 15) -- that should get very steamy, and then very ugly between Hannah and Luke P. Then we have the "Men Tell All" next Monday, July 22. And then we have the two-night finale July 29-30, with the second night said to include an "After the Final Rose" special where we reportedly see Hannah dump her now ex-fiancée. (Time to go write a sad breakup song!) Then we have Bachelor in Paradise 2019, which will bring its own bad behavior to ABC starting August 5.
Your Daily Blend of Entertainment News
Gina grew up in Massachusetts and California in her own version of The Parent Trap. She went to three different middle schools, four high schools, and three universities -- including half a year in Perth, Western Australia. She currently lives in a small town in Maine, the kind Stephen King regularly sets terrible things in, so this may be the last you hear from her.