11 Awesome Netflix Originals Premiering In August 2019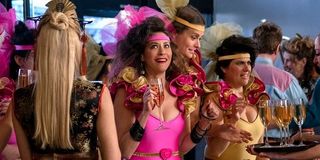 Summer is winding down, but just because vacation season is slowing and the kids are headed back to school doesn't mean things are all bad. Netflix is still churning out quality original content, which can numb that growing pain that the dog days of summer are ending.
And, as has been the case these past few months, Netflix has a lot of exciting new shows paired alongside some acclaimed heavy hitters returning to the lineup. This month has everything: serial killers, pro wrestling, political conspiracies, Nicktoons and other nostalgia all on deck. Such is the Netflix originals lineup in August, which hits the gas and doesn't stop until the month's end.
Wu Assassins - 8/8
Martial arts and sci-fi fans rejoice, The Raid's Iko Uwais is back with his own Netflix original. Uwais plays a San Francisco chef who hails from a long line of assassins. He's bestowed with the power of Wu, and must keep that power out of the hands of evildoers. Anyone who has see Uwais' insane fight choreography skills (or read him talking about fighting) should know this will be an action-packed adventure, so let's hope the story is the same quality.
The Family - 8/9
Netflix's upcoming original docu-series is an exposé of sorts of one of the most influential political organizations many may not know about. The episodes highlight the legacy of "The Fellowship," a religious organization that has quite the pull in American politics. Netflix's categories for this series include "conspiracy theories" and "provocative," for the record, so viewers may want to do a little more research on this organization after watching.
GLOW (Season 3)- 8/9
GLOW is back for Season 3, and the Gorgeous Ladies Of Wrestling are kicking off their run in Las Vegas. That residency in Sin City won't be without issues, as power struggles will put friendships on the line and sexual tension may very well create a budding romance or two. GLOW scored five Emmy nominations for Season 2, and has two awards under its belt already. Those who aren't caught up better get on board and get ready for another potentially award-winning season.
Rocko's Modern Life: Static Cling - 8/9
After what feels like a lifetime of waiting, Rocko's Modern Life: Static Cling is finally coming to Netflix. The movie brings audiences back to the franchise, and puts Rocko, Heffer and Filburt back in O-Town after 25 years of being in space. They'll soon learn a lot has changed since they were away, and maybe some things haven't. I would assume that, regardless the year, garbage day remains a very dangerous day.
Better Than Us - 8/16
Netflix has an interesting sci-fi original in mid-August, as Russian series Better Than Us follows a family who gets a killer android. This is significant because this is the first murder case involving an experimental humanoid, so there's bound to be some conflict in how to address that. It sounds like a show perfect for those who live for premises like those in Black Mirror, and a stark look at problems we may face in the near future.
Diagnosis - 8/16
In what may be the most interesting docu-series of the month, Diagnosis highlights individuals suffering from a mysterious illness and their quest to get a diagnosis and the cure to their malady. If that premise sounds familiar, it's because it's based off The New York Times Magazine column of the same name. This show sounds as though it will have more answers than questions, as doctors utilize unique methods to find an answer patients hadn't found previously.
Invader Zim: Enter The Florpus- 8/16
After a long time away (both within the context of the series and in real life), Zim is back and ready to enact his big plan of world domination. Fortunately for Earth, Dib is going to do all he can to prevent that from happening and perhaps finally find a way to expose Zim as an alien. Will he be successful? Does this classic Nicktoons series still have a loyal fanbase? We'll get an answer soon enough!
Mindhunter (Season 2) - 8/16
It's been almost two years, but finally Mindhunter is returning for its sophomore season. This time around, Holden Ford and Bill Tench will get to put all that information and interviews they gathered in Season 1 to work and use it in an effort to catch a serial child murderer. For true crime lovers looking for specifics, this season is based on the Atlanta murders of 1979-1981. We suggest not reading about it to avoid spoilers.
Hyperdrive - 8/21
Fast and Furious fans, this will be the show to binge while that animated series is still in development. Hyperdrive takes some of the world's top street racers and gives them souped up cars to drive on an obstacle course. Judging from the picture above, that includes outmaneuvering cars suspended in the air. Sounds exciting, but will it deliver the same excitement other staple racing shows have given car aficionados over the years?
Million Pound Menu (Season 2) - 8/27
Million Pound Menu is back for another season, which means more chefs are vying for the chance to wow investors and get money for their own restaurant. For those who haven't watched, this series is like Shark Tank if investors got to try and get a preview of how the pitched product would perform in a test setting. It's a cool premise, and it's a real shame there isn't an American adaptation of this!
The Dark Crystal: Age Of Resistance - 8/30
The Dark Crystal: Age of Resistance is coming to Netflix at the end of August, and it still doesn't feel real. Jim Henson's cult classic is seriously getting another installment with an all-star cast? It's a wonderful thing and a testament to the fact that streaming has brought us some amazing shows that network television and cable may not have taken a chance on. Anyway, the original Dark Crystal is already on Netflix for anyone who wants to watch or re-watch it ahead of time to prepare!
Netflix New Releases: Movies And TV Shows Coming To Netflix Streaming In August 2019
There's always something exciting on the way when it comes to Netflix (opens in new tab), so be sure to stick with CinemaBlend for updates on what's happening with it and other streaming services.
Your Daily Blend of Entertainment News
Mick likes good television, but also reality television. He grew up on Star Wars, DC, Marvel, and pro wrestling and loves to discuss and dissect most of it. He's been writing online for over a decade and never dreamed he'd be in the position he is today.
Your Daily Blend of Entertainment News
Thank you for signing up to CinemaBlend. You will receive a verification email shortly.
There was a problem. Please refresh the page and try again.