Superstore's Nico Santos Walks Us Through Filming The Super Emotional Season 4 Ending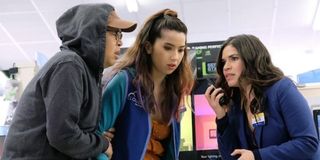 (Image credit: Photo courtesy of NBC)
Superstore is not a comedy with a lot of emotional downbeats. Even plots like Sandra losing her partner to Carol (and then convincing him to return to her) or pregnant Amy not having good enough health insurance for the nice hospital have been played for comedy. Yet, at the end of Season 4, Mateo actorNico Santos actually filmed what is probably the most emotional scene in the series so far.
At San Diego Comic-Con 2019, the actor walked us through the episode, admitting it was a hard week on the set. He called the whole process triggering, but don't take it from me. He revealed what it was like filming Mateo's story ahead of the upcoming fifth season.
Although Superstore focused on plenty of shenanigans last season, the plot moved forward in a lot of major ways, as well. Amy is now the manager at Cloud 9 after Glen took a step back to have more of a home life. The Cloud 9 store was very nearly shut down in the St. Louis area after revenue was down for the fictional company overall. Some of the staff thought unionizing would be a good idea toward the end of the season, prompting corporate to send ICE in to investigate the staff.
Mateo was inadvertently caught up in this final plotline. We learned earlier in the series that he was in the United States illegally. Some of the staff at Cloud 9 have been aware of the situation and even tried to help him out when the ICE investigators showed up, but it was too little, too late.
Nico Santos later revealed what it was like to film the episode and, in particular, the Season 4 closing sequence, which involved Mateo getting picked up by ICE and put into the back of a van while his fellow Cloud 9 staff looked on. He said that experience was the most emotional to film, noting,
During interviews with CinemaBlend, cast members revealed the show was just gearing up to start filming Season 5 and hadn't seen a script yet, so it's hard to tell exactly where the new storylines are going.
Still, Lauren Ash did tell us that she has high hopes as Season 5 begins to move forward on NBC, noting she'd like to see her character Dina get a love interest—as in a dude that doesn't let all of her birds escape and then lie about it.
You hear that Hilarie Burton? (Just kidding!) I know Ash is simply pointing out types of dudes, but I'll just go ahead and mention that Chace Crawford is currently on The Boys and Jeffrey Dean Morgan can be found on The Walking Dead. It should also be noted that Lauren Ash seems to love hypotheticals regarding what's coming, but if a love interest is in the cards for Dina, I can't wait to see who's cast.
Superstore will be returning on NBC for Season 5 this fall to fill us in on what happened to Mateo and also hopefully to engross us in Dina's love life. To see what else is making a comeback, check out our full fall TV premiere schedule.
Amazing Race & Top Chef superfan with a pinch of Disney fairy dust thrown in. If you've created a rom-com I've probably watched it.
Your Daily Blend of Entertainment News
Thank you for signing up to CinemaBlend. You will receive a verification email shortly.
There was a problem. Please refresh the page and try again.