6 DC Superheroes Who Still Need A TV Show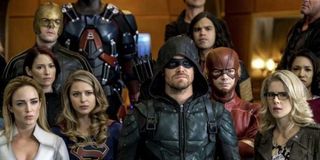 As the decade draws to a close, it feels like the end of an era for The CW's Arrow-verse. Arrow will end soon, Batwoman is just starting its run, and The CW has teased the Arrow-verse planning for another show in the 2020-2021 television season. So, what hero is going to be the new kid on the block?
Unfortunately, that's a mystery at the moment. The CW isn't ready to tip its hand just yet, so let's run through some of the viable DC heroes who could get their own show, whether through The CW to be a part of the Arrow-verse, on DC Universe, or some deal with another network.
Blue Beetle (Jaime Reyes)
Whether it's Dan Garrett, Ted Kord, or Jaime Reyes, it's hard to imagine a Blue Beetle series that wouldn't be entertaining. With that said, Jaime Reyes and his acquisition of superpowers from the sacred scarab created one of the most powerful iterations of the character, which may make him the best candidate for his own TV show. Especially since Jaime didn't have a good grasp on his powers at the start, which would make for an entertaining first couple seasons.
The Arrow-verse has flirted with the idea of Blue Beetle, and has had a handful of references to him over the years. Jaime Reyes' Blue Beetle appeared in a video game on Arrow, and Brandon Routh's Ray Palmer was originally conceived as Ted Kord's Blue Beetle. While I'm not sure Blue Beetle will ever get his own series, I have to think that if it does happen, there's a good chance the Arrow-verse picks it up.
Nightwing
It wasn't that long ago that Titans was DC fans' big hope that they'd finally see a live-action Dick Grayson play Nightwing. Instead, it was Batman Forever all over again, and DC managed to squeeze another actor who, some would say, is a little too old for the Robin suit. Though there's still a chance Benton Thwaites' Robin becomes the hero eventually, will we ever get a standalone Nightwing series?
It certainly feels more possible now than it's ever been. Titans could launch a spin-off with its Robin when he makes the switch, and with Bruce Wayne missing but established in the Arrow-verse, there's a chance Dick Grayson is out there too. Where, we don't know, but it's safe to say Gotham city and Kate Kane could use his help. Is he already doing his part, or is he already away fighting crime in Blüdhaven?
Booster Gold
DC has been trying for a long time to get a Booster Gold project to television or film, but to date, has not been able to make it happen. Apparently, it's a tough nut to crack as he's one of those heroes that just can't get out of development hell. Could his time to shine be just around the corner?
There's reason to be optimistic, especially with the Arrow-verse's various references to Ted Kord. DC fans still talk about the bromance between that Blue Beetle and Booster Gold, and would love to see them together in a live-action series. If DC were to put those heroes in a comedy show, it would have something truly unique and special on its hands. Hey, it might even unseat Legends of Tomorrow as the funniest DC series on television!
Constantine
Wait, didn't Constantine have a series already? Yep, and while the series seemed to be well-liked by the folks who watched it, cancellation is a cruel mistress. Luckily Matt Ryan's Constantine found new life in the Arrow-verse, and after a few appearances on Arrow became a series regular on Legends of Tomorrow. Now that Constantine had some time to jump in front of some more eyes, is it about time for DC to try and get Constantine his own show again?
It would be great to see it now, especially when streaming services are reviving old shows to try and boost subscriber growth. John Constantine works a lot better when writers don't have to worry so much about keeping things to code with typical network restrictions. DC should definitely consider taking another chance on giving John his own live-action series, especially since DC Universe needs more horror after dropping Swamp Thing. Matt Ryan isn't going anywhere from Legends of Tomorrow, but there can be different versions of characters on different shows, right? DC Universe is doing that right now with certain characters from Titans and Young Justice!
Zatanna
Zatanna is one of those heroes that just screams "I'm the star of a great television series or movie franchise." She's got the whole hero thing going on, but she's also got the magician angle that opens it up just enough for other audiences who aren't fans of the typical superhero show. Take the magician angle and pair it with the bizarre villains she encounters, and this could easily be a Buffy The Vampire Slayer-esque series.
At the same time, Zatanna is one of those heroes that can crossover with just about anyone because of how different she is from the typical hero. If the Arrow-verse is in need of a character who plays well with others, she's a great choice. Plus, bringing in Zatanna means a potential relationship with Constantine, and who doesn't want to see that magic happen?
Green Lantern (Anybody)
There is so much potential for a Green Lantern series, and the fact that it hasn't happened already is a crying shame. With that said, we have been teased that David Ramsay's Diggle is a Green Lantern in another world in the Arrow-verse, and one would think there's a chance of that version of Diggle appearing in "Crisis on Infinite Earths." With Arrow on the way out, wouldn't now be a great time for David Ramsay to get an offer to take that role full time?
Perhaps, but it's worth throwing out there the Green Lantern core has a lot of great characters worth adapting to live-action that aren't named Hal Jordan or John Stewart. While the CGI wouldn't be cheap, there's a lot of potential in a Green Lantern series that follows any of its members. Will a network or streaming service step up and do it soon, or will this franchise need a decent film before anyone even considers it?
8 Classic DC Actors We'd Love To See Appear In 'Crisis On Infinite Earths'
Is there a DC hero not mentioned that deserves their own television series? All opinions are welcome, so hop down to the comments to make a choice and be sure to stick with CinemaBlend for more on what's happening in the world of television or movies.
Your Daily Blend of Entertainment News
Mick likes good television, but also reality television. He grew up on Star Wars, DC, Marvel, and pro wrestling and loves to discuss and dissect most of it. He's been writing online for over a decade and never dreamed he'd be in the position he is today.