How Amazon's The Boys Adapted The Story After The Me Too Movement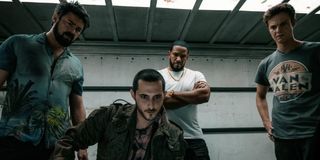 Amazon's awesome new twisted superhero series The Boys tackles lots of very real issues head on. Politics, big business, superheroes and all the damage they do, celebrity and how power / fame can corrupt everyone are all things that she show deals with in (oftentimes) the most NSFW way possible. Another very real-world problem that can be found in The Boys is that of sexual assault / harassment, and how women deal with it.
The Boys showrunner, Eric Kripke, has spoken out about how the Me Too movement changed the way the show dealt with sexual assault in the story. Originally, as they considered adapting a moment in the comics, Kripke wasn't even sure that the assault was something that needed to be included. Here's what he had to say:
If you've seen The Boys (and you really should check it out), you'll understand why adapting Starlight's sexual assault would have made Eric Kripke nervous, even though they were working on the project before the Me Too movement began.
I'm about to get into some spoilers for The Boys, so if you haven't watched yet, maybe skip this paragraph. Starlight (Erin Moriarty) is a young superpowered woman who becomes a member of The Seven, a team of superheroes sponsored by a major corporation, Vought, which helps to create their public personas and markets them through movies and merchandising. On Starlight's first day as a member of the team, she's introduced to The Deep (Chace Crawford), who shows her around their meeting room and promptly threatens to get her thrown out of The Seven unless she gives him a blowjob.
While the assault itself isn't shown on camera, the whole scene is sickening and maddening, mostly because of how very real the manipulation tactics are that The Deep uses to force a scared and shocked Starlight to give him what he wants. And, unfortunately, Eric Kripke says that the women who worked with him on The Boys felt the storyline needed to be included because they'd all been through a version of what happens to Starlight.
Kripke also noted, in his talk with Business Insider, that he was "horrified" to hear this from the women he was working with, but knew that the comics on which the show is based portrayed the event as shocking, so he wanted to make sure that if they included it in the show it would have the right tone and weight to it. He also said that there was a lot of debate about how to show the sexual assault correctly and that there was a lot of "angst right up until shooting" the scene.
According to Eric Kripke, they also made sure that Moriarty knew everything that was going into the scene, and even spoke to her about any concerns she may have had, to make absolutely sure everything would be pitch perfect for such a difficult moment to film.
I would certainly say that Eric Kripke and his team got the scene right; as soon as Starlight is alone with the superhero who ends up assaulting her, there's a sense of foreboding in the action that tells you something horrible is going to happen. And, even though that sinking feeling in your stomach is soon validated, the shock is still very real, because you wanted to believe that you were wrong and nothing inappropriate was going to take place.
Seeing as how Eric Kripke had serious input from the many female producers on The Boys as to how the assault should take place and how Starlight would handle things afterward, they were very specific about what she'd do later, but the Me Too movement changed the outcome for the better.
Luckily for Starlight (and a lot of women in the real world) coming forward with sexual assault stories is a lot more acceptable now and the chances of having those stories taken seriously has increased. So, Starlight was given the strength to speak publicly about what The Deep did to her and to stand up for herself with Vought when they took issue with it.
The Boys is currently using superheroes, sex and gore to make us think about some very important real world topics in its first season over on Amazon. But, if you're already done streaming the eight-part series, there are plenty of other summer TV options in streaming and otherwise.
Yennefer's apprentice, Gilmore Girl; will Vulcan nerve pinch pretty much anyone if prompted with cheese...Yes, even Jamie Fraser.
Your Daily Blend of Entertainment News
Thank you for signing up to CinemaBlend. You will receive a verification email shortly.
There was a problem. Please refresh the page and try again.