The Influence Of Adult Swim And Toonami On The Popularity Of Anime In America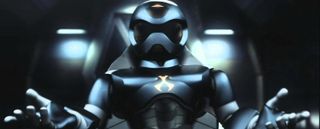 Talk to almost any American anime fan today, and chances are they'll have something good to say about Toonami. Cartoon Network's animation block arrived in 1997, dedicating itself to the genre of Japanese cartoons, and while it went away for a few years, it now continues to be highly influential in the genre to this day. So, how did a small cable programming block build a legacy that has survived and thrived all the way until now?
As we'll get into below, some of Toonami's success came from simply providing a dependable place for fans and newcomers to be exposed to a relatively obscure genre, and some of it was luck. Strap in, because we're about to take a trip through the '90s and '00s, through old and new animation, to figure out how Cartoon Network's Toonami transformed into something much bigger than anyone could've expected.
From Vampire Hunter D To Dragon Ball Z
In the beginning, Toonami was very different than what fans know it as today, and it even stands apart from the span that some would argue was its prime. It was created by Sean Akins and Jason DeMarco, who were enlisted by Cartoon Network head Mike Lazzo to create a programming block that was centered on action cartoons. The idea was originally for it to be a send-up of the channel's staple Super Adventure block, though it obviously developed into something much bigger.
One may have associated Toonami with the Super Adventure block in the earliest days, where shows like Thundercats, Beast Wars: Transformers, and The Real Adventures Of Johnny Quest were showcased. Beyond that, Toonami also embraced shows like Robotech, Sailor Moon, and one series that would really become a hugely popular anime that still maintains a large fandom to this day: Dragon Ball Z. DBZ's popularity continued ascending with each year, and while Pokemon may have still been the mainstream anime children were obsessed with in the late 90s, Goku & Friends weren't far behind.
The popularity of Dragon Ball Z, and anime in general, slowly shifted the balance of American cartoons within the Toonami block, with shows like Tenchi Muyo, Mobile Suit Gundam – and even the hamster series Hamtaro – getting worked into the lineup. American cartoons like Batman: The Animated Series and Justice League did remain part of Toonami's library, perhaps used to entice those who weren't fully behind showing up for strictly anime.
Whatever the case may be, Toonami skyrocketed in popularity in 1999 as one of the only TV curators of dubbed anime for many children in the U.S. For the older kids who stayed up late, Cartoon Network even had a "Midnight Run" block that was strictly anime, and sometimes left more explicit scenes uncut ,with blood and swearing left in. That's a point where many current anime fans seemed to have cultivated their love of the genre, and has been a (mostly) consistent platform for audiences to enjoy and celebrate anime even today.
Today, Toonami isn't quite the behemoth it was throughout the late '90s and '00s, and the lineup has rolled back to airing solely on late Saturdays nights and into early Sunday morning. The rollback is understandable, since anime is far more accessible on DVDs and streaming services these days. Still, while Toonami has less programming time as part of its current Adult Swim block, some would argue it's as influential now as it ever was in the past.
Two-Way Street
Sure, Toonami has lost a considerable amount of weekly programming hours over the years in shifting away from afternoons to its current Adult Swim home, but it has continued to welcome fans of all flavors to its haven of the trendiest dubbed anime out there. As well, Toonami serves as the first home for some purely original anime, such as Space Dandy and the pair of partially produced spinoffs from the cult favorite series FLCL.
FLCL is itself a great example of of Toonami's cultural influence, as its current American fanbase likely rose in time with the series' run on Toonami in 2003. Part of the reason these arguably more niche shows get popular is due to Toonami's legacy, which sparks expectations in viewers that it's the best place to find the most entertaining and talked-about anime.
The fact that Toonami is helping produce spinoffs of FLCL, as well as airing revivals like Dragon Ball Super, may be a sign that many who imbibed on Toonami early years are some of the ones that are still tuning in to catch up on the latest action. (Or maybe even making the shows themselves.) At this stage in the brand's existence, there's definitely a fanbase that checks in for the nostalgia, even if the host isn't the SARA, T.O.M., or even Moltar they once remembered.
American Titan
The casual viewer may not fully appreciate the impact anime has had on American pop culture, but it has certainly left its foot print in various and unexpected places. Some of this is obviously credited to the shows Toonami has popularized in the States, as Dragon Ball Z has influenced everything from Michael B. Jordan's portrayal of characters in his films to the celebrations of professional athletes to song lyrics from artists like Frank Ocean, Kendrick Lamar, and Childish Gambino.
Now, maybe all these guys were the kids dropping mad cash on the giant VHS box sets of the Android and Cell saga, but it's more likely they (and others) were checking out Dragon Ball Z on Toonami. Things even come full circle, in a sense, with Michael B. Jordan currently starring in Rooster Teeth's gen: LOCK, which premiered in the Toonami block on August 3.
Toonami has even had international influence on Cartoon Network, with efforts to recreate the success of the programming block around the world, which was met with varying forms of success. Some international iterations didn't last too long, but some countries managed to transform the programming blocks into stand-alone anime channels. That's quite a statement, especially since it all started as an action-based cartoon block that really wasn't supposed to feature anime as its prime focus.
In a world in which streaming services like Funimation and Netflix offer a good deal of anime (both dubbed and subtitled) to fans, Toonami has maintained its pull in the industry, which may be helped in part with its current partnership with the popular site Crunchyroll, which became a "sister station" to the block after AT&T acquired Time Warner. The two brands came together and announced the much anticipated Blade Runner: Black Lotus, which may mean Crunchyroll will be a big help in maintaining Toonami's relevance going forward.
The Best Dubbed Anime Available To Stream On Netflix
Have a fond memory about Toonami to share? Drop it down in the comments below and continue to stick with CinemaBlend now and into the future for more news on the latest and greatest news in movies and television.
Mick likes good television, but also reality television. He grew up on Star Wars, DC, Marvel, and pro wrestling and loves to discuss and dissect most of it. He's been writing online for over a decade and never dreamed he'd be in the position he is today.
Your Daily Blend of Entertainment News
Thank you for signing up to CinemaBlend. You will receive a verification email shortly.
There was a problem. Please refresh the page and try again.