Supergirl: Why Winn Is Worried About Mon-El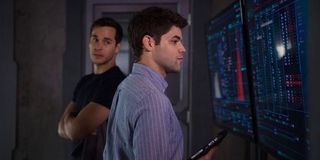 Supergirl premiered in Season 1 with a love triangle pretty much already in place thanks to Winn crushing on Kara and Kara drooling over James, but the show shifted a lot of its focus away from Kara's love life at the beginning of Season 2. Now, it looks like romance is coming back in a big way, and Kara may have more than just Winn's and James' affections to deal with. Mon-El has his eye on Kara as well, and actor Jeremy Jordan reports that Winn won't be too happy about it. Jordan had this to say about Winn's thoughts on Mon-El at this point in Season 2:
Jeremy Jordan's reveal that Winn is going to be uncomfortable with Mon-El's attentions to Kara is proof that Mon-El's questions about whether or not Kara has been latched onto a mate were about more than comic relief. Sure, it was funny to see the Daxamite try to figure out how dating works on Earth, and it was interesting to get some info about Daxamite culture, but Mon-El was apparently quite serious about his interest in Kara. Winn and James may not be laughing if Mon-El makes a genuine play on Kara.
Poor Winn has just not had the best luck in the romance department so far in Supergirl. His bold move to try and woo Kara didn't work, and his attempt to move on landed him in the affectionate arms of a villainess. He seemed to come to terms with the fact that Kara and his pal James were going to try a relationship, but Jeremy Jordan's tease to TVLine indicates that he isn't quite so over Kara that he's cool with Mon-El moving in on her.
It's unfortunate timing for Winn, really. Just after he left CatCo where he might have had to watch Kara with James, he's joined the D.E.O. where he might have to watch Kara with Mon-El. Throw in the fact that he and James are working closely together now that James has hit the streets as the vigilante Guardian, and Winn is in a complicated situation. He escaped a love triangle, only to enter what could be a love quadrangle.
Hopefully Supergirl will continue its emphasis on the fact that courtship on Earth is about two willing participants. After all, the last episode featured Winn and James schooling Mon-El on the reality that people choose their own mates on Earth. My fingers are crossed that Supergirl won't turn Kara into a prize to be won by one of the boys. She can pick one of them, none of them, or swear off men altogether and spend her free time hanging out with Lena Luthor. Anything can happen.
Of course, Kara has a lot on her plate at the moment. Tune in to The CW on November 28 at 8 p.m. ET to see Supergirl kick off the ginormous crossover between The CW's four superhero series.
Resident of One Chicago, Bachelor Nation, and Cleveland. Has opinions about crossovers, Star Wars, and superheroes. Will not time travel.
Your Daily Blend of Entertainment News
Thank you for signing up to CinemaBlend. You will receive a verification email shortly.
There was a problem. Please refresh the page and try again.