Melissa Benoist Shows Off New Supergirl Costume For Season 5, And That's Not All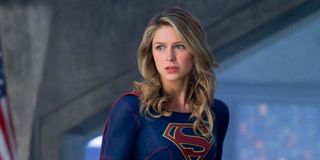 Believe it or not, Supergirl is heading into its fifth season. The adventures of Kara Danvers have been unique among the heroes of the Arrow-verse thanks to her setting on Earth-38, and she's also had a super-suit that stands out from the rest. Why? Because it didn't involve pants. That and more about her look are changing for Season 5, as Melissa Benoist revealed via social media:
Did somebody tell the Girl of Steel that Batwoman got arguably the coolest super-suit in the Arrow-verse, and she realized she was due for an update? After all, both Oliver and Barry on Arrow and The Flash have gone through multiple costume updates while Kara's been stuck in her skirt for her heroics most of the time. Now, she gets pants! And bangs!
Melissa Benoist didn't include any comments in her Instagram post of the new Supergirl suit, but I think the pants emoji followed by no fewer than four exclamation points is proof that she's excited about the changes! She has gotten a taste of fighting as Supergirl in pants a few times over the years, notably in Season 4 thanks to the Red Daughter arc.
All things considered, the new look isn't all that different from her previous look, other than the switch to pants and addition of bangs. I'm kind of curious if both Kara and Supergirl will visibly have bangs in Season 5. We've always had to suspend our disbelief that nobody recognized Kara as Supergirl just because of a different hairstyle and change of glasses, but might some people notice if both Kara and the Girl of Steel show up with bangs at the same time? Probably not, but what's summer hiatus for if not speculating?
As for how much of a difference the switch from pants to skirt will make for filming Supergirl, Melissa Benoist weighed in to EW about what the change means for her:
Kara may operate out of Earth-38, but Supergirl films in Vancouver, and outdoor shoots in Vancouver warrant more than a pair of tights and short skirt! There's also no denying that pants are more practical for fighting than a skirt, and the other Arrow-verse heroes have had more or less practical outfits, if we forget about Arrow's Sara Canary corset, Laurel's buckle-tastic Black Canary suit, and that weird season when Oliver Queen went sleeveless. Besides, everybody else on Supergirl gets to wear pants!
Back in the early days of Supergirl, Melissa Benoist explained what she loved about the Supergirl suit, and it seems those elements that really made her feel like the Girl of Steel will still be present. If nothing else, maybe Supergirl will fit in with the other Arrow-verse heroes a bit more in the "Crisis on Infinite Earths" crossover. All signs point toward the crossover as an epic battle, and so maybe something that warrants pants from the participants.
Supergirl is still months away from returning for Season 4, but San Diego Comic-Con kicks off this week, and CinemaBlend will be on hand to bring the latest and the greatest in all things superhero. Be sure to stay tuned!
Resident of One Chicago, Bachelor Nation, and Cleveland. Has opinions about crossovers, Star Wars, and superheroes. Will not time travel.
Your Daily Blend of Entertainment News
Thank you for signing up to CinemaBlend. You will receive a verification email shortly.
There was a problem. Please refresh the page and try again.