Ms. Marvel And Captain Marvel: Explaining How The Two Characters Relate To Each Other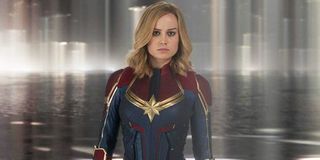 This spring, moviegoers everywhere were finally introduced to Captain Marvel. Brie Larson's hero was first given her origin prequel story with March's Captain Marvel, then given time to interact with the remaining Avengers in Avengers: Endgame. There is room for this character to continue expanding and developing in the ever-expanding world of the MCU. But at this year's D23, there was an intriguing announcement. In addition to She-Hulk and Moon Knight getting standalone streaming shows, introducing them into the MCU, Ms. Marvel will also have a new series on Disney+.
Naturally, for those folks who don't keep up with the comics, this might cause a little bit of confusion. To clarify, Ms. Marvel and Captain Marvel are two totally different characters, though they're also pretty similar in a number of different ways. Does that make sense? Hopefully it will soon as this article helps clear things up a little bit. Let's breakdown who Ms. Marvel is, how she relates to Captain Marvel, and then speculate how they might soon get acquainted on a screen big or small.
Who Is Kamala Khan's Ms. Marvel?
In the comics, the latest to take the Ms. Marvel mantle was Kamala Khan, who is relatively new to the scene. A 16-year-old Pakistani-American based in Jersey City, New Jersey, Kamala first came on-board in the late fall of 2013, as created for the comic books by Sana Amanat, G. Willow Wilson and Adrian Alphona. Kamala Khan became a big turning point for representation in Marvel, standing out as the first Muslim character to headline her own comic book. That's certainly a meaningful inclusion, and it's easy to see why Disney would want to bring Kamala Khan into the live-action MCU via the Disney+ streaming service.
Kamala Khan is a teenager who loves a great many things, including video games, social media, fan fiction and the outside activities of superheroes. But it's Carol Danvers' Captain Marvet that super-fan Kamala loves the most, and I imagine many young women in a world filled with superheroes would be in awe of Captain Marvel. One night, as many teenagers do, Kamala snuck out to go partying with some friends. She's a bit of a social pariah, though, and gets ridiculed before leaving the party in a funk. But that was the night her life changed forever.
The city of Jersey City got blanketed in the Inhumans' Terrigen Mists, cocooning her. In her dream-like state, she had visions of Captain Marvel, as well as her two other favorite superheroes, Captain America and Iron Man, who ask her what she wants out of life. Khan admits she wants to be like Captain Marvel, a fierce, awesome ass-kicker who seems to have her life together — at least, from Kamala's teen mind's perspective.
When Kamala Khan woke from her Terrigenesis, she was shocked to discovery she was wearing a costume like Ms. Marvel, and that she now had extraordinary capabilities. Ms. Marvel's distinct traits include being a polymorph that can change her body into almost anything. That's certainly a lot for a teenager to handle, and the latest comic series follows the day-to-day adventures of this teen crime fighter as she hops between school, world-saving mission and more, often at a minute's notice.
How Does Ms. Marvel Connect With Captain Marvel?
In the comics, Carol Danvers didn't assume the title of Captain Marvel until 2012, when she took it to honor the departed Kree hero Captain Mar-Vell. In the comics, there are a great number of who have picked up the identity of Ms. Marvel, including Sharon Ventura in 1985, and Karen Sofen, the supervillain who adopted the name as the doppelgänger of Carol Danvers. If this is all confusing, that is understandable. It's sorta like the various Green Lanterns like Hal Jordan and John Stewart, at least when it comes to the name association. As it goes in the comics, though, Danvers has assumed the name of Captain Marvel and Kamala Khan is assuming the title of Ms. Marvel for the MCU as well.
It's easy to see why there is a connection between Ms. Marvel and Captain Marvel, considering the characters' origin stories. In the comics, they can have something of a mentor relationship or a mother-daughter bond, particularly since there are only a few people in the world (even in a world filled with superheroes) who truly know what it's like to be a superhero and the challenges one faces in the day and life of a crime fighter hoping to save humanity.
Before this bonding happened, though, Ms. Marvel often shapeshifts into Captain Marvel, before she realizes that she can be inspired by Carol to be a hero of her own. There is, therefore, a lot of potential for the characters to overlap, in either the TV show or a follow-up Captain Marvel movie. Of course, there are equally many ways that the heroines will likely stay separate.
It's hard to know if or when Captain Marvel and Ms. Marvel will cross paths. Brie Larson expressed interest in Ms. Marvel appearing in Captain Marvel 2, according to Syfy, and that would certainly make sense when it comes to their respective introductions to one another inside the movie universe. It is also not out of the question that Brie Larson might play a supporting / recurring role inside Ms. Marvel to assure audiences that these shows are connected together, especially since other movie characters will either be getting their own shows on Disney+, or appearing on those shows in different capacities,
How Might Ms. Marvel and Captain Marvel Team Up?
There are a number of ways in which Captain Marvel and Ms. Marvel might work their way into the other hero's story. We don't know for certain at this time when Captain Marvel 2 is slated to come out, though it will certainly take a couple of years. Probably to hit around Phase 5, if one had to take a wild guess.
Therefore, it might make more sense to bring Captain Marvel into Ms. Marvel in a brief fashion, since the DIsney+ series will likely come out before Brie Larson's sequel. But since the character is a shapeshifter, there are many easy ways to bring the women together for streaming.
When it comes to Ms. Marvel's origin, it's likely that Carol Danvers will play a heavy hand, especially with Steve Rogers' Captain America gone and Iron Man out of the picture. Similar to the comics, Ms. Marvel will likely be visited by Captain Marvel in the first or second episode, with Carol giving the comatose Kamala a pep talk about the importance of being a superhero. Like an Uncle Ben to Peter Parker-type moment, though slightly more heady and surreal.
Through the shapeshifting element, Captain Marvel possibly make more appearances in the show, though it doesn't seem likely that more than a few cameos will happen. It doesn't seem like they'll have a long-standing residence together on the show; after all, Captain Marvel has a lot of problems to deal with throughout the galaxy. Still, it seems they will establish a relationship together before Captain Marvel 2 comes out. And in the distant future, there's a good chance that both women will team up to take down outer-space bad guys.
There's also the possibility for Captain Marvel and Ms. Marvel to form a relationship similar to the one Tony Stark/Iron Man and Peter Parker/Spider-Man shared in Spider-Man: Homecoming and the last two Avengers films. It's hard to know if it'll be that in-depth, since Captain Marvel isn't entirely earthbound the way those two characters were, but that model would make sense (if in maybe a slightly more condensed capacity) in this new show.
But what do you think? Let us know your thoughts on this Captain Marvel/Ms. Marvel topic and a lot more in the comment section found below. Stay tuned for more about the upcoming Marvel and DIsney+ series while we wait for more news.
Your Daily Blend of Entertainment News
Will is an entertainment writer based in Pittsburgh, PA. His writing can also be found in The Playlist, Cut Print Film, We Got This Covered, The Young Folks, Slate and other outlets. He also co-hosts the weekly film/TV podcast Cinemaholics with Jon Negroni and he likes to think he's a professional Garfield enthusiast.
Your Daily Blend of Entertainment News
Thank you for signing up to CinemaBlend. You will receive a verification email shortly.
There was a problem. Please refresh the page and try again.