Why Disney+ Should Offer Its Deep Multiyear Discount To Everyone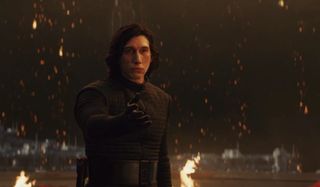 For those who are currently located beneath a WiFi-resistant rock, or anyone who just had a busy weekend, the upcoming streaming service Disney+ is now officially allowing the public to pre-order subscriptions. There's one problem, though: rather than offering any kind of a discount, those monthly and yearly pre-orders are set at the standard rates of $6.99 and $69.99, respectively.
While we've known for a while that these would be the opening rates for Disney+ subscribers at large, the problem comes from the fact that Disney+ has otherwise already offered deeply discounted multiyear rates to potential customers. However, much like when Disney+'s two- and three-year plans were previously offered to D23 members, there's an exclusivity at work, as one needs to be a member of the Disney Movie Rewards club to take part in this newer wave of streaming discounts.
The deals are going for $119.99 for a 2-year subscription, or $169.99 for 3 years' worth of Disney+, and it's clear that a lot of fans want in on those prices, even though they might not already be tethered to Disney's other memberships. As such, Disney should really be offering the general public the deep discount that's been allowed to members of D23 and Disney Movie Rewards to cash in on, especially when we're talking pre-orders.
Such an offer would be beneficial to not only those who are already potentially interested in Disney+, but also to Disney itself. Let's go over why this is so.
The Disney+ Deal Has Already Been Offered To Disney Insiders
That Disney+ offer is one of the worst-kept secrets in the biz, and has been widely reported around the Internet. A deal kind of loses its exclusivity when various different groups are given inside access, and Disney could be leaving money on the table if non-members of D23 and the Disney Movie Rewards end up splitting Disney+ memberships with those who are. (Assuming Disney's security team won't be able to pick up on shared accounts, that is.)
Rather than pretend this offer is benefitted by anyone's exclusivity, Disney should give its mega-fanbase equal opportunities. With all of the hype about discounted rates pushing potential customers to save money any way they can, why not do everyone a solid by offering this deal to the masses? The standard monthly/yearly rates would still be an offer available to those who aren't into investing so hard in the beginning, so it's not like Disney would be losing money on late-comers.
More Potential Disney+ Subscribers Would Be Encouraged To Buy In Early
Disney+'s offer for two years at $119.99, and for three years at $169.99, is pretty incredible, considering the standard $69.99 yearly rate brings those plans up to $139.98 for two years, and $209.97 for three years. Anyone with a calculator could tell Disney that if they offered those severely fantastic deals to the public at large, more would likely be inclined to buy into Disney+ ahead of its Day 1 release.
For the most part, Disney fans are used to putting their finances where their mouths are, so long as the Disney product is worth the effort. All of the original shows from Star Wars and Marvel that are already confirmed for Disney+ guarantees years of entertainment to come for consumers, and that's on top of all the previously released content that will show up. Which, in turn, would presumably inspire tons of people to immediately buy into a service that they know will be around for a long time, from a name they already know and love.
With A Larger Subscriber Base, Disney+ Builds A Better Financial Firewall
While we don't know exactly how much Disney+ originals like Lady and the Tramp or The Mandalorian cost, we do know that Disney's various production studios will run up a hefty tab with films and series believed to be big enough prospects. With project budgets, operating costs, marketing and other expenses piling up, Disney+ is going to want the same monetary dominance the House of Mouse earns in every other entertainment sector. So offering the two- and three-year plans to the public at large could easily help offset the costs of many projects.
Another silver lining presents itself in building up a large subscriber base ahead of release: it would be a good way to make up for the downtick that Disney Parks have been experiencing in terms of visitors. With the mountainous costs of Star Wars: Galaxy's Edge highlighting the company's third quarter's results, Disney+ could be a cushion for the fourth quarter, allowing Disney to claw back some lost profits. Disney+ was already planned to be a giant money-maker for the company, but now it has the chance to grow larger than those previous estimates.
A Larger Subscriber Base Would Give Disney+ A Better Baseline For Early Ratings Metrics
As we've seen with Netflix's various proclamations of victory with projects like Murder Mystery and When They See Us, streaming companies' ability to gauge a program's true success usually requires as big of a viewer base as possible, in order for the best sample of any platform's audience to be measured. With many high-profile options for Disney+ to win over streaming audiences, that means there's just that much more viewer data to dig into in order to see what programs will get the biggest responses.
Disney+ is going to want to know how original series like The Mandalorian or Loki are doing in terms of viewer interest across every possible demographic, especially since those shows are carrying on the future of the Star Wars and Marvel Studios franchises in the streaming universe. Data is king, and the more subscribers there are to study, the better Disney+ execs can fine tune the company's later content strategies. A running start, in terms of subscription dollars and interest in product, is only as good as the roadmap for the future.
Disney+ Could Set The Tone For How Streaming Services Do Business With Their Subscribers
Disney has often been the trailblazer when it comes to new frontiers in entertainment, and it didn't became such a gigantic force of corporate nature by always playing it safe. This last (and best) reason for Disney+ to offer everyone its pre-order rates of $119.99 for a two years, and $169.99 for three years, is that it's precisely the sort of power move that keeps Disney at the top of the Hollywood food chain.
If Disney+'s multiyear plans prove to be a big success for the company, Netflix, AppleTV+, and even Amazon Prime Video may start to offer those kinds of locked-in multiyear rates. That's even the sort of move that might cause cable and satellite companies to change how they try to attract new subscribers, as longer term deals with deeper rate cuts may be the next ploy to try and keep audiences from cutting the cord.
Much like Amazon, Disney loves to make noise by creating trendy paradigms that other companies want to get in on. Having its giant library of content hitting streaming in such a focused way will continue to cause a game-changing ruckus within the industry, and offering Disney+ at a more affordable clip might just put the service lightyears ahead of the competition down the road.
Tons of people already want Disney+ to be part of their home-entertainment package, so it's just a matter of Disney making it worth their while. Offering a sweeter deal on its streaming library, which arguably already represents the best investment in the streaming market, would be like putting powdered sugar on top of a sundae's whipped cream. Should Disney decide to answer opportunity's knock, the company could turn an already surefire moneymaker into one of its most profitable ventures yet.
Disney+ arriving later in the year matches it up with the impending holiday season, making a subscription gift the perfect way to provide many merry memories to end 2019 on. Making that big discount available to everyone, in turn, would be the biggest gift Disney could give the world, at least outside of Star Wars: The Rise of Skywalker.
Disney+ comes online on November 12 (opens in new tab), with its current standard rate at $6.99 a month or $69.99 a year. Unless, of course, the gods at the Mouse House somehow smile upon this reasoned argument for that sweet deep discount being given to all.
Your Daily Blend of Entertainment News
Senior Movies Contributor
CinemaBlend's James Bond (expert). Also versed in Large Scale Aggressors, time travel, and Guillermo del Toro. He fights for The User.
Your Daily Blend of Entertainment News
Thank you for signing up to CinemaBlend. You will receive a verification email shortly.
There was a problem. Please refresh the page and try again.