Netflix Is Giving Jerry Seinfeld And Larry David A Crazy Amount Of Money For Seinfeld Reruns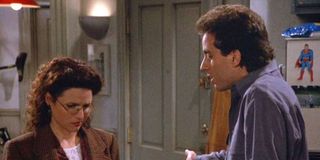 With all the hubbub surrounding the loss of Friends on Netflix, Seinfeld fans were thrilled that the streaming giant was finally able to acquire the rights to the beloved sitcom. Though fans had been asking for years to have the NBC series be available to stream on Netflix, it was Hulu that wound up with the rights to the show back in 2014. While the Hulu deal paid $180 million to be split between parties, the Netflix deal will pay the Larry David and Jerry Seinfeld each a whopping nine figures or more for the rights to stream Seinfeld.
Earlier this month, Netflix managed to nab the sitcom from Hulu in a five-year deal with Sony Pictures Television. It cost the streaming platform around $500 million. Per TheWrap, Seinfeld creators Larry David and Jerry Seinfeld, who also starred in the title role, are set to be making anywhere between $100 to $125 million with the deal. If you're thinking that's a whole lot of money, you're not wrong.
Jerry Seinfeld is no stranger to Netflix deals, either. Back in 2017, the comedian managed to strike a deal with the streaming service that included stand-up specials, producing scripted series, and the rights to the actor's Comedians in Cars Getting Coffee. The series, hosted by Seinfeld, aired on Crackle for nine seasons before heading to Netflix in Season 10 and is still going strong.
Hulu's rights to Seinfeld will expire in 2021 and that's when the sitcom will be available to stream on Netflix. The popular show about nothing (which is something I really needed to know before watching or risk being a bit lost) premiered in 1989 on NBC and ran for nine seasons before ending in 1998.
Netflix acquiring the rights to Seinfeld is interesting because it comes at a time when NBC's other comedies are finding homes elsewhere. Friends is leaving Netflix in January 2020 and will be made available on HBO Max. Meanwhile, the beloved workplace comedies The Office and Parks and Recreation will leave Netflix in 2021 and will air exclusively on NBCUniversal's newly announced streaming service, Peacock.
Jerry Seinfeld admitted to wanting to end Seinfeld while it was still at the height of its creativity, calling the decision to end the series in Season 9 as "the perfect moment," even though NBC was vying for another season. It's rare that a creator has the ability to finish a show on their own terms (though The CW has recently gotten into the habit of warning its showrunners a season in advance of cancellation).
Although the news of Seinfeld coming to Netflix is a big deal, there's been a lot of competition lately, especially since every studio seems to want in on the streaming platform. As a consumer of TV, to buy or not to buy is always the question.
Elsewhere in the NBC sitcom world, Superstore and The Good Place returned with new seasons this week. For a list of more new and returning comedies, be sure to check out our Fall TV guide for every premiere date through November.
Your Daily Blend of Entertainment News