Lethal Weapon's Damon Wayans Is Returning To Comedy With New ABC Project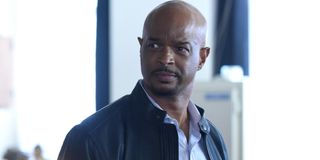 Damon Wayans has found his next TV project, and this one won't involve him running around whilst things blow up in the background or whilst he gets shot at. After Lethal Weapon, Wayans will be heading back to network TV, but this time it will be to get him back to his comedy roots with a brand new series.
Don't get me wrong, Lethal Weapon was often a funny series, particularly when Clayne Crawford and Damon Wayans' characters were trading barbs. However, it was an action series first and foremost, with long hours and lots of stuntwork. So, it's easy to see why Wayans might be choosing the half-hour comedy route this time around.
He's set to join Don Reo, whom he also worked on My Wife and Kids with for a new series called Let's Stay Together. If it moves forward, the project will air on ABC and will feature Damon Wayans as a father who is finding it difficult to get rid of his millennial kids.
Apparently, according to Deadline, the premise will mirror something Damon Wayans dealt with in his own personal life. The actor is the father of four kids; one of them is notable actor Damon Wayans Jr., who starred in Happy Endings on ABC.
I think it's worth pointing out that technically millennials were born between 1981 and 1996, meaning the oldest millennial is approaching forty and the youngest is already old enough to drink and probably graduated college. So, the humor found in this will likely be from having kids living at home who are much older than you might guess or than is typical.
Let's Stay Together is currently in development at ABC, where My Wife and Kids also aired, and seems on brand with some of the other comedies still airing on the network which also revolve around families, including The Goldbergs, black-ish and Modern Family, the latter of which is in its last season on the network.
Both Damon Wayans and Don Reo will also be producing the project. Should it move forward to series, I'd assume the hope for Let's Stay Together would be similar to the trajectory of My Wife and Kids, which was very popular at the time, lasted for five seasons and still airs repeats.
On the set of Lethal Weapon there was behind-the-scenes controversy that ultimately led to Clayne Crawford's removal and then led the show to bring in Seann William Scott. Those decisions ultimately meant Season 3 of Lethal Weapon was very different than the very successful first two seasons, and the show was cancelled on Fox despite attempting to set up Season 4.
Last TV season, Damon Wayans appeared outside of Lethal Weapon on TV when he showed up on his son Damon Wayans Jr.'s new (and now cancelled) series Happy Together. Meanwhile, Clayne Crawford already made his TV return in an episode of Hulu's Into The Dark.
We'll be sure to keep you updated regarding the status of Let's Stay Together. The pilot process can be long, but I have high hopes for this one, give the popularity of Damon Wayans in general and the gap in ABC's comedy lineup next TV season.
Reality TV fan with a pinch of Disney fairy dust thrown in. Theme park junkie. If you've created a rom-com I've probably watched it.
Your Daily Blend of Entertainment News
Thank you for signing up to CinemaBlend. You will receive a verification email shortly.
There was a problem. Please refresh the page and try again.