Why Batwoman Is Using Hush As Its First Big Batman Villain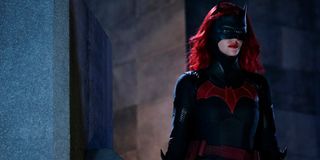 Being the new hero in town has given Ruby Rose's Kate Kane a lot to contend with. Namely, she's had to face the fact that Alice, the villain rampaging through Gotham right now, is none other than her presumed to be dead twin sister, Beth. And if that wasn't enough, Batwoman's third episode, "Down Down Down," will introduce another Season 1 villain: Tommy "Hush" Elliot.
The release of the photos from Season 1, Episode 3 gave viewers their first glimpse of the elusive Tommy Elliot. Batwoman's introduction to the character, played by Revenge's Gabriel Mann, maintains some of his comic book history with Bruce Wayne.
Tommy is still an old friend of Kate's cousin (who's currently MIA) and, while he's historically been a huge Batman villain, "Hush" is being adapted as the new Batwoman villain. The third episode will introduce him as one of Gotham's richest men and he'll be throwing a party to celebrate, and that's where he'll see Kate.
Speaking with EW, Batwoman showrunner Caroline Dries says that this version of Tommy Elliot is the one before he becomes a notorious villain. Like Alice, Tommy also shares a history with Kate.
Tommy's return to Gotham may have been inevitable, but the fact that he knows Kate and was a childhood friend to Bruce gives this new dynamic a lot of potential.
Additionally, considering that he doesn't know the Dark Knight is actually gone might make him obsessed with trying to figure out Kate's true identity. Caroline Dries also teases that Tommy's introduction kicks off a great "detective story" for Kate.
Season 1, Episode 3 will also serve as the introduction of Batwoman's famous red wig. After all, Gotham's citizens still believe that Kate is Batman, so the red wig proves that, not only is Kate her own hero, but that she's also a woman. Vesper Fairchild will be thrilled.
Earlier in Episode 2, "Rabbit Hole," Sophie Moore (Meagan Tandy) suspected that it was Kate as Batwoman who had saved her from Alice. To the detriment of their already strained relationship, Kate decided to lie, claiming that she would have saved her in a Wonder Woman outfit instead. One day I'll understand why superheroes feel the need to lie to those they love, but today is not that day.
Batwoman airs Sundays at 8 p.m. ET on The CW. Be sure to check out our complete guide to fall TV premieres for more viewing options.
Your Daily Blend of Entertainment News