Dog The Bounty Hunter Reflects On Not Dating Or Having Sex Again After Wife's Death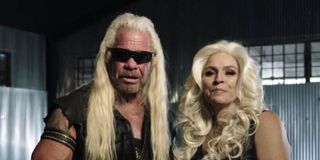 It's been a painful few months for Duane "Dog" Chapman after the death of his wife, Beth, in June of this year. After 13 years together, Duane Chapman is finding it very hard to move on without her. Chapman, known best for Dog's Most Wanted, has been open about his struggles with grief following Beth's death, most recently admitting that he's having issues with intimacy.
Sometimes, the best way to get through things is to talk it out and Duane Chapman, also known as Dog the Bounty Hunter, has used his platform to connect with fans about grief, his life post-Beth, and the struggles he continuously faces without her by his side. It's clear that Chapman loved and adored his wife more than anything, and dealing with the pain of her death has been difficult.
In a recent interview with People, the reality star discussed what's been going through his head after Beth's death.
There's absolutely no doubt that Beth Chapman was the love of Dog the Bounty Hunter's life. That and the devotion he still has for her are apparent in every word he speaks. This, of course, includes not having the desire to be intimate with anyone else.
Duane Chapman went on to say that he couldn't even imagine dating again because he didn't want to deal with telling his entire life story to a stranger. "Not yet," he said. So, while there's still hope that he'd want to find love again eventually, he did promise his late wife that he'd never remarry.
Beth Chapman was only 51 when she died of throat cancer in June. She was diagnosed back in September of 2017 and spent two years in treatment. Just before her death, she was placed in a medically-induced coma and her husband was there at her side every step of the way.
Sadly, Chapman is still unable to watch Dog's Most Wanted, the show they both starred in, for fear of not being able to handle it. Eventually, however, he'll muster up the courage to watch the episodes of the show documenting Beth's battle with cancer as a way to remember and honor his late wife.
Duane "Dog" Chapman can still be seen on Dog's Most Wanted, with new episodes currently airing every Wednesday at 9 p.m. ET on WGN. For more information on when your favorite fall shows are scheduled to air, be sure to check out our complete TV guide.
Your Daily Blend of Entertainment News
Thank you for signing up to CinemaBlend. You will receive a verification email shortly.
There was a problem. Please refresh the page and try again.